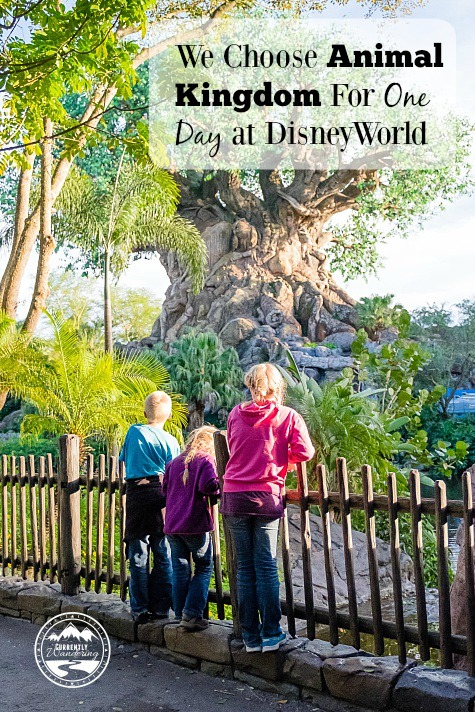 Last summer Sam and I came up with a grand plan to visit DisneyWorld over 10 days in December 2015. We would divide the time between Fort Wilderness and an RV Park, and get 6 day passes to visit all the parks with a few days leftover to revisit our favorites. We would be able to do everything! It would be in the slower season between Thanksgiving and Christmas, the parks would be decorated for the season and everything would be just…magical.
Only we weren't feeling the magic.
Anytime we thought about that part of our Florida plans we just became discouraged and slightly depressed. Disney World is so much larger than its counterpart in Anaheim, CA and I was feeling very overwhelmed. Add to that the fact that we are ALWAYS planning and I just couldn't seem to get ahead and feel excited. I tentatively broached the Disney subject with the kids (to see if they were even interested in going at all), and you know what? All they wanted to do was visit the Wizarding World of Harry Potter and drink butterbeer. I was shocked. It seemed that the magic of our last 5 day stint at Disneyland and California Adventure hadn't quite worn off yet and they weren't hungry for more.
So, how did we end up at Disney anyway? My sister flew in to vacation with us, and I was able to secure (2) complimentary, one day, media, park hopper passes (thank you dear blog readers who support us!), which meant we just had to buy tickets for the kids. Okay, we are in. But with FOUR theme parks to pick from, how do we decide?
We talked with a few friends that have done Disney extensively and the unanimous vote was Animal Kingdom. The shows are rated highly, there are rides for all ages, and the animals are exciting. Plus, we really hadn't been to a zoo in ages and my kid are obsessed with giant cats, elephants, and monkeys. Luckily for us those are all zoo-like animals. Animal Kingdom and Epcot are also the two parks which are vastly different from anything in California as Magic Kingdom appeared too similar to Disneyland to really get us excited.  Epcot didn't sound as appealing to our younger kids (most people we talked to who love it are adults), so Animal Kingdom was the logical choice.
I'm so glad we went!
When We Visited: January 29, 2015
Ages of Kids: Rachel (10), Andrew (8), Cara (5)
Where We Stayed: Bill Frederick Park at Turkey Lake
The first thing we did was pick up our Jr. Wilderness Explorer Badge Booklets. Based off Russell in Disney's UP, kids can stop at various stations around the park and earn a sticker for their books. Similar to Jr. Ranger Badges, but a lot less intense. There are way too many to earn ALL of them in one day, but we managed to get about fourteen as the kids really loved it. The main station is before you get to the main "hub" of the park so we were able to grab our books while waiting for the park to officially open.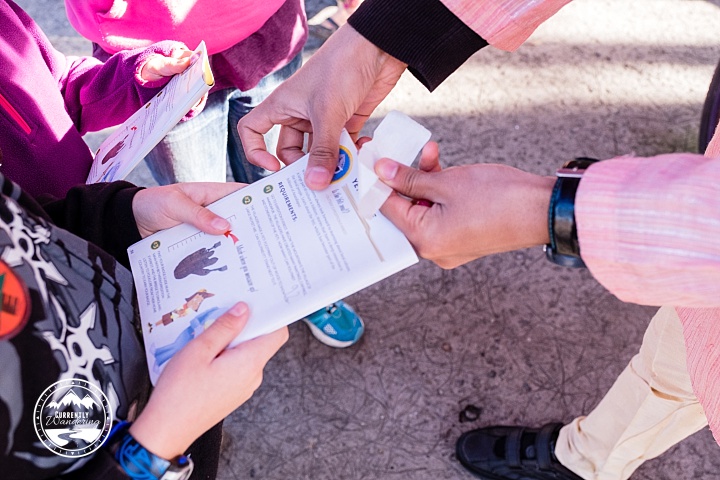 Animal Kingdom opens with these beautiful birds near the Tree of Life. They swoop in over everyone's head and stop for a treat from their handlers. After some narration, they they fly away and the crowd follows into various areas of the park. They also bring the birds back at other times of the day, but it was fun to be there as the park opened!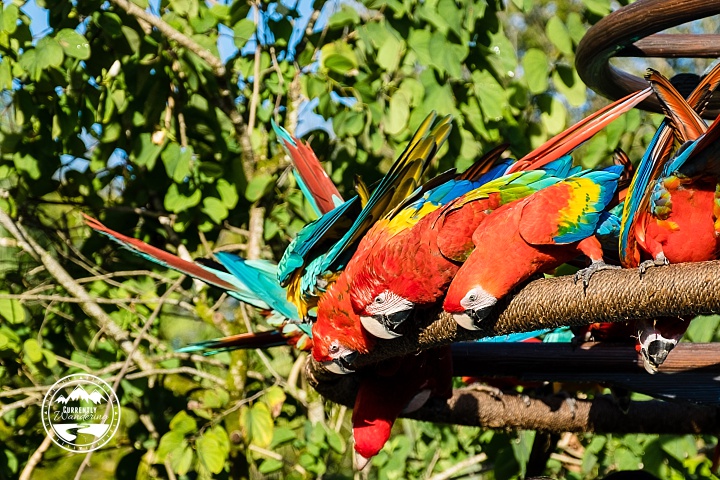 We were advised to not to use one of our three Fast Passes on Expedition Everest, but instead to head there as soon as the park opened. Lines for this roller coaster can get upwards of 60 minutes, but we walked right on twice in a row. Not to spoil it, but the ride goes BACKWARDS. Super awesome. Cara didn't ride it and we are glad she didn't as the Yetis and the drops would have been a little intense for her. Rachel and Andrew loved it.

Next we headed over to DinoLand USA. I personally felt that a Dinosaur themed land was a slight stretch for the Animal Kingdom, but Cara LOVED it. The rides were definitely more her speed and she begged to go back and do Primeval Whirl a second time.

We should have skipped DINOSAUR (the ride) as none of our kids liked it. We used a fast pass on this one so at least we didn't have a long wait.  It is a dark, fairly scary ride similar to Indiana Jones (if you've been to Disneyland) where you are in a large jeep racing to save a dinosaur before the meteor hits. Cara hid her face the whole time and even Rachel said she didn't like it.
One of the kids' favorite spots in DinoLand U.S.A. was The Boneyard. They got to help dig out this wolly mammoth, and we had to pry them away. Kind of surprised me, but there was plenty of shade for the adults to hang out and just relax while the kids were busy.

There are two shows in the park and both are fabulous! Finding Nemo was full of great puppetry and music, while Lion King was more of a dance party with acrobatic monkeys.
We did Finding Nemo first (using our 2nd of 3 Fast Passes), and ate a quick lunch of crackers, cheese, and veggies while in line. Using a Fast Pass gets you closer to the stage, which was awesome, even though you are still waiting in line for the doors to open. Nemo was amazing! They have turned it into a musical, and watching the actor's expressions was just as fun as watching the puppets!

Disney does such a great job with details and Animal Kingdom was no exception. Each country had a unique feel, and I loved exploring (and photographing) the details that made each experience authentic.

After Nemo, we headed to the Africa section of the park. One of our favorite activities, by far, was the Kilimanjaro Safaris. We used our final Fast Pass for this ride which was why we were able to ride it after lunch. We loaded into a jeep and the driver took us through the refuge. It was really well done and the animals felt very close to the vehicle! We saw alligators, lions, giraffes, elephants (Hooray for Andrew!), and rhinos.

Next up, we spent time on the Pangani Forest Exploration Trail. The kids were able to pass of 3 or 4 of their Wilderness Explorer badges, and we enjoyed the birds, gorillas, and monkeys.

From there, we were just able to wander around Africa until the Lion King show at 3:00pm. There are a few character meet and greets in Animal Kingdom, and while my kids aren't super into those Cara did express interest in meeting Tarzan. So we did. Maybe it has do with her obsession with monkeys? We finished up a few more Wilderness Explorer Badges and then found a Dole Whip and Ice Cream for a treat.

For the Lion King show we weren't able to procure Fast Pass tickets so we stood in the stand-by line. We had no problems getting in, and while Cara was concerned there wasn't really a plot (its not a retelling of the story) I loved it. Its more of a celebration with a lot of audience interaction, acrobatic monkeys, and fire twirling aborigines.

After the show, we took the train to Rafiki's Planet Watch, but it closes at 4:00pm (an hour earlier than the park) and we arrived just as it was closing so we stayed on the train. It really wasn't all that exciting and I think we would have rather skipped it!
After one more ride on Privemal Whirl in DinoLand U.S.A. we passed off our books for a Wilderness Explorer sticker at the station on our way out of the park.
I actually enjoyed the early closing of the park. Many of the other Disney parks are open until 10 or 11 p.m. while Animal Kingdom closes at 5:30. We had a great day, but didn't overdo it. Sam took the kids back to the Airstream while my sister and I park hopped over to Magic Kingdom for some girl time.
Many people told us Animal Kingdom was only a "half day" park, but we easily spent all day there. A few of the major attractions were closed (Maharajah Jungle Trek, Flights of Wonder, and Kali River Rapids) which was great as we didn't have time to do them anyway!

Sponsored post :: We were provided with (2) complimentary 1 day park hopper passes to DisneyWorld in exchange for us sharing our honest opinion and experience with you. All opinions are our own. We really loved this experience and would highly recommend it to our friends and family! 
Related posts: