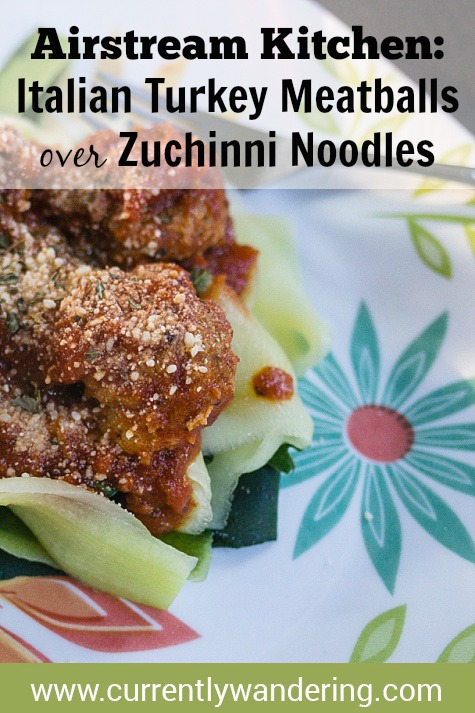 I usually make the meatballs one day and we'll eat half of them over zucchini noodles (or zoodles),  and then freeze the other half of them to make Italian Wedding Soup later in the week. The ingredients for both meals are very similar, but they are totally different meals. Works great when you have very little fridge space. Usually I will serve this with french bread or whole wheat biscuits, and then cooked carrots or broccoli.
Italian Meatballs Over Zoodles
adapted from beachbody.com
Serves 10
1/2 cup whole wheat bread crumbs
1/4 cup reduced fat milk (any kind)
2 tsp olive oil
1 medium onion, finely chopped
5 cloves garlic, finely chopped or pressed (the more the better in our family!)
2 lbs raw ground 93% lean turkey breast
2 large eggs
1/4 cup fresh parsley, or about 1 tbsp dried
2 tbsp grated parmesan cheese
1 tsp dried oregano leaves
1/2 tsp sea salt
1/2 tsp ground pepper
4 medium zucchini
Hot water
2 tbsp finely shredded fresh basil
2 Tbsp grated parmesan cheese
Your favorite Tomato Sauce (I'm lazy, and usually just do Ragu)
Preheat oven to 425 degrees, and spray a large baking sheet with non-stick spray. (Most recently I cooked these in our cast iron pan and that worked great too.)
Place bread crumbs and milk in a large bowl and soak for 10 minutes.
Meanwhile, heat oil in medium skillet and add onions. Saute 5 or 6 minutes or until translucent.
Add garlic and cook stirring frequently for about a minute.
Add onion mixture, turkey, eggs, parsley, cheese, oregano salt, pepper to the bread crumbs. Mix well with a spoon, or clean hands (my preferred method). It'll be a little stick at this point, so cover and refrigerate for an hour.
Form turkey mixutre into 1-inch balls and arrange on cookie sheet or pan. You can use your hands, but I've found those awesome cookie scoops work really well for this. They aren't perfectly round, but I just finish them off with my hands. Its so much faster and less messy.
Bake for 13-18 minutes or until browned and cooked through.
While your meatballs are cooking, boil a large pot of water.
Using a cheese slicer (not the wire kind), a vegetable peeler (this never worked as well for me), or a spiralizer (if you are being super fancy) cut each zucchini into lengthwise strips about 1/8″ thick. Turn zuchinni slightly after each cut, so you are working evenly around the outside. Stop when you get to the seeds.
Ideally you'd steam these, but I just throw them in the boiling water for 2-3 minutes until tender.
Once your meatballs are done, pull out half to save for soup later, and add tomato sauce to the rest. Heat through.
Top zucchini noodles with meatballs & sauce, basil, and cheese.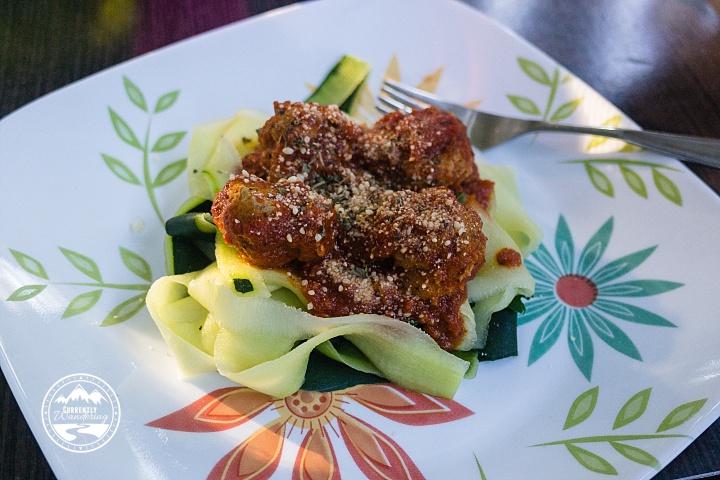 Related posts: