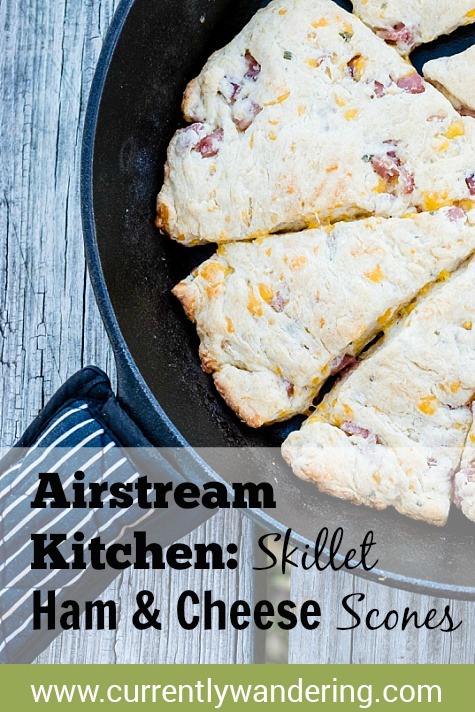 Everything seems to taste better in our cast iron skillet, and these scones were no exception! I was looking on Pinterest for a way to use up our leftover Easter Ham when I found this recipe on Damn Delicious. We've loved everything I've made of hers, so we thought to give it a try!
Yeah. They were good. Especially warm right out of the over with butter. Ahhh…
I served these with a big ol' salad and some fruit. Everyone was happy!
Skillet Ham & Cheese Scones
adapted from Damn Delicious
8 servings, 1 wedge each
Ingredients
2 cups all-purpose flour
1 tbsp sugar
1 tbsp baking powder
1 tsp garlic
1/2 tsp salt
1 tbsp dried chives (can also use fresh, but I never have those either)
1/2 cup (1 stick) butter, cut into cubes
3/4 cup buttermilk (or milk + 1 tbsp lemon juice if you are lazy like me and never have buttermilk on hand)
1 1/2 cups shredded cheddar cheese
1 cup diced ham
Intructions:
Preheat over to 425 degrees F.
In a large bowl mix your dry ingredients – flour, sugar, baking powder, garlic powder, and salt. Add the cold butter using your fingers to work it into the mix. I usually end up with flour covered butter chunks and that's okay too.
Stir in buttermilk, cheese, ham and chives until you have soft dough.
Knead the dough 3-4 times on a flour covered surface until it all comes together. Spread it out into a 10″ skillet so it has uniform thickness.  Cut into 8 wedges inside the pan. I also like to shape the edges a little just so they get a little crispy all over.
Bake in oven for 18-20 minutes or until firm to the touch and lightly brown.
Eat and enjoy!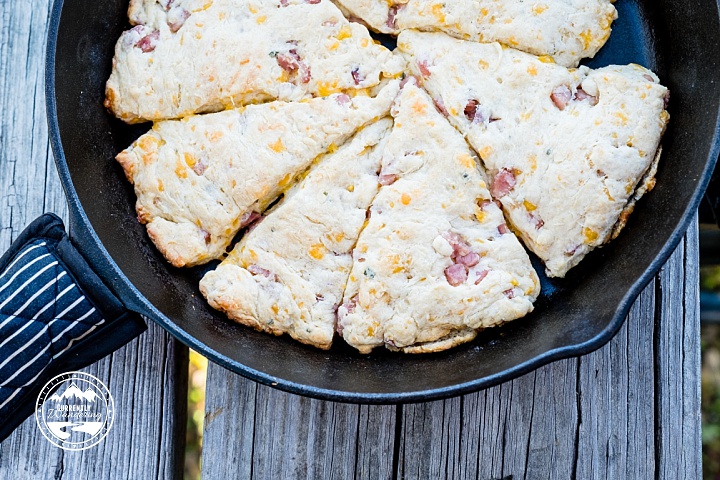 Related posts: