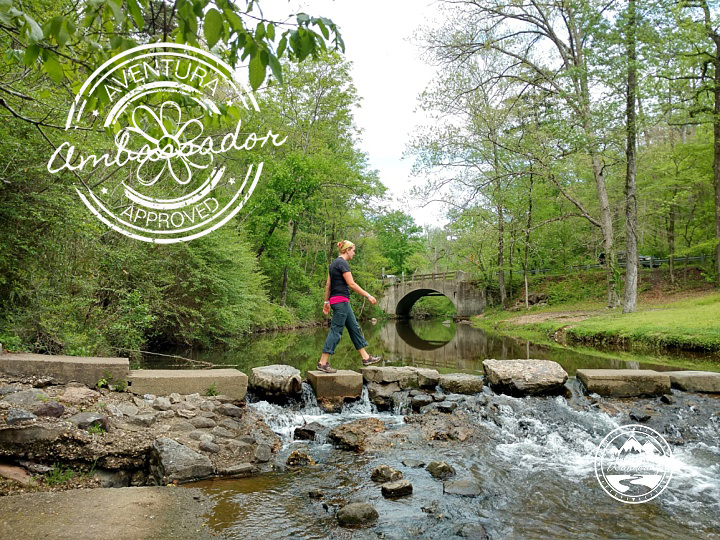 For those of you that have seen the inside of our Airstream closet, you know we don't have much room. Its not even the size of a normal person closet, yet we cram 5 people's worth of clothes in it.  Top a small closet off with the extreme dislike of shopping and its a wonder I don't wear my pajamas all day. Although we don't have a lot of clothes what we do have are our favorites, so I'm super picky about the clothes I keep and wear.
Last year, I was introduced to Aventura – a company passionate about creating fashionable clothing with a low environmental impact. Every year they select Brand Ambassadors, and this year I was selected to be one! I couldn't be more excited. As an ambassador we are given complimentary outfits in spring and fall in exchange for expressing our opinions and sharing the brand through our blogs and social media channels. Sweet deal, right?
Of course as soon as I committed I had cold feet. What if I  didn't like their clothes? Let's face it, I really don't have room for more clothes. This is silly, I hate putting photos of myself out on social media. I'm SO not a fashion blogger.
All of these thoughts and more kept running through my head until I actually got my first shipment of clothes. Now? I'm seriously in love. Super comfortable, fashionable, and modest. I actually bought my first pair of colored capri pants as well – whoa! Totally branching out here. It helps that my family keeps telling me how cute I look (if the clothes fit Rachel I would definitely buy her some), and I feel great.
With our active lifestyle, I feel like my clothes need to hold up against wear and tear, move easily, but still look great. Although we rarely travel with suitcases, I've also heard their clothes pack well for vacation.! One friend even told me she's had a skirt for years, taken it all over the globe, and it still looks like new. Perfect.
I feel like the entire spring line is light weight fabric, so although many of my choices are long sleeved- they aren't too warm. Perfect for those cool days that aren't quite summer.
Okay, so out of all the clothes in their spring line what did I pick? Here's a run down of my favorites:
Outfit Combo #1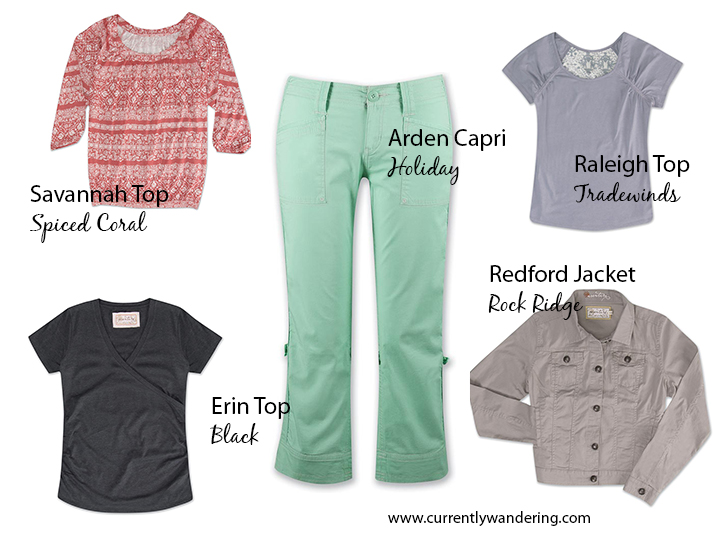 The Arden Capris come in 11 different colors – so its super easy to mix and match with their various tops. My only complaint is that the waist is a bit big for the size and I have to wear a belt. I think next time I'll order a size smaller and see how that goes. I love the Savannah Top as its flowly, yet still feminine and not baggy. The Erin top in black was a safe bet, but I'm thinking about ordering another one in pink. I love the sleeves and the back detail on the Raleigh Top and it goes great underneath the Redford Jacket (which also comes in 9 colors!) and has become one of my all time favorite pieces of clothing. Ever.
Outfit Combo #2

I needed a new skirt, and the Arlington is long enough it comes just below my knees. It has the right amount of "swish" while not being too flowy and showing everything. The Pinellas Top is another stretch for me – its super cute and lightweight but I'm not sure how much I'll wear it. Hoping to branch out my style and really learn to love this one. The Kyle Wrap has also become a staple! It looks great thrown over practically anything, and is a great piece to grab if you're unsure what the temperature will be in a few hours.
Outfit Combo #3

Another pair of capris – surprise! I already own shorts and my long, convertible hiking pants, so capris were a naturally addition to my wardrobe. I LOVE the Neema Hoodie, although I feel like it runs a little large. The Lulu Top is a bit more fancy. Its hard to see but there's actually some green underneath the lacing. Not sure if I love that part, but it also goes great with my black pencil skirt for church.
Outfit Combo #4
Once I retired one old skirt, I decided they all needed to go so that meant I needed another Sunday, church outfit. I love the Ashby Maxi Dress. The detail on the bottom is super pretty, and it has wide shoulders which work great with the Kyle Wrap in black or white. This is what I'm wearing on Mother's Day and I'm super excited!

I really had a hard time deciding on my outfits, and actually ended up ordering quite a few more pieces myself. It was definitely time for a wardrobe change, so I don't mind. Excited to keep wearing these outfits all summer and can't wait to see what they have for fall.
If you are interested in trying out Aventura (or already love them and just need some new clothes!) comment below and I'll email you a 60% off coupon good for up to a $250 order. They have also recently started a customer appreciation program called #AventuraLife. Its totally free to sign up and you can earn free shipping and discounts on clothes as well. Wahoo!!
For other ideas check out these posts from other Aventura ambassadors:
Alyssa- kidproject.org
Amy – Pit Stops for Kids
365 Atlanta Family
Related posts: