Leaving New Orleans around mid-morning on Saturday we headed to Baton Rouge, LA to attend an endowment session at the temple. We parked the Airstream in the lot, and the kids hung out and watched a movie while Sam and I went inside. Grateful to our awesome kids that do so well on their own and give us opportunities like this!

"Spring! Short stop in Baton Rouge, LA this afternoon to attend an endowment session inside the beautiful LDS temple. Love the peace, comfort, and excitement we felt today. Life is good and the future is even brighter!" – Jess

"We decided during breakfast this morning to attend a session at the Baton Rouge LDS Temple. We made it with only minutes to spare. By awesome coincidence, our college friend Jason was in the SAME SESSION, having driven 7 hours to be there to attend with a friend. We loved seeing him, and discovered that his wonderful family lives quite near a planned stop in Texas in a few weeks." – Sam

We spent the night at Wal-Mart in Lake Charles and took the house to church on Sunday. Recently, the Sabine River had overflowed (even closing down the freeway between Louisiana and Texas) and there were many homes filled with water. After sacrament meeting, Bishop stood up and asked the brethren to go home, change, and come back ready to help families clean out their houses.

"The Sabine river runs down the Texas / Louisiana border, and was flooded high enough to shut down I-10. The Highway is back open now, but plenty of homes have suffered damage. Church today was cut short as volunteers were organized to help those with damaged homes. We were grateful for the chance to serve, and found ourselves working alongside many others to clean out rooms and remove damaged paneling and carpet. So anyway, today we learned about service at church." – Sam
We jumped at the chance to serve and were able to spend a few hours helping a family clean their soaking wet possessions out of their house and stripping the walls down to studs. In the process we met the Evans family who invited us out to their farm for dinner, a bonfire, a zipline, and good conversation and company! Super grateful for their generosity and friendship!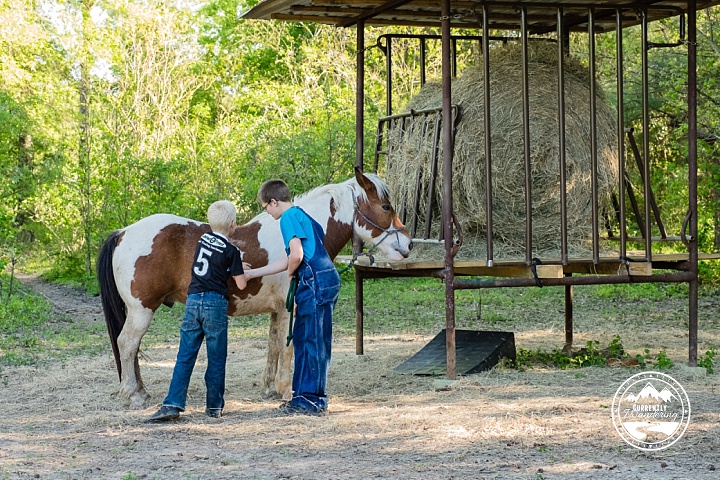 "During our work project yesterday, we met the nicest family that was helping as well. They insisted that we bring our house over to their house for a night. The kids loved playing with friends, and everybody enjoyed a zipline across the horse pasture. Thank you, Evans Family, for being so good to us!" – Sam

"I love that today didn't turn out remotely as planned. After hearing at church that volunteers were needed for flood/disaster clean up, we changed our schedule and landed in the town of Orange with new friends after a good three hours of work. We ended the day with an amazing bonfire and great company. Life is good." – Jess

Next Up: San Antonio!
Related posts: