During our visit to Austin, we made a visit to the Woom Bike USA Headquarters. You might remember Woom Bikes from our experience teaching Cara to ride a bike last year. We've loved Cara's bike, and it has been a wonderful year zooming around. We were pretty stoked to visit HQ and meet Mathias and the team!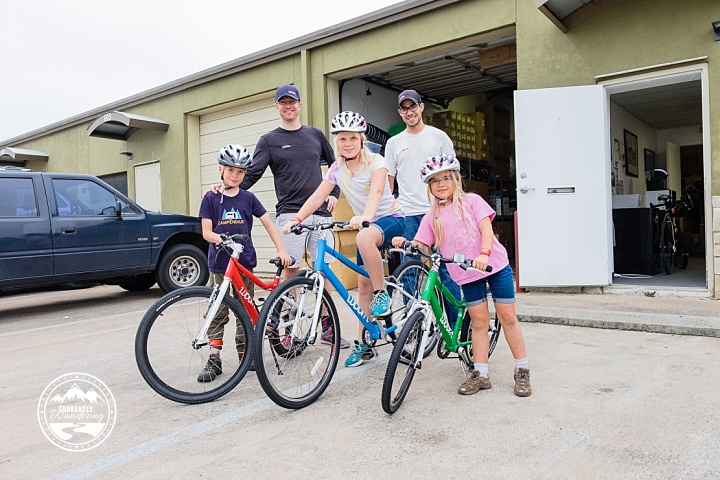 The first thing we did was learn about all the new bike upgrades they've made over the last year. Their already great bikes are now even better. The Woom 3 is the bike Cara has been riding around, and the new upgrades to that bike are substantial. The bike now ships with a freewheel hub (instead of requiring a replacement) and it is lighter. The rear hand brake is now colored green for easy identification and teaching kids. Their other bikes have similar upgrades.
We also got a really good look at the Woom 1, their smallest balance bike. We were into balance bikes far before Woom came on the scene, and this thing is amazing compared to what we used with our kids. Most notable is a hand brake, which would have been VERY nice, particularly since we took Cara on some (easy) mountain bike trails.
The Woom 1 comes in a variety of colors and can be ordered from their website or on Amazon. They periodically do pre-orders when they know shipments are coming in from overseas so plan ahead if you are getting one for a special occasion!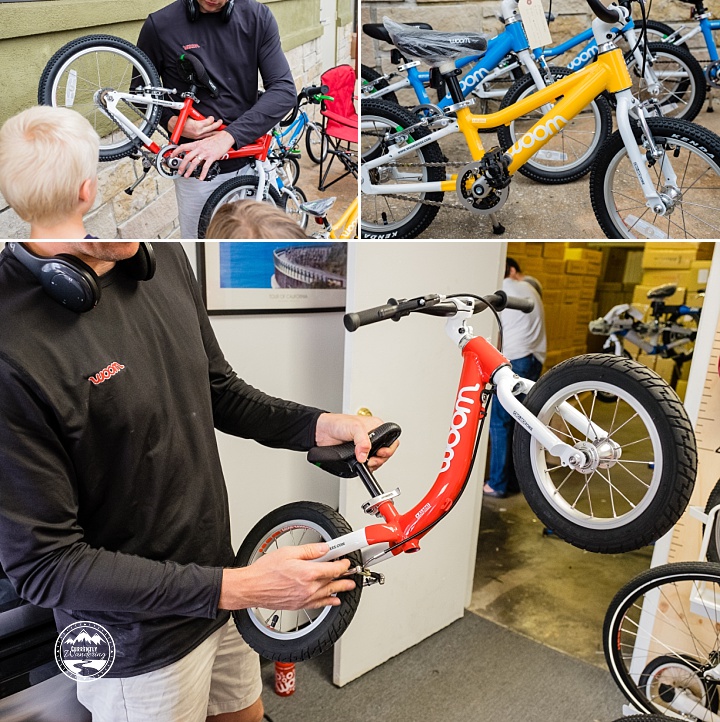 The office has a poster filled with Instagram pictures of kids and their awesome bikes, and we found Cara! The staff was amazing, explaining to both us and our kids about how bikes are assembled and prepared for their new owners before shipping. Also, did we mention how light these bikes were? A lighter bike is both easier to control and is much more fun for kid and parent alike.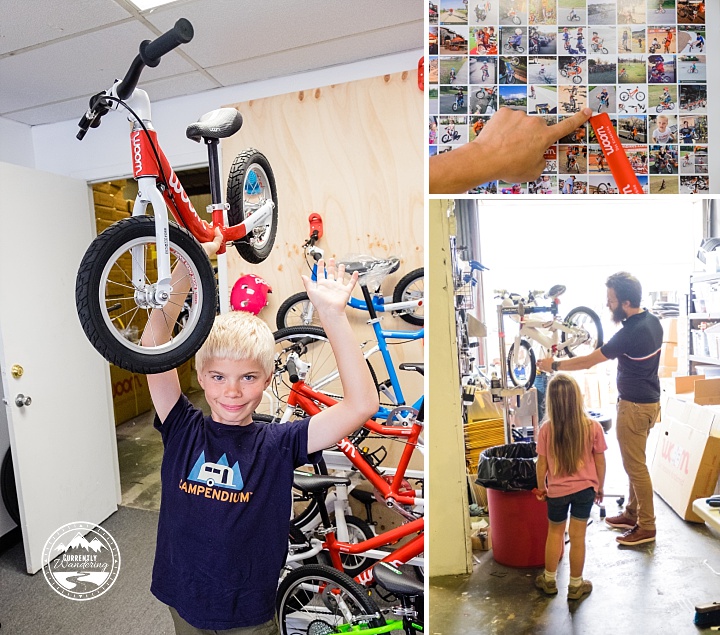 All the talk of newer bike features made us want to try them out! Cara tried out a new Woom 4 (green, in the picture below), Andrew a Woom 5, and even Rachel tried out a Woom 6, their new large bike in the series.


Our visit was preceded by a new shipment of bikes, and the warehouse was PACKED with bikes to prep and ship to customers. Business is so good they are being forced into a larger space to continue to meet demand.

While we were there, the Fedex truck came to pick up a shipment of bikes. They packed the truck full, and had to send another truck for the rest! Now every time Cara sees a Fed Ex truck she points it out and wonders aloud if they are Woombikes inside!

To more fully test these new bikes, we borrowed 3 bikes for a weekend of mountain biking in the hill country outside Comfort, Texas.
Taking along 3 extra bikes for a weekend of testing presented a problem: How to fit 8 bikes on a truck with racks for only 4. The solution was found in the Woom Seersucker rack, attached atop the cab of the truck. This suction mount was easy to place, and gave us places for an extra 2 bikes. We headed immediately over to REI, and bought another Yakima High Roller  Rooftop Bike Rack for our normal bars to complete the setup. (We had been planning to buy another when Cara got a bigger bike, and now was the time!)

We'll talk more specifically about the Woom4 and Woom5 bikes in a few later posts, but that's long enough for now.
Giveaway!
**Contest Closed***
While we were there, we got a look at the Woom kids Melon helmets. We are big believers in wearing helmets, and this is a great one. There are two features that this helmet has that are unfortunately rare among kids helmets.
First, the helmet is extremely lightweight. It provides ample protection, yet doesn't drag a kid down with an uncomfortably heavy head. Internal replaceable pads allow the helmet to be sized down to smaller heads and grow with them.
Second, the latch has been designed to be worked by kid fingers, AND be pinch free. The buckles typically found on bike helmets can be hard for a kid to work. This buckle is magnetic to allow for easy opening and closing, yet remains just as strong while under the kind of stress common in an accident. Cara has always struggled to work her helmet buckles with previous helmets, but just once or twice on this helmet and she had it figured out. The buckle slides together from the side and holds in place with a magnet. The buckle remains fixed tightly when pulled from the straps.

Does this sound like a helmet you would like to have? You are in luck! Woom Bikes is giving one away! These helmets are a size small – so definitely for younger kids. Melon recommends ages 18 months to 5/6 years old. You have two options for style pictured below:

To enter, comment below on your favorite place to take your kids biking and we'll randomly draw a winner Wednesday, May 18th at 10pm MST!
As always, thanks for shopping through our Amazon affiliate links when you can – you spend the same amount and we earn a few pennies to help maintain our blog!
Yakima High Roller

 Rooftop Bike Rack
We now own 4 of these and use them on the back of our truck to carry our bikes. We love that you don't have to take the front wheels off!

Hand brake, super light weight, and will help your child learn to balance as young as 18 months old!

Related posts: