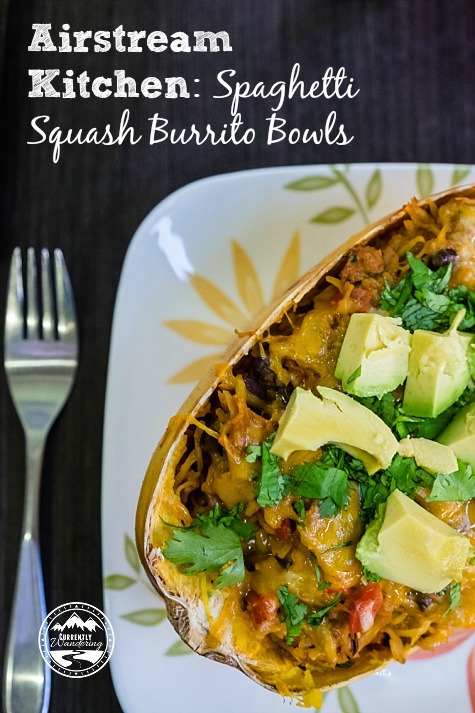 We love spaghetti squash in this house and I was excited to find this recipe on Pinterest. Since our oven heats up the entire house, however, I'm pretty careful about the days I bake. We happened to have an overcast day in Arkansas that was perfect to throw the squash into the oven for 45 minutes. This one is kind of like twice baked potatoes, only with spaghetti squash. I suppose you could ditch the skin and put the whole thing into a cast iron pan as well. Oooohhh… I think I'll try that next time!
Spaghetti Squash Burrito Bowls
Serves: family of 5
Adapted from Christine Pechulis
Ingredients:
1 medium spaghetti squash
2 tsp coconut oil
1/2 lb lean ground turkey
1 small onion, chopped
1 sweet bell pepper, finely chopped
4 garlic cloves, crushed
1 can kidney or black beans, drained & rinsed
1 1/2 tsp chili powder
1 tsp cumin
1 tsp oregano
1/2 tsp paprika
1 Tbsp canned chilies or jalapenos (I omitted this and we just put Green Chili Tabasco sauce on it instead – definitely needs some kick however you do it!)
1/2 cup tomato sauce
1/4 cup cilantro finely chopped
1 tsp salt
1/2 tsp black pepper
1 cup cheddar, colby jack or Mexican cheese, shredded
Toppings: cilantro, avocado, plain Greek yogurt, chopped tomatoes, Tabasco sauce.
Instructions:
Preheat oven to 375 degree F.
Cut squash in half, scoop out seeds. Lay skin side down on baking sheet and sprinkle with salt and pepper. Bake for approximately 45 minutes or until tender.
While its cooking, heat coconut oil in a skillet on medium heat. Add ground turkey and cook until almost done.  Add onions and peppers (and more coconut oil if needed) and continue to saute until veggies are soft. Add garlic and cook for another minute. Add beans, chili powder, cumin, oregano, paprika, chilies/jalapenos, tomato sauce, salt and cilantro. Stir to combine and then remove from heat. Add half of the cheese and stir again.
Remove spaghetti squash from oven and let it cool a little before using a fork to remove strands. Try and keep the shell intact because you are going to need it!
Add spaghetti squash to meet mixture and stir to combine.
Divide mixture in half and put it back inside the shells. Cover with remaining cheese.
Bake for an additional 10 minutes, or until the cheese is melted. Garnish with avocado, extra cilantro, chopped tomatoes, Greek yogurt, and Tabasco sauce.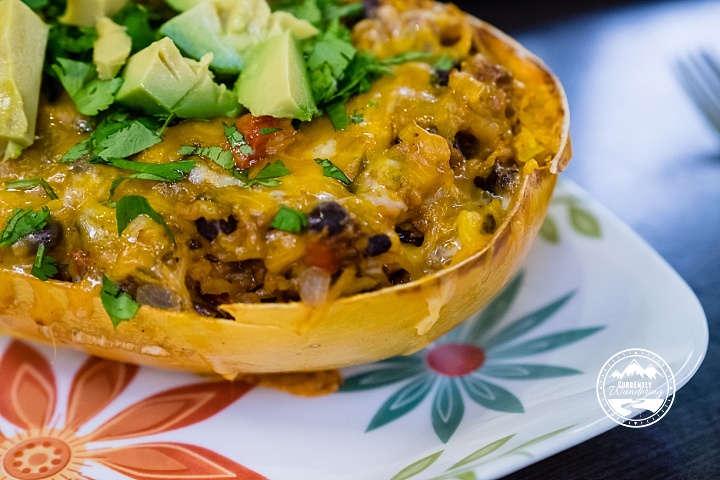 Related posts: