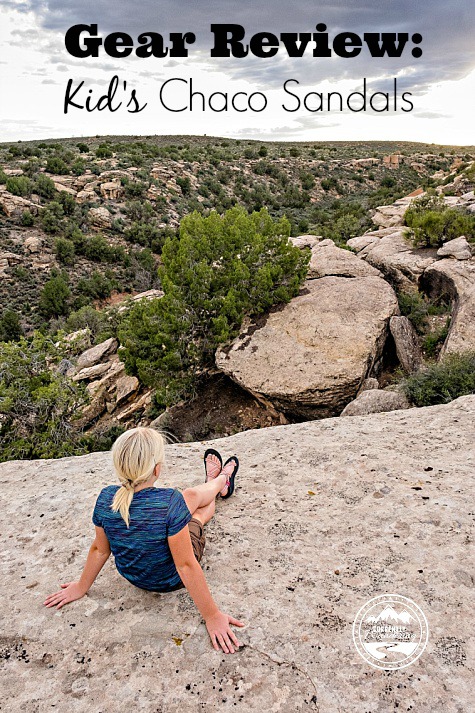 Sam and I have been Chaco Sandal owners since a few months after we were married almost twelve years ago. I loved using them on my river trips in college, and they are fabulous for casual, everyday summer wear. Plus, Chaco tans just make you look really hard core, right?
When I started hunting around for new sandals for the kids a few months ago, I contacted a representative at Chaco and asked them to send us kid sandals for us to review on the blog and through social media. Graciously they said yes, and let the kids pick out the color and style they wanted! We had to wait for our mail drop in Austin, but they've immediately become my kids' go-to footwear for just about everything except long hikes.
If you are unfamiliar with the brand, Chaco is a high end shoe and sandal company that, "creates premium footwear and accessories for the outdoor-minded. We make simple, versatile products that provide superior comfort and durability. We believe life is enriched through outdoor adventure, travel, and community." Seeing as I had the same pair of sandals for almost twelve years, I can attest to their durability. I actually wanted them to wear out so I could justify getting a new pair!
Back to the kids. We've tried many different sandals over the years, most recently being a closed-toe version from Payless Shoes. My kids hated having the closed-toes because even though they protect your feet, little rocks and sand would get stuck in there and be difficult to remove. Mostly they just sat in our shoe slot taking up space and I would get annoyed anytime one of the kids didn't want to wear them. So far, with Chacos, we've had zero stubbed toes (knock on wood), a lot less trapped rocks, and my kids wear them every day! The occasional pebble will still slide in between their feet and the bottom of the shoe, but I think this happens with every type of sandal and we just loosen the straps quick and shake it out.
Cara picked out the Fiesta straps on the Kids ZX/1 Ecotread line.  Super fun and bright, and I love the look of the double straps. We may have ordered them a bit big since the pull strap hits the ground, but I was worried about them being too small as she was right on the line of two sizes. So far we haven't had any problems.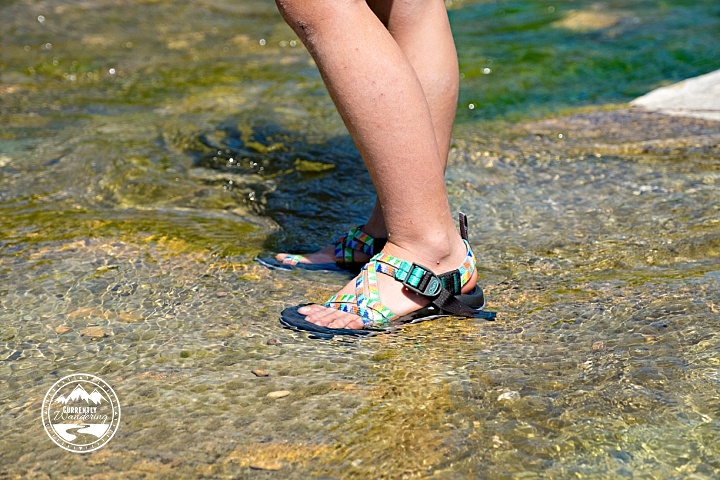 Naturally, Andrew wanted orange so he picked out Intersect from the Kids Z/1 Ecotread line. He liked the beefier single strap, and I definitely agree they look more masculine than the double strap ones. None of the kids line has the toe loop which is probably for the best! While I love the toe loop on mine, it definitely makes them harder to get on and off.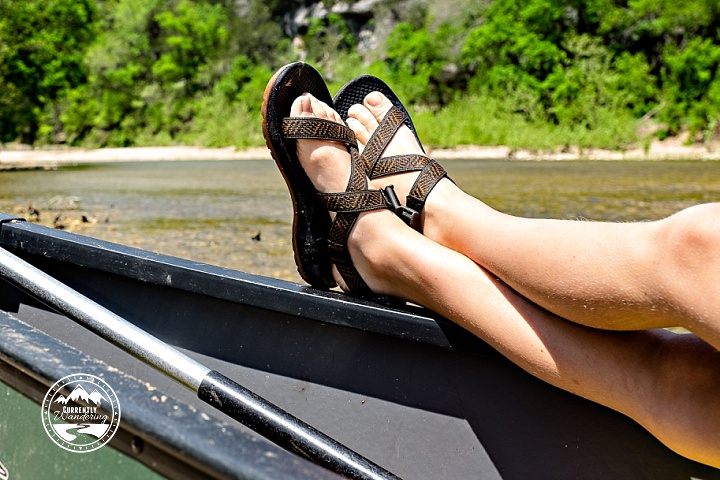 Rachel desperately wanted her ZX/1 sandals in Dagger, but they were out of stock. She decided on Chantilly Rouge instead and loves them. They are a super bright pink color, but not too pink since she's not really a girly- girl.

Once we picked up our sandals, we immediately set to test them out. Our first outing was a swimming hole outside of Austin, TX at Mckinney Falls State Park. Sandals are great for swimming holes because you never know what is going to be on the bottom, and they can protect your feet while climbing over rocks. The kids also had fun playing in the shallow water and I felt good knowing their feet were more protected and the had a little more grip on the rocks to prevent slipping.
Of course there was some rock jumping as well.

We also went on a bike ride as a family along the Ann and Roy Butler Hike & Bike Trail in downtown Austin, TX. We had planned to hit a splash pad at the end of our 8 mile ride so the kids wore swim suits and Chacos. Alas, the water was not turned on yet, but we had a great ride and ended with Slurpees from 7-11 instead. The kids had no problems wearing sandals instead of shoes and I think they actually preferred it!


We also participated in an Earth day, garbage, clean-up canoe trip on the Buffalo National River in Arkansas. When I talked to the ranger she mentioned that everyone "needed to have shoes that can get wet, as we'll be getting in and out of the boats to pick up trash." Perfect.

In short, we love these sandals.  They are a bit more pricey than you'd pay for sandals at Payless or Target, but they are comfortable, durable, and built to last. I imagine we'll be passing these down through our kids, and maybe even on to some nieces and nephews when Cara outgrows them!
And because I may have been a tad bit jealous of my girls' super cute double strap design, I bought myself a new pair as well.

Related posts: