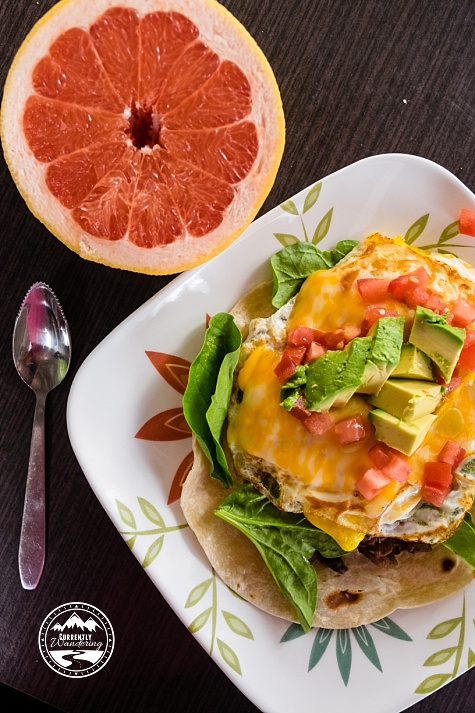 When I first heard of "Huevos Rancheros" I had absolutely no clue what it meant. I never took Spanish in high school so my vocabulary is basically limited to "Hola!" and "Adios!" Now that my kids having been learning Spanish using the Duo Lingo app for school, they've informed me that "Huevos Rancheros" means "Ranch Eggs". Still not sure what "Ranch" means in this context, but we'll go with it.
Whatever its origin, this a super easy, quick dinner when I really don't feel like cooking. Everyone gobbles it up. My only hang up is that I feel like we eat in shifts as I can only cook two, sometimes three sets of eggs at a time on my stove. I typically make eggs for the kids first, then Sam, and then mine come off last. Serve with a side of fruit and you basically have your food groups covered!
Huevos Rancheros
Serves 5
1/2 medium onion, diced
1 tsp coconut oil
1 can of black beans, rinsed and drained
3 roma tomatoes, diced, separated
1/2 tsp chili powder
1/2 tsp paprika
1 1/2 tsp ground cumin
1 tbsp lime juice
salt and pepper to taste
10 small corn tortillas OR 5 large flour tortillas (depends on what I have on hand)
10 eggs
10 slices of cheese (or shredded if that's easier)
spinach
Avocado
Tomatoes
Hot sauce
Directions:
In a small sauce pan saute onions in coconut oil until softened. Add black beans. Stir until warm and then smash the beans with a fork until slightly chunky.
Add in about two of the tomatoes, the spices, and the lime juice. Salt and pepper as needed for the flavor to come out. Keep stirring.
Heat up a griddle and fry corn tortillas in coconut oil, or warm up your flour tortillas. Set aside to keep warm.
On same griddle fry two eggs at a time until almost well-done (I find if they are overly running my kids make a mess, but they like them a little soft!). Add the cheese once you've flipped the eggs so it'll melt as your cook the second side. If you are using corn tortillas I usually do one egg per tortilla.
 Layer black bean mixture, and spinach on top of tortillas. Top with fried eggs & cheese.
Top with leftover fresh tomatoes, avocado, and hot sauce (we love Green Chili Tabasco sauce!) with a grapefruit on the side. 
Related posts: