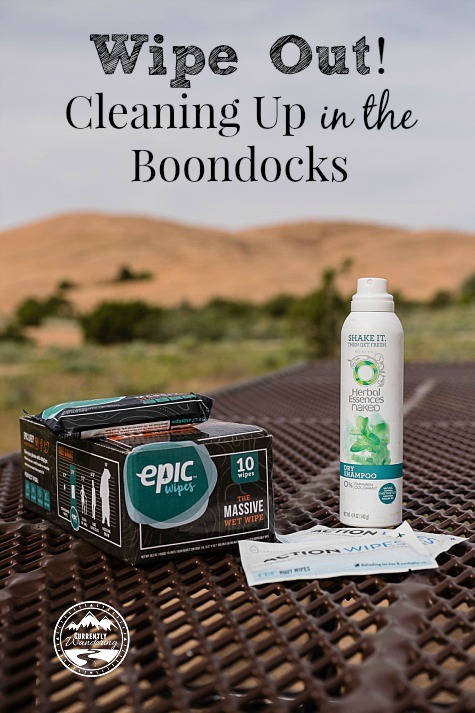 There are a few terms that get tossed around in the RV/camping world that are probably unfamiliar to most people. While I've never seen an actual dictionary to define these terms, we've been around for awhile and we've seen a general consensus among the full time crowd. Many travelers prefer to stay in RV Parks, but for those of us that like to get out of typically cramped and overcrowded spaces there are a lot more options out there! Here are a few definitions for clarification purposes:
Boondocking: Camping (in a trailer or otherwise) on BLM land or in a National Forest with no fees or established campground. The general rule is to camp where others have, i.e. set up near an established fire ring, but there's no ranger or camp host, and hopefully very few neighbors. For more info, check out this article on RV share – they did a pretty good job of covering the basics.
Dry camping: Camping in an established campground with no hookups. Generally there are bathrooms (typically pit toilets or "long drops" as we call them), and water spigots in the loop but nothing at your actual site. Fees are usually minimal, anywhere from $5-$15 per night.
It's no secret we love to park our Airstream out in the wilderness, and we find that both Boondocking and Dry Camping are our favorite options when deciding where to stay. Not only is it cheaper, but generally more pleasant.
With five people in our family managing water can be tough, especially in the summer when everyone gets hot and sweaty. Then we start to smell, and living in 188 sq feet with smelly people is not fun. Since showering uses quite a bit of water we've found other ways to clean up after time on the trail or even just a few days lounging around in the back country.
Showering Wipes
Think baby wipes, but for adults. We've tried two different brands (well, three if you count our first epic failure almost three years ago but we won't discuss that one) and they have both have their pros and cons but generally leave us feeling refreshed.
Action Wipes – Probably the most recognizable brand when it comes to body wipes as these guys have been around for quite awhile. The Epic Fail three years ago was trying an off brand when we should have just started with these guys. You can buy them individually packaged (which we prefer) or in a 30 count box (again, think baby wipes).
These body wipes are a pre-moistened towelette, that have a natural, clean, fresh scent. They smell great when you are using them and the smell dissipates quickly. They claim one Action Wipe is equal to 25 gallons of water which is the average amount of water used in a 10 minute shower. Granted, our showers are never 10 minutes long, but you get the picture. Their formula uses pure essential oils that are also great for cleaning minor cuts, scrapes and even poison oak & poison ivy oils although I really hope to never have to test that one out!
We've found that one wipe generally cleans all the dirtiest bits – you start with a quick wipe down of arms and legs, then move to chest, armpits, and the private parts last (because those are generally the dirtiest!).  There's a couple of times I've felt like I could possibly use two – and if you are caked in adventure dirt you'll definitely want to double up!
Action Wipes are strong and customers have sent it dozens of ideas on how to re-purpose them once you are finished with your shower!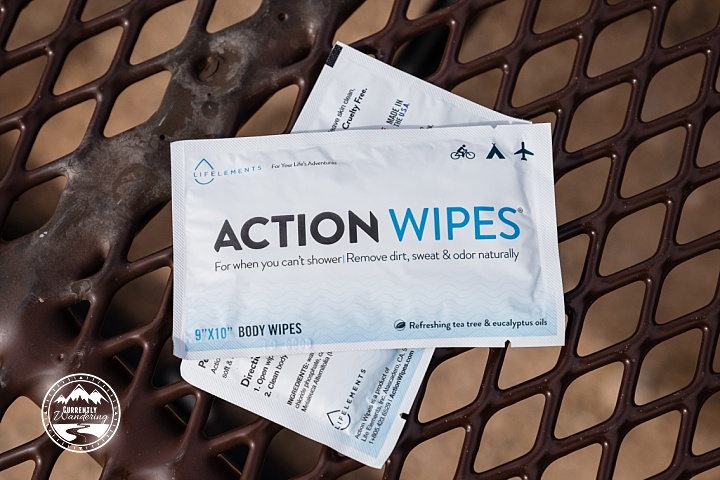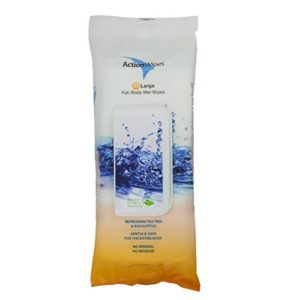 Buy Action Wipes on Amazon
Epic Wipes – These guys are the new kids on the block. We were sent a box of Epic Wipes to test out as part of their Kickstarter Advertising campaign. My first reaction was that they are HUGE. They've got some serious heft to them, and I'm not sure I'd want to pack them on a long backpacking trip as they'd add extra weight. Probably depends on how dirty we think we'd get.
That said, having a little more wipe is kind of nice sometimes. They claim their wipes are "two handed" and you can actually manage to clean your back! Epic Wipes are made from bamboo so they are 100% biodegradable and are also made with antibacterial essential oils and are paraben and toxin free.
After a quick ride on the Slickrock trail in Moab, UT I pulled one out to test it and immediately tore it in half and let Sam use the other side. Half of it was still larger than our Action Wipes and I felt like I could get really, really clean. It was awesome. I can't wait to be dirty enough to use the entire thing!



Size comparison:

I don't know that I have an opinion one way or another between the two brands. I think they are both useful in different situations and plan to keep both on hand at all times!
Dry Shampoo
My other best friend while dry camping or boondocking is dry shampoo. Honestly, I have many friends in sticks & bricks houses that use dry shampoo on a regular basis in between showers so this is nothing new. There are many arguments claiming washing hair too often actually strips away healthy oils and can damage your hair.
Dry shampoo soaks up excess oils in between shampooing your hair leaving your locks looking fresher and less greasy. I've also found that spraying dry shampoo on my hair, combing it through, and then styling with my flat iron combats the "I just need to wash my hair so that I can do something with it" syndrome.
My favorite brand lately has been Herbal Essences Naked Dry Shampoo. No particular reason other than I've found it both on Amazon and at most Kroger brand stores (probably other places too but I don't go through it that often). It also smells really good. That's a definite must.
Don't forget to comb it through your hair once you spray your roots and hair! It comes out white and looks a bit like dandruff if you don't comb it through. I generally wash my hair every three days, and can stretch that a little longer if I use dry shampoo a few times as well.

Buy Herbal Essences Naked Dry Shampoo on Amazon
There you go! Cleaning up doesn't necessarily have to mean a full on shower (or "Navy Shower" as usually happens around here). Honestly, sometimes I'm just in a hurry and need to clean up fast after a mountain bike ride or I'm feeling really lazy and don't want to walk to the camp shower. Either way these products help me feel refreshed without taking the time to soap down!

Related posts: