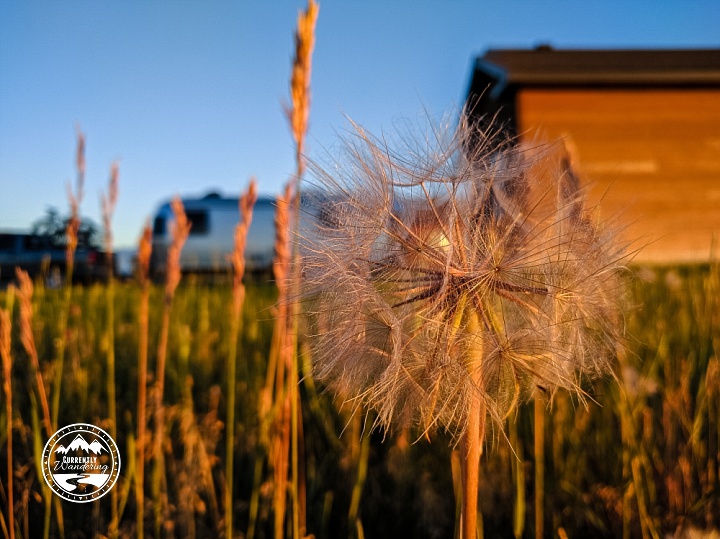 Travel Dates: June 27 – July 11, 2016.
With no agenda other than making it out to California for our Curren family reunion by August 5th, we were unsure what to do for the month of July. Pageant in June was fabulous, but we were itching for cooler weather, hiking, and a change of scenery. After a few weeks of back and forth, we decided to head up to Driggs, ID to see Sam's family and go from there. We could moochdock at his brother's house and have some much needed time to decompress from pageant.
Unfortunately we were delayed by an unexpected trip to the Airstream dealer in Salt Lake City to work on our brakes. They had been bothering us (well, mostly Sam) for sometime and after a trip to Costco to restock the essentials we headed to Salt Lake for a quick stop on our way to Idaho.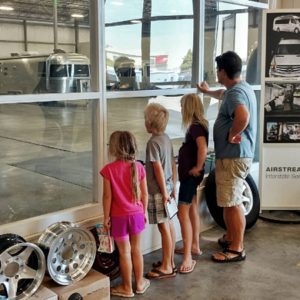 "Making a (hopefully) quick stop at the Airstream dealer in Salt Lake City to get our brakes fixed. We still have one stupid tire that over brakes and skids. This problem has been plaguing us for a year. Keeping our fingers crossed they are working it out!" -@jesscurren
"Quick" ended up being overnight, so we packed a bag and crashed at Grandma & Grandpa's house in Sandy for the night. They were delighted to see us and we had a relaxing evening despite wanting to get to Idaho as fast as possible.
The following day also took longer than expected to sort out the problem, but by 2pm we were on our way to Driggs! The kids were great in the car even though we arrived after dark at our destination. Luckily its super easy to just throw everyone in bed and take care of the logistics in the morning.
Sam's brother travels extensively for work, but has always invited to make ourselves at home while he is away. The kids immediately made good use of his living room to build a blanket fort and we enjoyed long, hot showers in the house.
Not one to sit still, 2 days after we arrived I packed the kids in the car for a drive to meet a blogging friend up in Island Park. We did a buggy, but nice hike around Harriman State Park and had a great time chatting and getting to know each other.

"Took the afternoon and drove up to Island Park to meet up with the @mountainmomtots family on their National Park to Park Tour. We went by the visitor center at Harriman State Park and borrowed their Jr. Ranger packs. These two then spent the next hour trying to catch bugs with their nets." – @currentlywandering

"I love meeting like minded families and hanging out with fellow blogger @mountainmomtots today was a blast! They are on a seven week National Park to Park Tour for the Centennial year and have put together quite the adventure mobile! Make sure to follow along as they visit Yellowstone and then head over to Colorado, Arizona, California, Oregon, Washington, and Montana for a total of 5,600 miles and 17 National Park Service Sites in less than 2 months!" -@currentlywandering
Jake arrived the evening of June 30th, and the next day we both played hookie and rode the mountain bike lifts at Grand Targhee. It was a fabulous day – although riding a hard tail on downhill trails is a bit of a workout!

"Rode the lifts at Grand Targhee with my brother in law @freshaire_dad yesterday. The views from the top were stunning, including this peek at the Teton mountains. Turns out downhill mountain biking on a hard tail is a killer workout for both my arms and my calves." -@jesscurren

"The Teton Valley is one of my favorite places in the country. The fact that it's also one of the best places to mountain bike doesn't hurt either. " -@currentlywandering
Saturday we managed to get quite the list of chores accomplished. We desperately needed to vacuum out the Airstream and catch up on all the little projects we never had time for. Fortunately, nature abounds in the Teton Valley and we set out for an afternoon hike along Teton Pass. Just being up there and looking out over Jackson and the gorgeous Teton mountains just confirmed that we were falling in love with this little corner of the earth.

"My afternoon was… riveting. This is the leftovers after I replaced a slew of belly pan rivets under the Airstream today. Not terribly difficult, but I do recommend finding some concrete to make the job easier." -@telegramsam

"After chores this morning we managed to get out for a short hike along the Pass Ridge Trail at the top of Teton Pass in the late afternoon. Wildflowers and beautiful views of Jackson, WY were abundant and we only hiked half the trail!" -@currentlywandering

"After a short hike at the top of Teton Pass, Rachel, Andrew and I rode down a 4 mile stretch of the Old Teton Pass Road, now converted into a paved multi-use trail. The views were spectacular, but the grade was steep enough to require constant braking." -@telegramsam

"If there's one thing I've learned over the last 3 years of full time travel, it's to fully embrace who I am and what I love doing. That's led to a whole lot of scenic views, photography, and some pretty incredible experiences with my family." -@currentlywandering
4th of July has never been my favorite holiday, but I was itching to do something. I looked up events in nearby towns and we settled on driving over to Rexburg (about 45 minutes) for their parade. We were also able to meet up with two other traveling families (one had just settled in Rexburg) which made it even more fun.
After a stop at Pizza Pie Cafe for a lunch buffet we headed back to Driggs to do our own fireworks. Not the grandest of holidays, but it felt good to celebrate at least a little bit.

"Drove to Rexburg this morning for the parade and to meet up with some fellow traveling friends. Followed up with all you can eat pizza and we'll shoot off fireworks this evening. Happy holiday everyone!" -@jesscurren

"Had our own little firework show out in front of the house. Tired, a little sunburnt from the parade and completely happy & content to be here with my family." – @currentlywandering
More chores followed in the week after along with both Rachel and I coming down with the worst cold EVER. It was miserable. Despite feeling terrible, we managed to plug along with chores and school. The kids enjoyed taking their recess breaks on the trampoline and I enjoyed having their attention diverted.  Maybe this house thing wasn't so bad.

"Taking full advantage of our #moochdocking situation to get some much needed repairs done and give the ol' girl a good scrub. It's ridiculously beautiful here." -@currentlywandering

"Couples who recaulk the windows on their Airstream together, stay together. " -@jesscurren

"In addition to a much needed scrub, the Airstream needed some new caulk around the front windows. Our aging window seals had developed leaks that admitted a small amount of water in rainstorms. I also discovered a missing screw on one of the rock guard hinges. With that replaced and caulk done, we are in much better shape for future wet weather. On a related note, Adseal is nice to work with." -@telegramsam

"Rachel and I got slammed with the nastiest of colds this week so we have been laying pretty low. Unfortunately that also means we are a little stir crazy, so we muscled up enough energy to drive down to Victor and check out the bike park. Pretty fun for such a small town! Followed it up with ice cream at the Emporium and called it a wrap. We are definitely falling in love with this beautiful valley!" – @currentlywandering

"Kids are learning a new sport thanks to Uncle Jake having a few skateboards stashed at his house." -@jesscurren
At the tail end of the week we had my cousin and her family come stay with us in Driggs. They were headed to Yellowstone and Grand Teton and we volunteered to save them some money on hotels. Plus, that meant our kids could spend time with their older second cousins which just warmed my heart completely.
They were gone quite a bit out touring the parks, but we managed to gather Sunday evening for a family BBQ. Serendipitously my brother and his family were also in Grand Teton, so they made the drive over the pass to come as well.
It was a big, fun, amazing evening with my family in Sam's brother's house. Kind of a funny situation, but Jake was just glad the house could be used while he was away.

"Serendipitously I had a cousin come to town from southern CA to vacation while at the same time my brother and his family were in Jackson. Big family party tonight with hamburgers, lots of extended cousins time, plenty of trampoline jumping and s'mores. Family is the best!" -@jesscurren
That evening my brother Josh informed me of their plans to hike Jenny Lake the following morning. The weather hadn't been amazing (cold and rainy, really) but they were going no matter what. Jenny Lake has always been on my list, so we played hookie and left early Monday morning to go with them.
So glad we did as the hike was just what we needed! The kids all did great despite the cold temperatures and we enjoyed spending time with family before they left for Yellowstone.

"It snowed as we drove over Teton Pass this morning, but that didn't stop us crazy hikers. Met up with my brother and his family to hike Inspiration Point in Grand Teton National Park. Hiking with cousins is always twice as much fun!" -@currentlywandering

"What the kids look like when it's 32 degrees outside in JULY but we are going hiking anyway. Naturally we warmed up as we hiked and gradually shed a few layers, but it was cold to start!" -@jesscurren

"That is one happy boy on a boat, and one happy pre-teen hanging out with her baby cousin." -@jesscurren

"He may look cute, but these chipmunks at the top of Inspiration Point in Grand Teton NP were a menace. We could easily tell they had been fed too much by hikers as they were very aggressive. A fed animal is a dead animal people. They may give you those pleading eyes but once dependent on human food animals lose the ability to forage for themselves." -@currentlywandering

"I'm going to spend the rest of this week at a conference, so we escaped into the wild today. A beautiful 5 mile hike to Inspiration Point at Jenny Lake (and a boat ride back) was just perfect.

Except for the aggressive and obviously human fed chipmunks at the top. 😕" -@telegramsam
We were sad to say goodbye to our family, but before we parted to made plans to meet up in Canada next summer. Always love having something to look forward to!
Related posts: