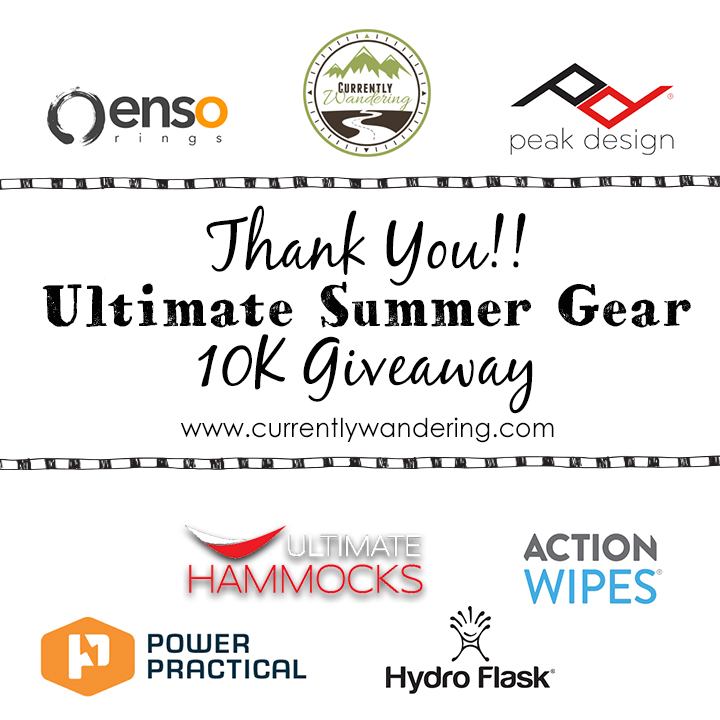 We are pretty stoked here at CurrentlyWandering to have reached over 10,000 followers on Instagram! I'm still blown away by the communities we've found with both our Airstream/full time family travelers and our outdoor adventure friends. There are so many amazing people that we've been able to connect with, be inspired by, and best of all meet in real life and become friends! If you don't follow us over there, please do! Instagram is always up to date as far as where we are and our most current crazy adventure.
As a HUGE thank you to our amazing community, we put together the Ultimate Summer Gear Giveaway. Over the last few months I reached out to many of our favorite brands who generously donated some of our favorite gear so we could pass it on to you! We've tested every single piece of gear and given them all two thumbs up, falling in to the "I can't imagine traveling without this stuff" category.
We backed the Capture Clip v.1 on Kickstarter over 3 years ago. We've since upgraded to the v2 (see blog post here) and Peak Design continually amazes us with the gear they produce. The best part? Their gear is not just for professional photographers, but really for anyone! We use their Field Pouch as a GoPro bag, I bought Sam the Messenger Bag this year for Father's Day, and with their most recent Kickstarter Project, they released 4 new everyday bags! I've got my eye on the tote. Check them out on Kickstarter here. Really, though, it all comes down to the Capture Clip. I use it almost everyday strapped to our Flash Pack when we are out exploring. I love that my camera isn't hanging by a strap around my neck to get in the way, but its still easily accessible. Paired with the Cuff wrist strap I feel like my camera is totally safe.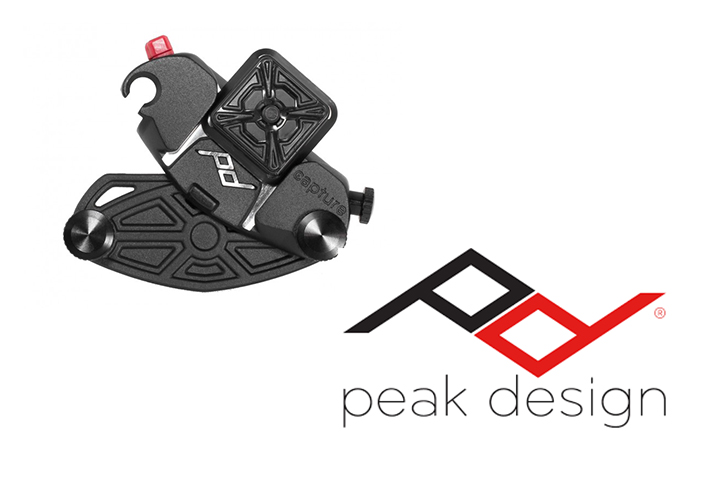 We have a laziness struggle with putting lights outside our Airstream. I love the look of the party lights hanging from the awning, but in the summer when its practically bedtime by the time it gets dark we don't put them out. WINTER, however, is an entirely different story. We love having lights outside and the Luminoodle is an easy solution. Its lightweight, packable, and with some of their new designs they even have color options and dimmer switches (blog post here). They are giving away a 10 ft Luminoodle with battery pack.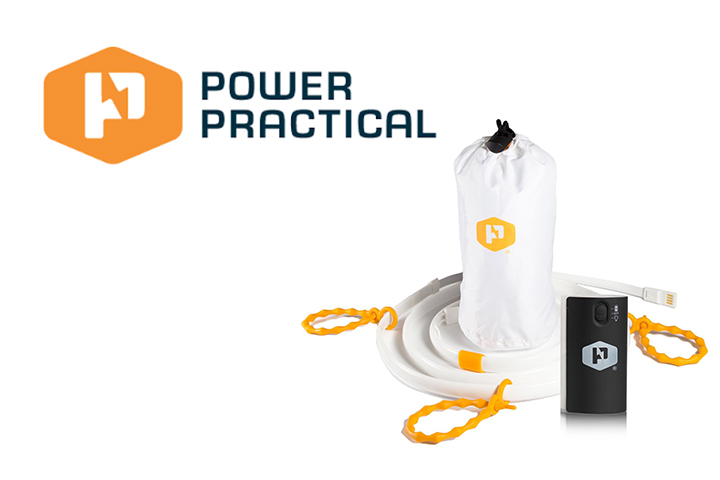 Hammocks are all the craze right now and for good reason. We use ours all the time and have found ways to rig it to the truck when two trees are not readily available. We've been impressed with the quality of Ultimate Hammocks, their prices, and most recently their Ultimate Hammock Straps. Definitely the lightest, smallest ones on the market right now (blog post here).

Cleaning up after an adventure can sometimes take the experience from great to amazing! There's nothing like a quick "shower" after a really hard ride, or being able to freshen up in the backcountry. Action Wipes has donated their "Survival Kit"  to "Cleanse, Soothe, and Protect". It's a BPA-Free Loksak bag that contains 6 Action Wipes Singles to cleanse, a 1/2 oz Healing Honey Stick and Healing Honey Lip Goo to Soothe (dry skin, bug bites, rashes, sunburns, you name it) and a 1/2 oz Natural Sun Screen to protect your skin from harmful UV rays (blog post on Action Wipes here).


We love our silicon wedding rings! Durable, light weight, and flexible these things are super comfortable. We've worn ours canoeing, mountain biking, hiking, weight lifting, swimming, rock climbing, pageant acting, and canyoneering. We also have worn them to church, social events, and during our everyday activities. In fact, Sam never takes his off anymore (blog post here).

Turns out REI is a *really* hard company to work with (we are still too small to garner their attention!) but since the Flash Pack is pretty much a staple on our adventures we've decided to fork up the cash and donate one ourselves! This is a slightly newer version but the concept is still the same and I do love the improvements they've made over the years. They've added a removable back panel for extra padding, and now the top fully closes when cinched tight. We pair this with a 2 Liter Platypus Big Zip Reservoir and the capture clip and take it everywhere! Actual color: Green.

Saving us from lukewarm, the Hydro flask is our newest "can't live without this" item. Originally we bought it for hot chocolate while backpacking (and it stays HOT) but once we added the sport cap we now use it everyday. So much that we own 2. I've been tempted to buy a larger wide-mouth version but haven't made the jump yet.

Now to the fun part! ONE lucky winner will take home the ENTIRE Ultimate Summer Gear Pack! How awesome is that? Enter below using the rafflecopter wideget and spread the word for additional entries. Contest ends Monday, August 15, 2016 @ midnight Pacific Standard Time. Good luck!
Related posts: