Travel Dates: July 12 -27, 2016
After a great two weeks moochdocking in Driggs, ID we left the Airstream and drove down to Sandy, UT for the weekend. Sam planned to attend the Open West (Geek) Conference, Andrew had cub scout camp, and we wanted some family time.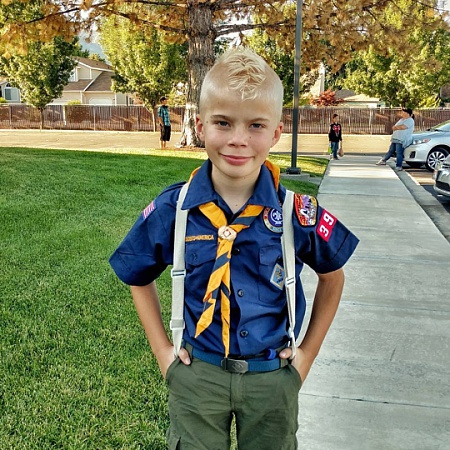 "Dropped Andrew off for Cub Scout day camp, and @telegramsam off at his geek conference. Now the girls get to go play with grandma for the rest of the day!" – @jesscurren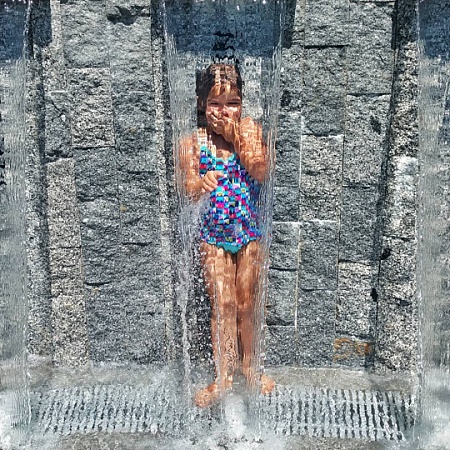 "I went and ran errands all morning and the girls had some good grandma time. Part of the afternoon they spent at the Sandy slash pad behind the amphitheater and when I stopped by on my way home I was impressed. Probably my favorite splash pad ever and we've seen quite a few!" -@jesscurren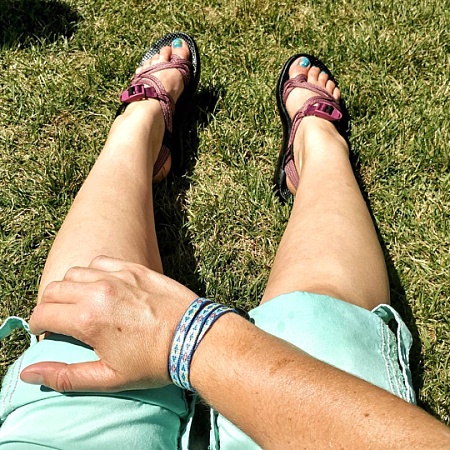 "Not everyday is rivers and lakes and hiking. Some days it's errands and splash pads with the kids. At least I can do it in style. Also, are wrist tans ever going to be as cool as sandal tans?" -@currentlywandering

"I hacked the firmware on my OpenWest conference badge, and I added an Airstream." -@telegramsam

"Andrew is off to another day of Cub Country. He had an awesome time yesterday, and was up early and dressed and excited.  It is so rare for our family to be all split up during the day like this, and I'm OK with it remaining the exception, rather than the rule." -@telegramsam
Friday morning we hiked with my parents and sister to Lakes Mary, Martha, and Catherine (check it out the hike The Outbound). We had beautiful weather and did pretty well considering the elevation and recovering from colds.

"Went for a hike this morning up Big Cottonwood Canyon to Mary & Catherine Lakes. Quite a bit of elevation gain (especially as Rachel and I are still recovering from our colds), but the view was worth the effort!" -@currentlywandering

"Wildflowers, blue skies and Alpine lakes. The trail to Lake Mary is fairly busy but today wasn't overcrowded. Loved getting out with my family!" -@currentlywandering
Saturday morning we gathered with other members of our ward for a little service at the church building.

"Every Saturday morning, a team of congregation members descends upon each LDS chapel to give it a thorough clean. This helps us all (including kids) take better care of the building during our regular use, and it keeps maintenance costs lower. We took a turn this morning in our home congregation, and I had vacuum duty. The vacuum sucked, but the service didn't." -@telegramsam
It didn't take long, so Sam and I quickly stole away for a ride up Corner Canyon in Draper. The trails were still under construction, but we managed to eek out a good 5 miles with some spectacular views.

"Sam and I snuck off this morning and rode 5 miles up Corner Canyon in Draper. With how hot it's been here the thigh vents on my new@shredly shorts were ridiculously useful. Also, pounding up a climb while still recovering from a cold makes it really hard to breathe." -@currentlywandering

"Sometimes you gotta slow down long enough to take a photo and soak in the view." -@currentlywandering
We attended the play "Big River" at the West Valley Hale Center Theater. The play was absolutely amazing (as usual) with an actual river on the stage. We love their performances and attend every chance we get while visiting the Salt Lake area.
We drove home late Saturday night and spent Sunday in Driggs having a quiet down day.
Bright and early Monday we hitched up the Airstream and drove to Yellowstone to meet up with our truck camping friends, the Siminoffs. We played hard in the park and stayed up far too late talking around the campfire!

"Feels good to be towing again! Headed to Yellowstone this week to meet up with some friends." -@currentlywandering

"We met an awesome traveling family in Florida this past winter. We are lucky to spend another few days with them in Yellowstone." -@telegramsam

"I love that even though we haven't seen each other since Florida in January, everyone picked up right where we left off with smiles, stories and laughter all around. Thoroughly enjoyed spending the evening walking around Upper Geyser Basin with some of our very favorite traveling people." -@currentlywandering

"Our Yellowstone exploration yesterday included Uncle Tom's Trail, which descends via stairs into the Grand Canyon of the Yellowstone. Fantastic views of the falls are the reward for the steep but short hike. Most park visitors never venture far from the parking lot, and the crowds thin quickly as you head out on trails such as this." -@telegramsam

"Last year when we visited Yellowstone National Park Uncle Tom's trail to see Lower Falls was closed so it was a treat to be able to hike down it last week. Definitely got our exercise climbing the 328 stairs back up though. Did you know they used to climb down using rope ladders?" -@currentlywandering

"Watched Old Faithful erupt last night with our friends the @esiminoff crew. Glad we were able to catch them on their sprint west and spend a few days exploring this beautiful park together!" -@jesscurren

"Yellowstone has a Junior Ranger Station. Awesome. This ranger talk was about butterflies, who can taste things with their feet." -@telegramsam

"A quick swim in the Madison River was the perfect end to a full, fun day in Yellowstone National Park." -@currentlywandering
The Siminoffs were on a tight schedule so we only had two nights to hang out. Wednesday morning we moved campgrounds and drove to Island Park. Brad, Joan and Archie had invited us to dinner and we needed to hunt better signal for work anyway. We met the Anderson's two years ago in Grants Pass, OR and it was great to catch up at their summer cabin.
Before dinner in the evening, the kids and I decided to rent kayaks and paddle at stretch of Henry's Fork of the Snake River. It was a hot day, and I was itching to get out and do something. We had a fabulous time and I was incredibly impressed with the kids' paddling skills. Afterward, Andrew & Rachel said their arms were dead tired!

"The kids and I rented kayaks and paddled a 5 mile stretch of Henry's Fork on the Snake River this afternoon. Cara doubled up with me, but both Andrew and Cara paddled in these awesome kid kayaks all by themselves. It was a perfect way to cool off on a hot day!" – @currentlywandering

"This 6 year old was an awesome paddle buddy on the river yesterday. I love watching my kids' love for outdoor sports grow at such a young age. I can't wait to see what they do with their lives!" -@currentlywandering

"Joan and Cara snuggled up with Archie next to the fire. We met the Anderson's 20 months ago back at their house in Grants Pass, OR and it was so much fun to reconnect! They own a 28′ Flying Cloud Airstream that is absolutely gorgeous. The kids voted that we trade." -@jesscurren

"Had dinner last night with@bradanderson70 at their Island Park cabin, and the best entertainment was this curious baby moose. He wasn't a huge fan of Joan's yard art and eventually knocked the sculpture over completely!" -@jesscurren
Our weekend took an unexpected turn when Sam's uncle Charlie passed away in Salt Lake City. We had just driven the entire family down and back up again, so we decided he'd take the bus from Idaho Falls to attend the funeral.
While he was gone, the kids and I courtesy parked at my cousin's house in Idaho Falls. We had a fabulous weekend playing games in the backyard, riding bikes along the greenbelt and catching up.

"Bike ride with cousins on the beautiful greenbelt in Idaho Falls this afternoon. I think Idaho may have the most perfect summers." -@currentlywandering

"I'm in Salt Lake City at the moment, having taken a bus down yesterday to attend the funeral of my Uncle Charlie earlier today. As I wait for the return bus that will take me back to my wife and kids, I'm naturally pondering the nature of life and death. I know not everybody believes the same way I do, but I am grateful for the Gospel of Christ. The Atonement and the resurrection of Christ give me hope and motivation to be better today than I was yesterday. -@telegramsam
Sunday evening we landed ourselves once again in Driggs to see family one more time before heading away for the rest of the summer.

"We are back in Driggs for a few days for some family adventures. My awesome brother has generously allowed us to #moochdock on his ample driveway." -@telegramsam
Jake's girlfriend and her two boys drove up from West Jordan to come rafting with us on the Snake River. We worked with Lewis & Clark River Expeditions out of Jackson, WY and the kids got their first taste of whitewater rafting!
Whitewater Rafting in Jackson WY with Lewis & Clark River Expeditions

"Love this crazy adventure family of mine! We had our first river rafting trip on the Snake with@lewisandclarkjh and the kids absolutely loved it! Can't wait to make rafting part of our regular adventures." – @jesscurren

"A whole lot of happy people on the river." -@currentlywandering
Our last day in town we were finally able to spend time with our cousins! The kids were super stoked. We grilled pizza, played tag, capture the flag, and ran through the sprinklers. It was perfect!

"Crazy cousins! We had so much fun tonight grilling pizza, playing tag, capture the flag, frisbee, and having a water fight with our family here in Driggs. Couldn't have asked for a more perfect evening!" -@jesscurren
Related posts: