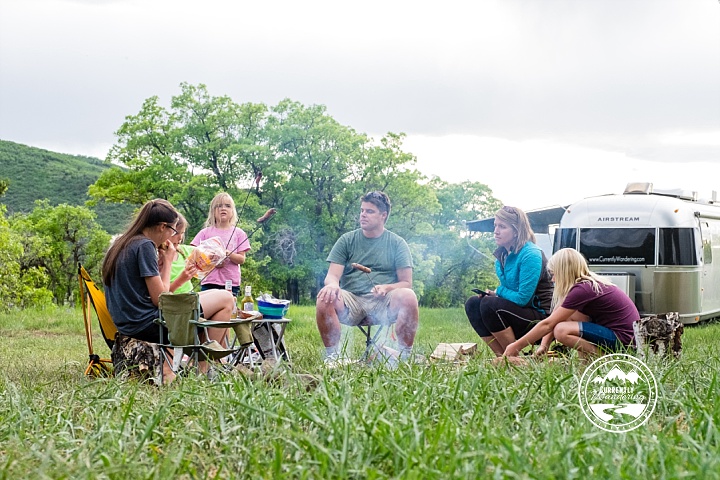 We don't really "camp". Its more like we have a house with wheels and a backyard that changes every few days, but very rarely do we cook outside or have a campfire. About once a month though, our kids will ask or we'll be hanging out with friends and sitting around a fire just sounds like the perfect end to the evening.
We have some s'more sticks welded by my amazing brother-in-law but they are long and big and take up precious room in the truck, so when Imagine Camping offered to send us a double set of Fireside Forks I totally took them up on the offer.
Although it took us awhile to put them to good use we've really enjoyed using them! We first tried them while hanging out with some friends in Texas, but it was too dark to get good photos. Darn. We'll just have to try again.
Then, when we escaped the Manti, UT heat up Ephraim Canyon we naturally had to have a cookout as the weather was cool enough to actually enjoy the heat of the fire! We had some friends with us and all took turns roasting our dinner and then marshmallows afterwards.
I definitely recommend getting the case, and more sticks are always better so I like they have a double set. We have just the two forks and manage to share them around, but imagine we'll eventually end up with another set!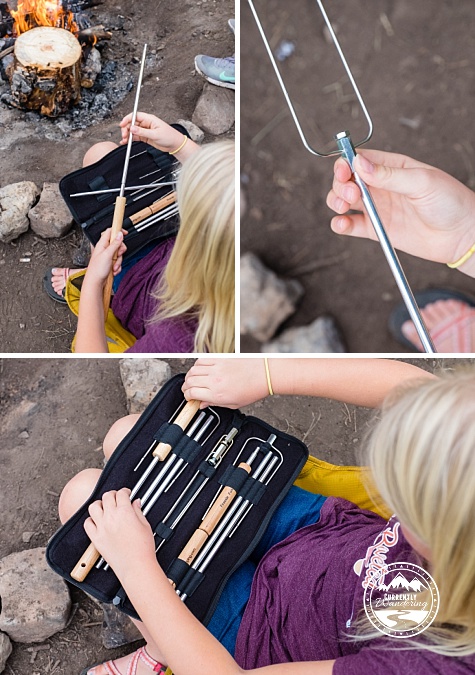 Highlights:
Compact: I love that the forks come apart and then store in a nice, compact case. Super easy to stash in the Airstream under our dinette benches, and they stay clean as opposed to our others that bounce around in the back of the truck.
Wooden handles: Easy to grip and they don't get hot! Love that the slider allows for easy turning and even roasting, as well as adjusting our grip.
Hot dog & marshmallow forks. Its really easy to switch between the two. They have a wider fork for hot dogs, and then a narrow one to skewer the marshmallows. The marshmallows stay on there pretty snug and we haven't lost one yet!
Aluminum Rods: Imagine Camping boasts their rods cool 15% faster than other roasting sticks, which is probably true but not something I found to be incredibly obvious.
Versatile: After watching their video, I realized these bad boys are also meant for the grill! If you shorten them up and use them as skewers it looks like they work pretty well. We are going to have to check it out!


The only downside we found was that when we stuck the forks in the fire to burn of the marshmallow remnants, the slider portion slid down into the flames. Oops. We quickly grabbed it back out and adjusted the angle but its something to watch out for!
Overall we are super happy with these forks and can definitely recommend them for your campfire needs!
Related posts: