Pre-travel I worked as a professional wedding and lifestyle family photographer. About twice a year I would attend a conference or a workshop for personal and business development. These ranged from 1 day local seminars to weekend long retreats where I would board a plane and travel to wherever the workshop was located. I loved these events. Not only for the education and learning (turns out I learn best in a classroom!) but also for the solo time. Being a mom, wife, housekeeper, school teacher, and cook can get exhausting and every once in awhile it was nice to have a break. Sam has always been super supportive of my interests and I never had any problems leaving him in charge for a few days while I was gone. In fact, I think the kids actually prefer it when mom leaves for a bit and they get some solid time with dad.
Since we started traveling, I haven't left at all. It blew me away when Sam and I actually figured that out a few days ago. Not that he's been gone a lot either, but at least 2-3 times over the last 3 years he's been gone overnight or even for a few days at a work conference or a client meeting. We did go on a cruise together last February when my mom flew to Florida to take care of the kids, and I've definitely had a few hours to myself semi-consistently, but never overnight alone.
I suppose its a good thing that this is the year we decided to pick back up our habit of attending conferences. It was about time. Sam has been missing his regular attendance at a few geek conferences, so we've planned our schedule to accommodate those. But what about me? Since I am no longer working in the photographer realm I wanted something a bit more….outdoorsy.
Enter: The Outessa Summit.
It was the perfect solution. 3 days of guilt free outdoor activity, good food, networking with brands and meeting other like-minded women? Sign me up!
Now that its here and I'm headed out on a plane, I couldn't be more excited. I need this. I need time to myself to think, to meditate, to just be me. Add in some mountain biking and rock climbing instruction and I am going to be one happy camper!
Here is my planned itinerary for the 3 days at Powder Mountain Ski Resort near Ogden, UT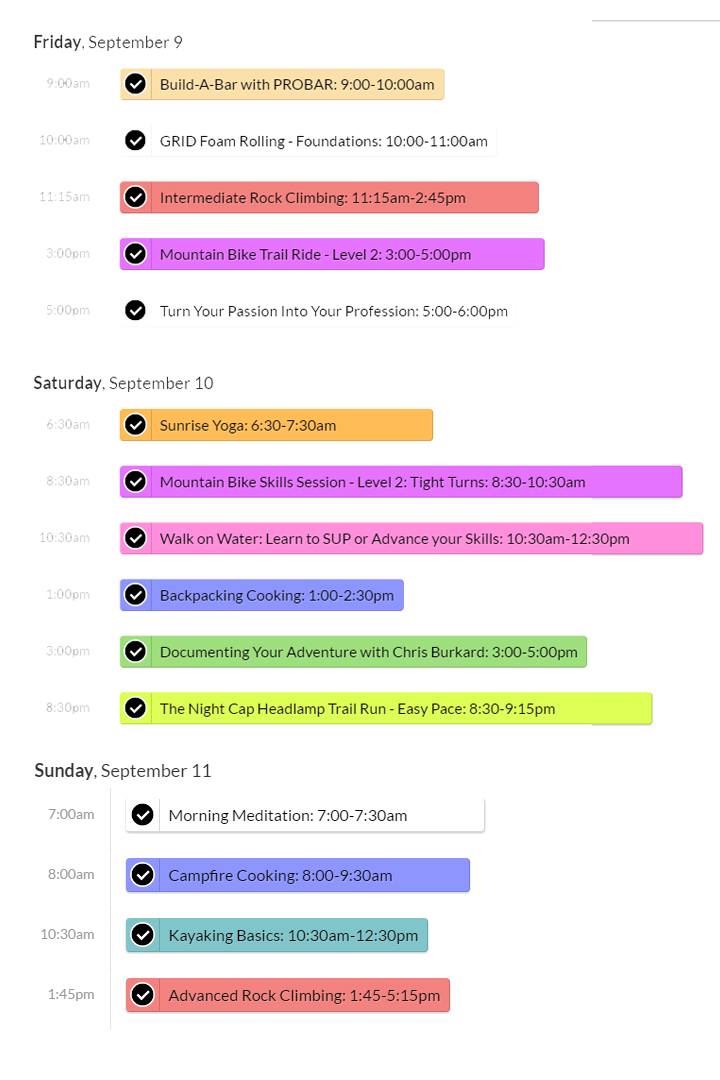 Really I just want to mountain bike All. The. Things. But I figure that part of pushing boundaries is trying new things. Uh, campfire cooking? I've never done anything beyond Tin Foil Dinners. I am most certainly not a runner but I found myself signing up for a headlamp trail run because it sounded like a good time. One last minute addition is Advanced Rock Climbing on Sunday and I'm scared to death! Rock Climbing is one of those sports that I desperately want to not be terrified of. I plan to make this a weekend of education, fun, last minute changes to the schedule, and falling into my sleeping bag exhausted but happy every night.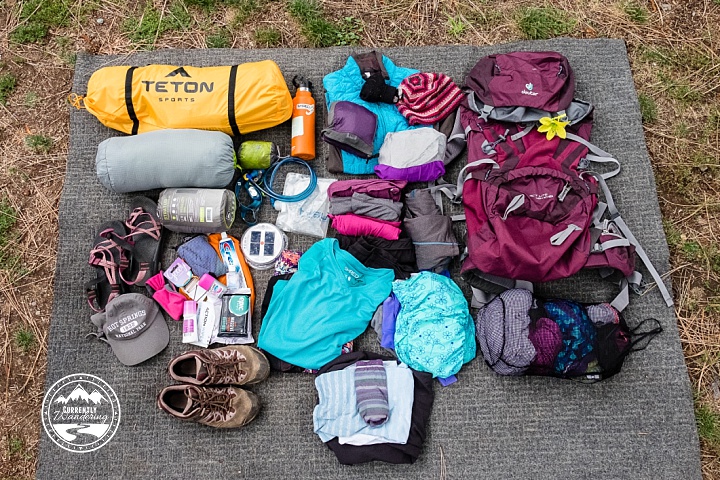 There are options for accommodations, and I chose to stay at Camp Outessa and bring my own camping gear, rather than stay in the ski lodge. Planning to bring my camping gear and clothes, I naturally decided to throw them into my Deuter Backpack ACT 45+10 (affiliate link on REI). I figured it'd probably easier (and a whole lot more fitting) than trying to bring a duffel (no room for rolling suitcases in the Airstream). I also have an entire flight ALL to myself so I wanted my laptop to get photos edited and do some writing. Throw that into my messenger bag with my camera, wallet, and a good book to read in the Eno Hammock Lounge and I think I'm set.
They've told us to plan for colder weather, so I have both pairs of my REI Sahara Convertible pants, two long sleeve synthentic shirts, two short sleeve shirts (one synthetic, one comfy cotton), plus my thermals. We always dress in layers anyway so I have my riding jacket with vented sleeves, my puffy vest, a rain shell, and a beanie. I packed my swimming suit just in case I decided to follow through with my SUP class. We just got sent our new Teton Sports Mountain 2 Man Tent (going to be quite roomy with just me inside!) which is much better than packing our 14 lb 5 person tent! Chacos for kayaking, hiking shoes for everything else, mountain biking clothes, gym capris for both rock climbing and yoga, Shower bag and toiletries, plus a camp towel. I've heard we are getting an Osprey day pack as part of our swag bag, so I'm not packing a day bag, but I did throw in a Platypus bladder to put in it when I get there. Last minute I added our Luminoodle for light in the tent and I'm also bringing a headlamp.

I just hope I have room for all the swag I've heard they are going to give us.
There are still day passes available, so if you can't swing the whole weekend but want to come check it out for a day please come! I can't wait. Use code Friend50 for $50 off!

Related posts: