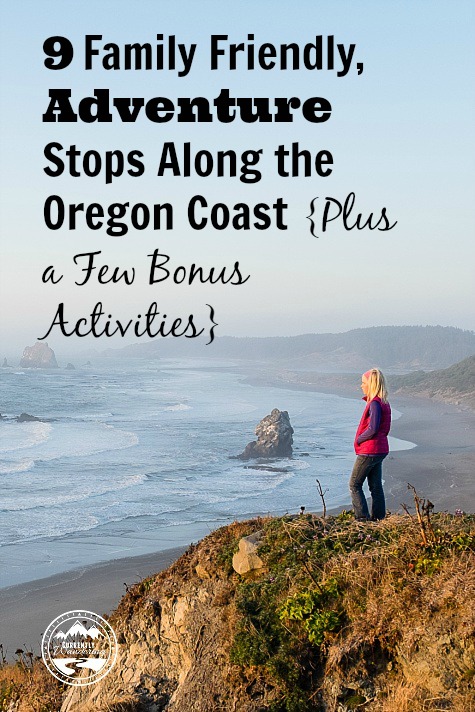 For anyone that hears "coast" and immediately dons their swimming trunks, the Oregon Coast may come as a bit of a shock. There are beautiful beaches, but the vibe is definitely more rugged than its southern California counterpart.  Crashing, intense waves, cold water, and wind can make swimming a less than ideal activity, but no fear! There are plenty of other activities to keep you busy.
We've been along the Oregon Coast twice now. The first time was in October of 2014. We had just completed a loop of the California Coast, Crater Lake, Portland, Vancouver BC, Olympic National Park, and Whidbey Island. Our goal was to do head down entire coast, but we made it to Lincoln City around Halloween and decided we'd have enough rain and headed inland.
This year we skipped the California Coast and headed north for the stretch of Oregon between Brookings and Lincoln City to fill in our missing gap. We timed the weather a bit better in August when it was slightly warmer and less wet. The Oregon Coast is a good 20 degrees cooler than other cities inland (100 degrees in Medford, 65 at Cape Blanco). We were happy to don our sweatshirts and beanies and enjoy the cooler, dry temps!
We also wanted a repeat of our crabbing experience and our kids needed no other reason to head up the coast! Even though we overlapped on some of the cities, we picked different places to stay just to mix things up.
In our recap, I'll go south to north and detail some of our favorite spots. Hopefully you can work some of these into your next adventure trip to Oregon!
Camp & Explore Cape Blanco State Park, Port Orford
This state park is hands down our favorite along the coast. While rugged and beautiful, I also felt it was one of the quieter parks we visited. This could be due to the smaller campground (only 50 sites compared to over 200 at some parks), or that the largest nearby city is Port Orford which is, in fact, not large at all.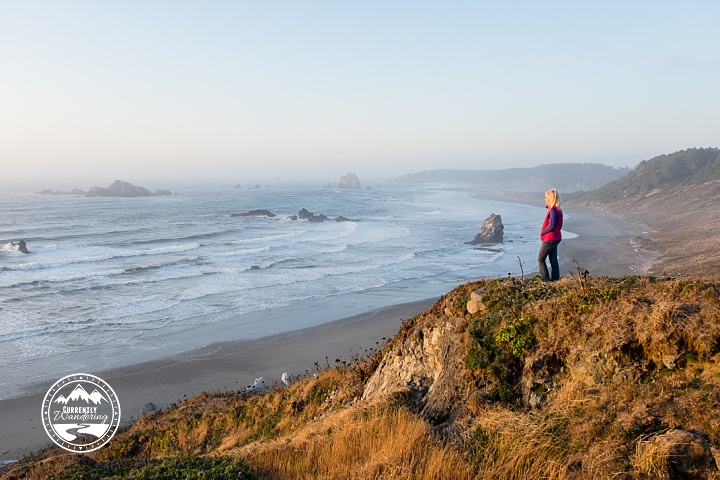 This park has beautiful views of the coast, a quiet campground, lighthouse tours, and a beautiful sandy beach perfect for an afternoon of playing in the sand.
Fly a Kite at South Beach State Park
South Beach State Park was a little overcrowded for our liking. The state park has a huge campground and its very popular (busy) during the summer and weekends in the fall. However, we had a fantastic evening of kite flying and lounging on the beach watching the sun go down. The beach is so large that we were able to carve out a little, sandy spot and thoroughly enjoy ourselves.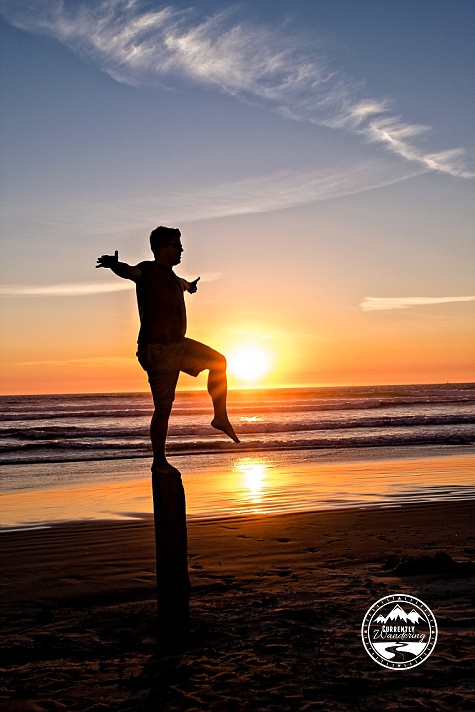 There are kite festivals up and down the coast. The vast open beaches and windy afternoons just beg for kite flying. Pre-travel my dad gifted me a stunt kite as a birthday present and we've packed it in the truck ever since. We've had some epic kite flying on the Oregon Coast both years we've been there.

If a stunt kite isn't your speed, we also recommend this Prism Bora 2 Single-Line Kite on Amazon. Its great fun and super easy to fly!

Tidepooling at Yaquina Head Natural Area, Agate Beach
Tidepooling is an outdoor family adventure that all ages can enjoy. Most state parks will have a tide schedule, and you'll just want to time your visit with low tide. The ocean recedes, leaving pockets of water among the rocks where you can see all sorts of ocean life. Wear good shoes (often the rocks are sharp), or some good sturdy sandals in the event of getting wet.
Not to be confused with Yaquina Head State Park, the Natural Area is run by a branch of the NPS which means your annual pass gets you in for free!

We parked at the Visitor Center as we were warned the parking lot near Cobble Beach fills up quickly. It was a short, yet beautiful walk on a paved path then down some stairs to the beach.
Cobble Beach is aptly named as its compiled of round basalt rocks that are actually quite difficult to walk across. With the tide out we were able to see small crabs, orange sea stars, purple sea urchins, and green anemones. There were volunteers walking about the pools available to answer questions.

Hike Cascade Head, Lincoln City
Remember all the rain I mentioned back in 2014? Yeah. We desperately needed a hike and when the weather forecast looked even remotely dry, we hit the trails. We found a 6 mile round trip trail to Cascade Head and headed out. Our efforts were rewarded with a muddy, damp, trail, lots of elk, and amazing views. Full blog post here.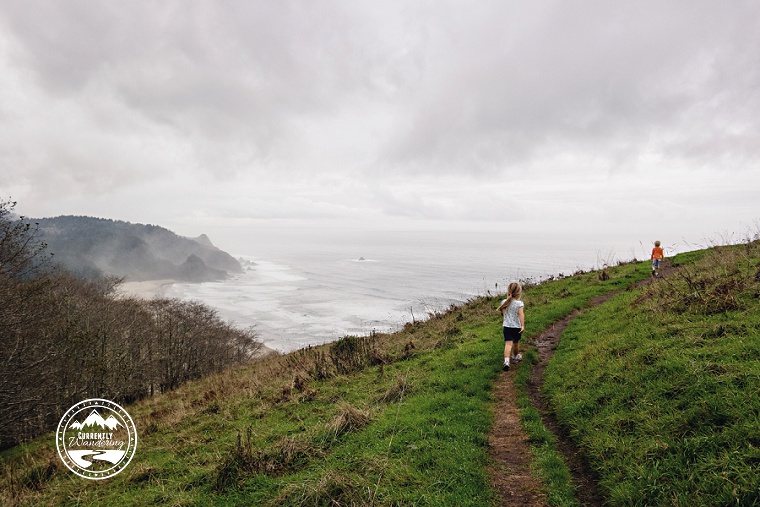 Lincoln City also has a great children's section in their public library, and the community center pool had a rope swing. Epic.
Cape Trail at Cape Lookout State Park, Pacific City

This was another hike born out of desperation to hit the trail. The weather was not ideal, but for the Oregon Coast we managed with what we had. We pulled rain shells over our puffy vests and set out prepared for mud.
Ideally you'll hike this trail on a sunny day and have absolutely amazing views, but our goal that day was more simple: Hike more than 5 miles. As we set the bar pretty low, the fog covered coast didn't bother us. In fact, it was magical in its own way.
Play Games on the Beach, Pacific City
We stayed at the Pacific City Thousand Trails RV Resort while we were in the Pacific City area. It made a decent base camp, all the state parks were booked over the weekend, and it was honestly the most "campground" like RV park we've ever been to. Plus, we were invited to stay for free. Can't really beat that.

One of my favorite parts about staying there was that the beach was just a short walk away. The kids, however, decided it would also be fun to drive out so one night we took some games and spent a chilly evening playing in the sand. There are a lot of games that are great for the beach – two of our recent favorites are this backpacking Bocce set from REI (we bought it), and the OgoSport OgoDisk Set on Amazon (we were sent one to test out).  Both are fun with kids and totally beach compatible!
Crabbing at Kelly's Brighton Marina, Rockaway Beach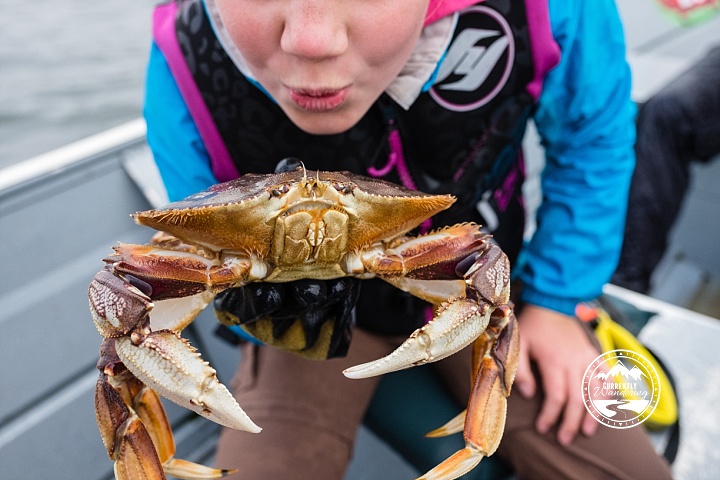 Our first experience crabbing back in 2014 was so epic-awesome its forever become one of our favorite experiences. When we were route planning and considering the Oregon Coast this hit pretty high on the to-do list. We are not associated with Kelly's in any way, but they are hands down the best place to crab. Where else for $100 can you rent a boat, crab traps, and bait for 2 hours, then have them cook anything you catch? I dare you to find a more friendly, helpful bunch than the guys that work here.
Dune Jumping at Nehalem Bay State Park, Nehalem
The wind along the coast creates some pretty spectacular dunes. Fortunately for our kids, dad is an excellent dune jumper and loves to show them how its done. The kids also hauled out the sand toys and snuggled down between a couple of dunes to play for an hour.

The campground is also well done. They have quite a few walk-up sites so if you get there mid-week you have a good chance of snagging a spot. Our kids loved to the climb the gnarled trees all over the campground, the playground was decent, and the little field in the middle of the park was great for frisbee and kicking around a soccer ball.
The dunes do a great job of sheltering the campground from the wind. We were totally fine, even though it was crazy windy next to the water.
Explore the Wreck of the Peter Iredale, Astoria
Astoria is a great city, and nestled nearby on the peninsula is Fort Stevens State Park. With a large campground, we easily found a site in the off season and settled down in the fall rain.

There is a paved trail from the campground out to the beach where you can see the wreck of the Peter Iredale, a four-masted steel barque sailing vessel. It ran ashore in 1906 and was abandoned. The shipwreck is one of the most accessible along the coast so its a popular tourist spot.
On our third attempt to see the shipwreck of the Peter Iredale, we finally had decent enough weather to brave the beach without getting blown over. While smaller than we expected, the shipwreck back lighted by the sunset was quite a sight!
Nearby there's also Lewis & Clark National Historic Park (earn those Jr. Ranger Badges!) and the Astoria column (check out our video). We also ate great pizza at Saraha Pizza in downtown.
Bonus Tourist Stops:
You can't go hiking EVERY day (unfortunately) so mixing up a few of the "must sees" around shredding the trails are a good idea. Here are 5 of our favorite tourist stops as an added bonus:
Join the Slug Club, South Beach State Park

It really is a thing as crazy as its sounds. In order to join the slug club, you need to LICK a banana slug. Take a photo and send it to the rangers at South Beach State Park as they have a whole wall dedicated to this craziness!
Cape Blanco Lighthouse Tour

Many people hit the Oregon coast to see the beautiful lighthouses. We loved the lighthouse at Cape Blanco and the tour was very informal, but informative. Volunteers are stationed inside the main room and at the top where the light is. They entertained us with history and facts about the Fresnel lens, the keepers, and the area. This lighthouse is the farthest west on the coast as well as the oldest operating light.
Double check the hours before you go, but they are generally April – October and cost $2 per adult. Kids 15 and under are free.
Taste of Hawaii Food Truck, Florence

We timed our drive north from Cape Blanco to hit this food truck for lunch. It was so worth it. Fabulous Hawaain pulled pork & the kids downed their fish and chips in record time. We actually ordered too much food (had to get some Sushi too!) so we ate the rest for lunch the following day. The parking lot was plenty big for our rig and we could wait inside out of the cold until our food was ready.
Oregon Coast Aquarium, Newport

We had a mix-up on this one – make sure you don't Google "Aquarium near Newport" or you'll end up with tickets for the one in Kentucky. No joke. Oops. The employees at both Aquariums said it happens all the time so it all turned out okay. Its not the largest or fanciest aquarium (and its rather pricey) but it was also Andrew's birthday so we splurged.
We really enjoyed watching the puffins swim, and the otters were just so darn cute it was impossible not to love them. They also have a fantastic shark tunnel and a great touch-pool.
Tillamook Cheese Factory
Its not my favorite factory "tour" but it is interesting. There are basically large windows overlooking the factory area with plenty of videos and information boards. If you want to see the factory in action, just make sure you go during business hours. We went in the evening and there wasn't much going on. Total bonus is the cheese sample line – feel free to do laps while you are there!

Two years ago we just ate ice cream (a definite must!) but this last time we also had dinner. We started off with cheese curds, and fries, then Sam and I split a New  York Pastrami Melt, while the kids chowed down on Tomato Soup and their Turkey Pesto sandwich. It wasn't the cheapest meal but it was definitely delicious! We went light on dinner as we also ate ice cream afterwards.
Eat Salt Water Taffy
Lincoln City as a fantastic outlet mall, and one of our favorite stops is Sweet Delights. They make the most AMAZING hand pulled, salt water taffy. This stuff tastes real and they have quite the selection of flavors. Hard to pick a favorite.

Its definitely not an exhaustive list, but this will give you a good start! We love the Oregon Coast and plan to travel back many more times. Have you been? What's your favorite spot?
Related posts: