I've written about the hows, whys, and costs of installing solar panels on your RV or other travel trailer. I've had people ask my opinion about getting started with solar given my own experience, and I thought I'd share that basic opinion publicly. So, here it is:
If you think you want to install solar, you should buy a generator.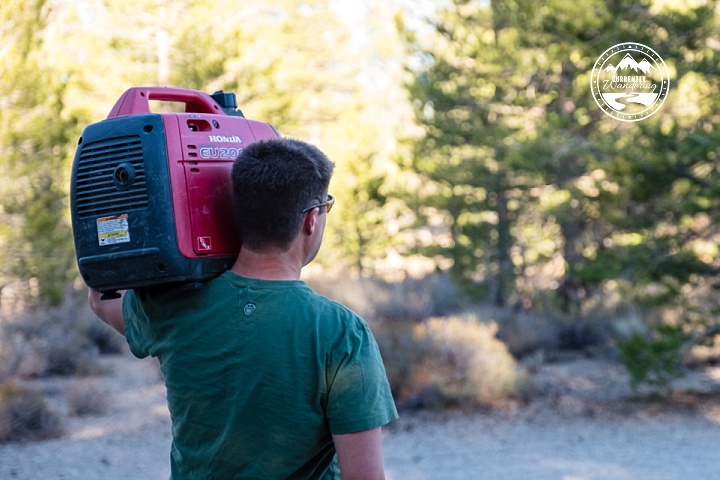 Now, don't misunderstand me here. Solar is great, but the use of a generator can help you plan an appropriate solar install and evaluate your true needs. If you already have a generator, you've probably already figured this out, but a read through may be useful anyway.
Learning about Boondocking
I've heard from folks that think they might like boondocking and are thus considering installing solar. Boondocking is usually dispersed camping without sites or hookups, and is something we really quite enjoy. There's no power there, so you'll need to rely on your own batteries and your own power generation while you are there. Solar is nice for boondocking, but a generator is WAY simpler. Buy (or borrow!) a generator and go boondocking with it. You'll likely need to run the generator for an hour or two, both morning and evening. This is easy to do, and most boondocking locations have no set generator hours.
Please do be courteous when you are camping within earshot of other campers. A small Honda generator is quieter than most other generators (like this Honda 1000 on Amazon), but you still want to avoid early or late generator use. Nobody likes waking up super-early to the sound of a loud generator. Don't be that neighbor.
If you love boondocking, then having solar can be a real convenience. Keep reading.
Understanding Power Requirements
A generator can help you understand how heavy your power needs are. If you are only using lights, your use will be low and your batteries will last longer between recharges. If you power two laptops during the day, extended use of fans, and recharging other devices, you'll need to generate far more power. Your first easy look at power consumption is how often you need to be charging your batteries.
Many advanced solar controllers have shunt based monitoring that can give you very accurate power use information, but using a generator will give you a great gut-level understanding.
Recharging vs Inverting
There are two benefits of running a generator. It's primary job will be to charge the batteries through the running DC Converter. An added benefit is that it will power the AC outlets as well. Watch how often you use the AC power to understand if and what size inverter you might need. Prior to having an inverter, I pulled out the generator for two main AC power purposes. I pulled it out when my wife wanted to use the Blender, and when she wanted to do her hair with a flat iron or a hair dryer.
When it came time to size our inverter, it became an easy choice. The Blender takes 1800 watts, the flat iron 200, and the hair dryer 2100 watts. Reaching somewhat of a compromise, we chose a 2000 watt inverter and Jess bought this 1200 watt, folding hair dryer (Amazon again – you can really buy anything on Amazon!) to replace the power hungry larger one.
Battery Capacity
Generator use will help you understand your battery capacity. Most RV batteries (with the exception of Lithium) charge slower as they get full. This means that batteries charge from 50% to 80% full pretty fast, but take forever to charge from 80% to 100% full. It isn't worth running your generator till your batteries are absolutely full, as it will take forever and you'll waste a bunch of gas.
Larger batteries will allow you to run the generator less often. If you find yourself with a low battery every morning despite charging some in the evening, you will likely want a larger battery setup, even with solar.
It is also worth understanding that batteries degrade over time, and have a reduced capacity for power storage. Most batteries need to be replaced every few years, and often sooner if they haven't been cared for. Replacing most standard batteries is easy, and I've done it several times in the parking lot of Costco, where I bought the matching replacements. If your battery is REALLY terrible, start with replacing it with new batteries of the same type.
Taking the Solar Leap
After all this, there is one simple reason to make the Solar Jump: Convenience. Or Laziness. Here is what you get when you spend the money and/or time to install solar:
Freedom From Generator Hours. This one was painful for us in National Parks. We found a few parks with fairly restrictive generator hours, and we had trouble getting sufficient charge.  Solar is nice and quiet, and you never have to remember to turn it off.
Hands Off Operation. Everybody loves to watch their solar monitor right after it is installed, but if you've planned sufficiently well you can often go days without caring how much your batteries are charged. You don't have to turn it off when you are charged, it charges under way, and it takes care of itself.
Instant AC Power. An inverter can give you super quick AC power for when you want it. Press the on button, and you have AC power. No more trips outside to start the generator when your wife wants to run the blender or do her hair.
Worry Free Basecamp. We love to adventure away from the Airstream for overnight camping trips or day hikes. I love the ability to leave the Airstream in a parking lot and come back to full batteries and a cold fridge. This was a pain point for us before we installed solar, and it's been great for us to have less worry when using the Airstream as a base camp.
Easy Full Charge. As long as you have sufficient solar for your use, you'll generally reach full charge every day. Often, you'll be at full charge before noon, and can use all the power you want during the rest of the day. Your batteries will be happier as a result, and you'll have every available amp-hour for use.
After some considerable generator use, use what you've learned about your power use, batteries, and inverter needs to price a solar system. Now compare this price to the benefits mentioned above. You may decide that it isn't worth the cost, and decide to stick with the generator. You may make the decision to make the leap, and now you'll have a properly sized system and will enjoy your carefree power.
Generator After Solar
Even after you have your amazing new solar system installed, you might want that generator around. Consider cloudy days, which will rarely yield a full charge every day. Cloudy days usually offset our daily power use, but don't generate enough power to replace our nighttime use. With bad weather, we can usually make it 2-3 days before we need  to charge.
Solar systems also need plenty of sun, and not all the amazing places you will want to go have perfect views of the sky. Camping in the redwoods along the Avenue of the Giants is amazing, but you will not get an inkling of solar beneath those giant trees.
Generators are comparably cheap, reliable, and often useful things to have with you when you travel. I have not regretted keeping ours on hand after our solar install.
But I do love the convenience of solar!
Check out our other posts on our power upgrade:
My Plan for Self Installing Solar Panels
Drop-in Multi-State Converter Upgrade
Solar Power Install Part I – Panel Mounting
Solar Install Part II – Self-Install Combiner Box
Solar Power Install Part III – Self Install Running Wire
Solar Install Part IV – The Wire Panel
Adding Bigger Batteries
Installing a 2000 Watt Pure-sine Inverter
Automatic Transfer Switches
Cost Breakdown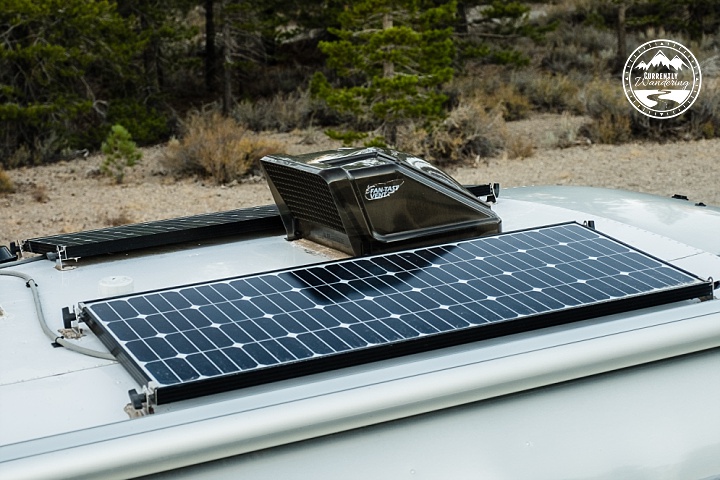 Related posts: