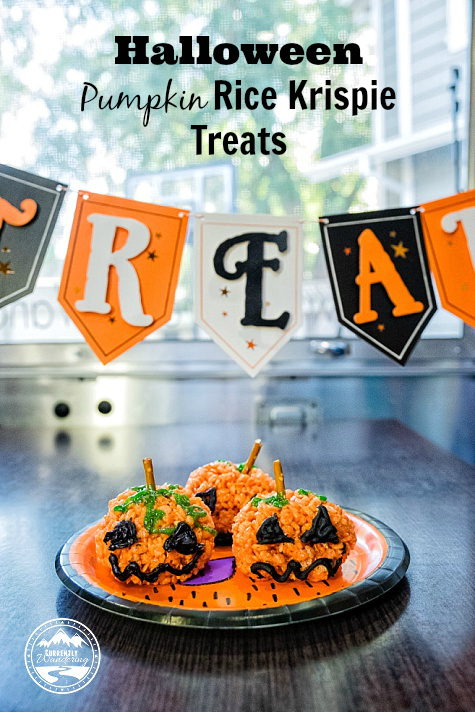 I absolutely love Rice Krispie Treats. The homemade kind. Maybe that sounds crazy, but ever since I adapted the original recipe they've never been dry, brittle, or hard to eat. Just a whole lot of soft, gooey, marshmallow mess. Delicious.
I saw this pumpkin Rice Krispie recipe on Pinterest (naturally) and it seemed easy enough to pull off with little notice and a short trip to the grocery store. Plus, I got awesome mom points from the kids. Total win. I loved watching them add frosting faces to the pumpkins once they had hardened just a bit. Let's just say that some look more like monsters than pumpkins, but that's half the fun, right?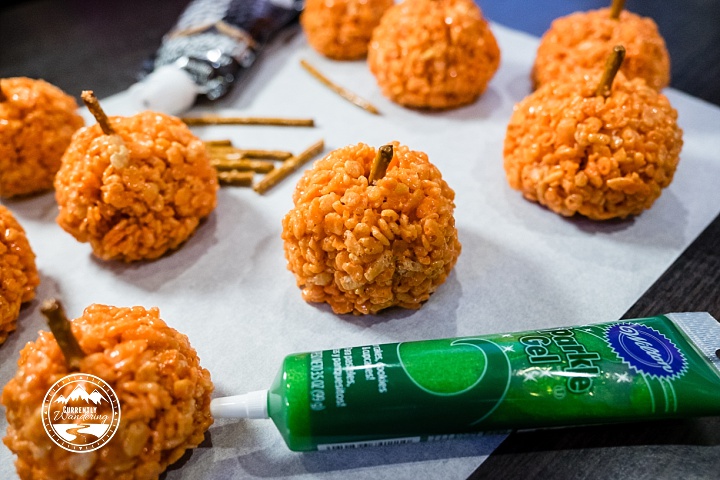 Adapted from www.sheknows.com
Yields 10-12 pumpkins, depending on size
Ingredients:
Nonstick cooking spray
5 cups Rice Krispies cereal (or store brand crispy rice – always cheaper!)
1/4 cup butter
5 (and maybe a little more) cups mini marshmallows
Red & yellow food coloring
Black frosting pen (or just frosting)
Green frosting gel pen
Pretzel Sticks
Directions:
1. Melt butter in a saucepan on the stove. Once its all nice and melted, add the marshmallows.
2. Add food coloring to marshmallow mess. We don't have orange (simple living!) so we just added red then yellow, then red again until we had a nice shade of orange. Totally subjective.
3. Before your marshmallows start to burn, measure out Rice Krispies into a large bowl.
4. Stir orange marshmallow goo into the Rice Krispies. Its should be pretty gooey still once everything is all mixed in. Occasionally we'll have added too many marshmallows and need to add a little more cereal, but not too often. Just stir it in quick because as it cools the stuff hardens. Add too much cereal and that's when you get overdry awfulness.
5. Once the bowl of marshmallow Rice Krispies has started to cool down, that's when you can shape it. If the mixture is too warm, it won't hold a shape. Spray your hands with nonstick cooking spray, form balls, and then set them on parchment paper to finish cooling off.
6. Break pretzels sticks in half and insert in the top middle to form a stem.
7. Use the green gel pen to decorate leaves & vines on the top, and the black to make faces.
8. Eat & enjoy!
Total bonus if you get to make these with friends!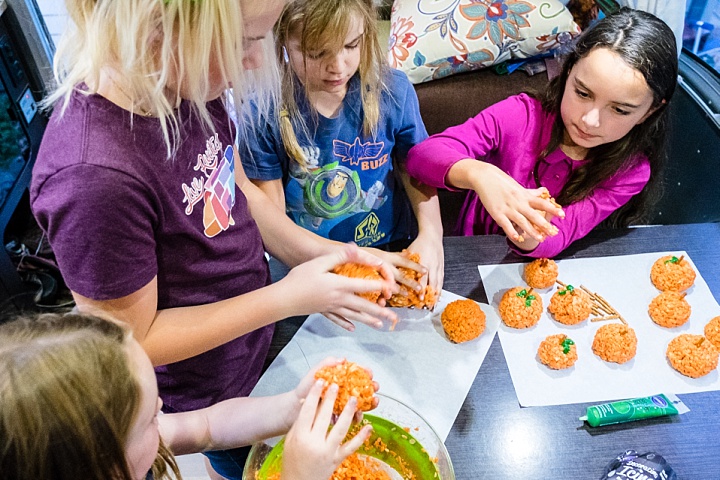 Related posts: