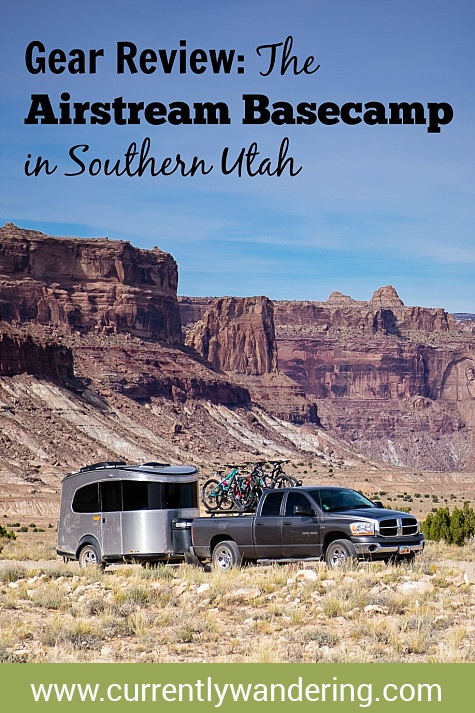 Its no secret we love our Airstream Travel trailer (see our reasons for choosing Airstream in this post).  3 years in and we still are happy with our purchase, and fully support the brand.
Recently, Airstream launched a new style of trailer: The Basecamp. Its different from their regular travel trailers in a few fundamental ways:
Towable with a variety of mid-size SUVs.
Totally compact & small making it incredibly easy and aerodynamic to tow.
Departure angle helps with high clearance (aka adventurous) roads.
Rear hatch for loading & unloading larger gear.
Attachable screen tents to expand living area.
I was able to see the Basecamp first hand while at Outessa (on launch day no less!) and casually mentioned it'd be fun to take it out for a spin. Airstream jumped at the idea for us to test it out in exchange for a blog post & some social media bragging rights. We managed to talk grandma into watching the kids so we could have an adventure date in southern Utah.
Travel Dates: October 6-8, 2016
"Built for adventure, it's tough enough to go anywhere your wanderlust takes you, and comfortable enough to help you really enjoy the time you spend there." -Airstream
Sam and I set off on a Thursday afternoon to drive the three hours down to the Wedge Overlook near Castle Dale, Utah. This spot has been on our list for at least a year, but we were unsure of cell signal so it needed to be off grid time. The Wedge is also known as "Utah's Little Grand Canyon" for good reason.
As we left civilization and entered the southern Utah desert, I was reminded why I love it there so much. Wide, open, rugged spaces with large sandstone cliffs. It might not be for everyone, but I definitely appreciate the landscape!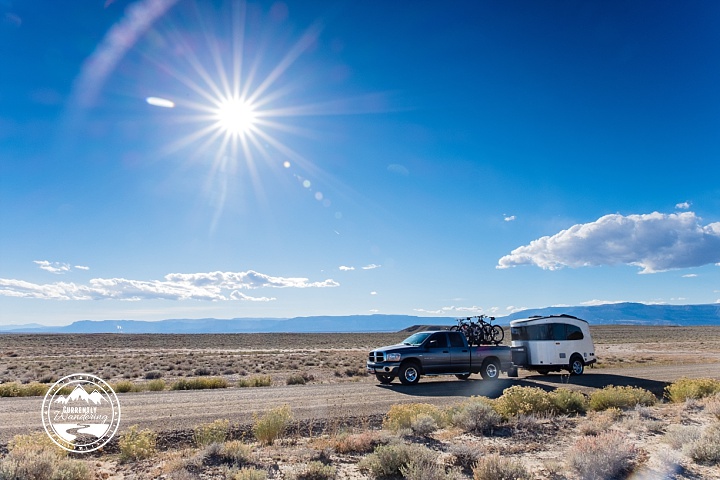 Campground at the Wedge
All sites at the Wedge are first-come, first-served, so we snagged an area in group site #9  near the bathroom and the overlook. My parents were bringing the kids down for a night the following day (that's really how I sold it to my mom so she'd watch the kids for us!) in the pop-up trailer so we needed some extra space & a toilet nearby.
The campground is basically a lot of scrub oak, red sand, and beautiful blue skies! Many of the sites would have worked for us, and there were some closer to the rim but nothing we could have fit two trailers in.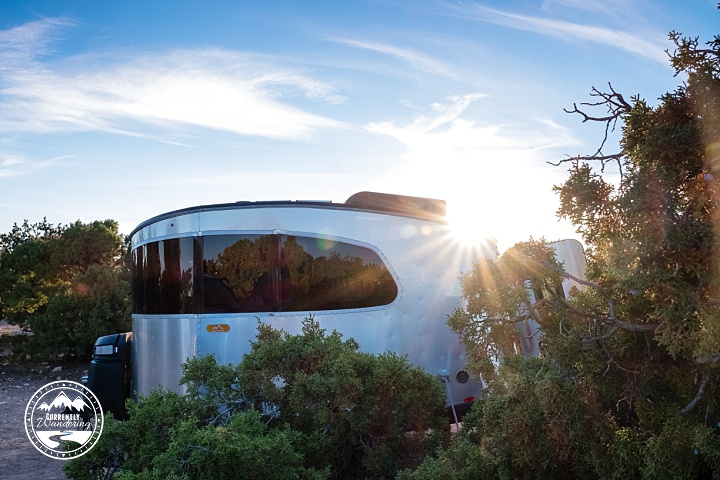 Basecamp Functionality
The Basecamp has a pretty simple layout: Kitchen in the front with panoramic windows, wet bath across from the door, and then the couch/sleeping area in the back with a hatch at the rear end. At 16'3″ long, the Basecamp is pretty small (similar to the Airstream Sport 16′ model), but they've done incredibly different things with the space. I loved the panoramic windows in the kitchen. They help the whole trailer feel so much more open! We often also opened up the hatch (there is a screen you can attach) to let some light and air back there as well.
Cooking was a breeze. I'm pretty sure the Basecamp has more cupboard space in the kitchen than our 27 International model! I felt the fridge was totally adequate in size for a weekend trip, and loved that there is even a small freezer section. Two burner stove, and plenty of counter space also made food prep smooth sailing.
The only con of the kitchen for me was the sink, and I talk about that in our video review below.
We didn't get super organized (as you can see in the bottom left photo below) but we did feel there was enough storage space for everything. We took our laptops  and they floated around a bit, and there's no hanging storage for any clothes. More often than not though, I imagine weekend warriors will leave laptops and church clothes at home so its probably not generally an issue.

The Big Dipper even cooperated with our night time photography shoot!

The Basecamp is marketed as an adventure mobile, and we definitely agree! We brought our mountain bikes to tackle the 21 mile mountain bike trail around the rim. Coming back to smoothies & a shower instead of a tent was definitely a perk of having a small trailer along with us! Kayaks, bikes, SUP boards or other large gear could easily fit through the rear hatch and be tied down.
Can I just take a minute and reminisce how fun it was to do a long, mountain bike ride together without kids? I was seriously giddy the entire time. Especially because the views were amazing around almost every corner.


View looking into the trailer through the back hatch.

Taking the Road Less Traveled
On our way to drop the trailer off, we decided to take the long way to Green River, Utah through Buckhorn Wash. We had heard the roads can get pretty dicey down through there, but felt we were equipped to handle it. Luckily for us, the road had been recently graded and the Basecamp towed like a champ over the dirt roads!


Overall we were fairly impressed with the Airstream Basecamp model. Nimble, easy to tow, and great for outdoor adventures this definitely fills a need for many weekend warriors!
Video Review
Related posts: