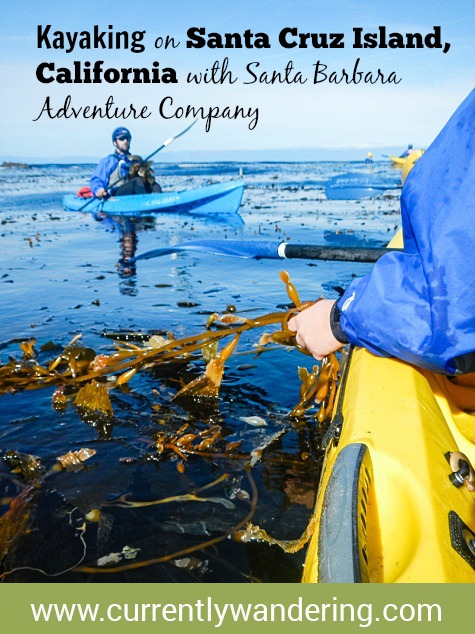 This last Thanksgiving weekend, we spent 3 days out in Channel Islands National Park. The park consists of 5 islands located off the coast of southern California.
While doing research prior to the trip, I discovered one of the attractions for Santa Cruz Island is the sea caves. We have enjoyed paddling in lakes, streams, and rivers so adding some pacific sea cave kayaking to our resumes sounded like fun!
When We Visited: November 22-25, 2016

Ages of Kids: 11, 9, 6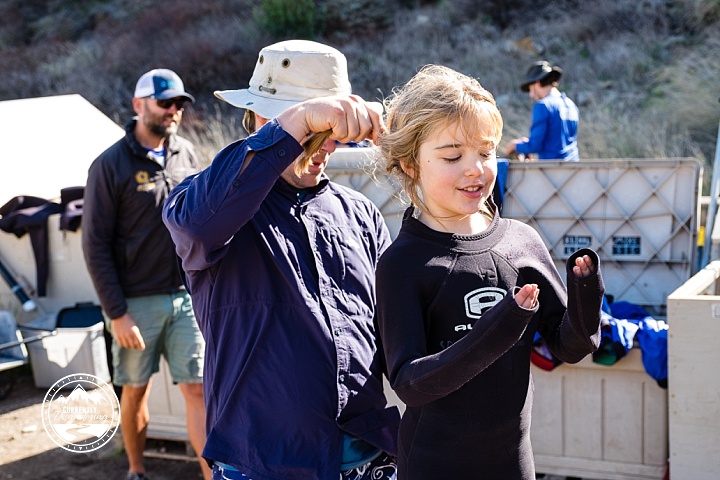 We have a reasonable amount of paddling experience, and toyed with the idea of renting kayaks and bringing them on the ferry. After some research and discussion, however, both Sam and I agreed this adventure was out of our comfort zone. Instead we contacted Santa Barbara Adventure Company, who graciously agreed to comp both Sam & my fees on a media/press/blogger expedition. They are one of a few outfitters serving the Channel Islands and came highly recommended by some outdoor friends. They provided the kayaks, gear, and guides for our experience even going above and beyond with an extra guide to paddle with Andrew as all kids under 12 are required to paddle with an adult.
We walked down from the campground on Wednesday morning, and met our group near their equipment on the beach. Starting times vary as the ferry arrival isn't super consistent. Many of the participants were coming over for just the day so we had to wait until everyone was unloaded. Totally not a problem.
Before we hit the water, we outfitted in our suits, PFDs, and a good application of sunscreen. Wrestling kids into wet suits was a bit of a challenge for both them and us, but we all made it work. Our last major experience in the ocean was in Florida over Christmas, and water there was quite warm. Here in the Pacific the water is significantly colder so we opted for both wet suits and paddle jackets!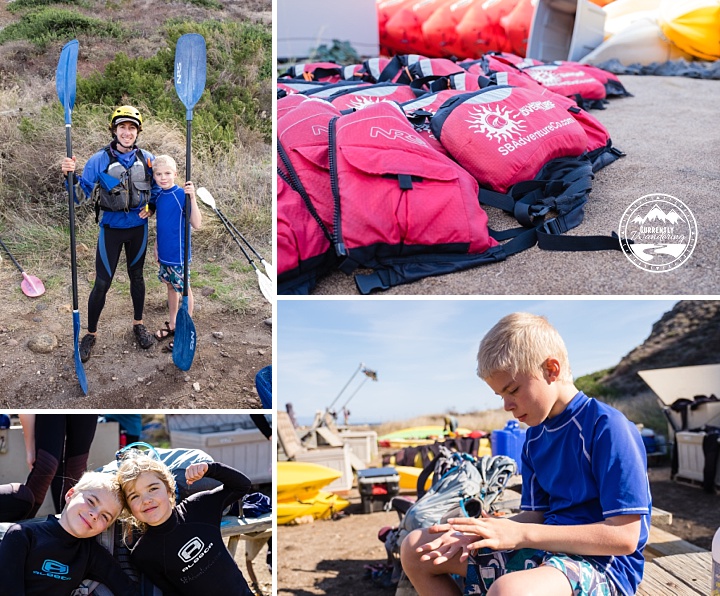 After gearing up, we had a quick safety talk. Our guides instructed us on paddle handling, how to get in the boat (rear end first, then swing your legs over!), and safety measures should someone fall out. The weather that morning was fairly windy, and I was grateful for our choice to work with an outfitter and for their attention to our safety. Our guides reiterated that if we weren't comfortable we wouldn't have fun and to let them know if we experienced difficulties!


Our guides specifically advised paying attention to our seat adjustment in the kayak. There are a set of straps that adjust the sitting position, and getting it right made a huge difference. Most of us got adjusted properly before launch, but Rachel needed some adjustment during our paddle. She was really struggle with leg cramps (and attitude!) and came close to the edge of a total meltdown. Our super attentive guide recognized her discomfort and managed her straps while on the water. While it wasn't a fix for her attitude problems, we definitely solved the leg cramping and her spirits improved considerably!

The kayaks are tandem kayaks and for good reason. During difficult wind or swell conditions it can take all the effort of two good paddlers to fight the waves. Sam is our strongest paddler, so he paired with 6-year-old Cara. I'm not the most amazing paddler myself, so Rachel came with me. Andrew joined a guide in a double kayak. He can be seen in the picture below, holding up a Giant Antler Kelp we found floating on the surface.
The main attraction to see around the islands are the sea caves at the bottom of the cliffs. We were able to paddle into and through several caves during our tour, and it was a great experience. We paddled along the edge of the cliffs to visit each spot, pausing in small coves to rest. On the first half of the trip, we were paddling against both the wind and the swell, and it was really challenging. Turns out you can also get a little motion sick while paddling a kayak through the ocean!
During our breaks, we listened to the now obvious advice from our guides and anchored ourselves to the kelp beds during our rests. By grabbing a handful of kelp, your kayak would not drift away, yet required no paddling to keep in place. Seriously genius.
Our guides talked to us about the island, the wildlife, how the caves were formed and other interesting facts about the area. I loved that our tour was not only physical exercise, it was informative as well. Two of the caves we visited were pretty large, but the last and smallest had fairly tight quarters. We entered one at a time and had just enough room to spin around and head back out. Only open at certain tide levels, the cave is called "Shark's Teeth" and was definitely everyone's favorite!

It isn't very obvious in the picture below, but the seas were pretty rough at points of our trip. At one point Jess and Rachel needed some help and accepted a temporary tow from one of the guides. Little Cara tried hard, but Sam was clearly doing most of the difficult work. At the halfway point of our trip, we had an opportunity to paddle past the point of the island to look down its length. This put us in full exposure to the stiff wind and oncoming swell
With guides present, we were able to be a little more adventurous. Sam and Cara paddled hard out beyond the point into the big swells, knowing that if they had some trouble guides were not far away. We also appreciated their knowledge of the sea caves, and which were safe to enter given the sea conditions and the current level of the water.

We turned around and made it back across from the beach with about an hour and a half left in our time. Here we had the option to beach our kayaks, or to continue south and explore the other end of the island. We knew our kids were tired and it would be a paddle upwind to return, so we opted out. The rest of our group continued on but we were definitely happy with what we had accomplished.
After stowing our kayak gear, Cara surprised us by insisting she wanted to go snorkeling. For no additional charge Santa Barbara Adventure Co will also provide snorkel gear. While Sam and I added a wet suit jacket to our sleeveless suits, our guide fitted the three of us with fins & masks. Rachel and Andrew, however, walked back to the tents for a rest claiming they were too tired for a swim. Apparently kayaking totally wore them out!
Cara didn't last long, but watching her excitedly point out fish and swim through tall kelp was adorable! She seemed excited to have mom and dad all to herself and dove in like a champ. The kids all learned to snorkel on the Dry Tortugas last year, and apparently Cara liked it enough to go again. This time we had kelp beds instead of coral and it was fun to experience something completely different.


As a family we participate in a lot of outdoor adventure. From backpacking to mountain biking, or simple nature walks we regularly push our physical and mental boundaries. This kayak trip was definitely one of the hardest outdoor experiences we've had. That said, I'm so glad we did it! We felt completely safe and taken care of by our guides – which is honestly one of the best ways to push your limits.
If you head to Santa Cruz Islands in the Channel Islands National Park, definitely make the time for some sea kayaking while you are there. It'll be worth it!
Related posts: