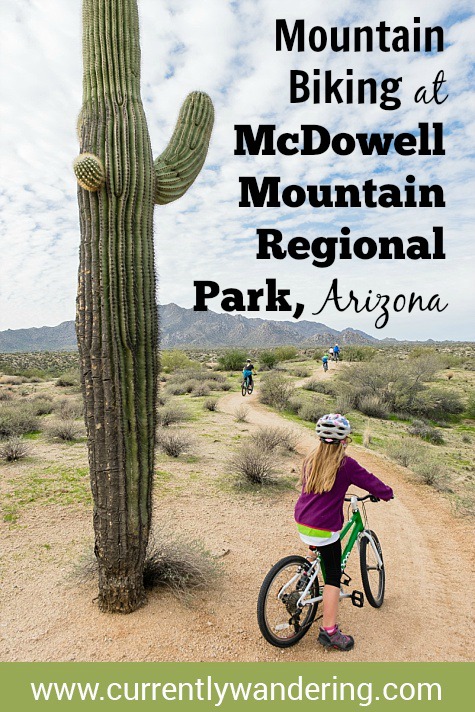 McDowell Mountain Regional Park as been on my "visit list" for at least 2 years. We even had reservations here two years ago, but it was too late in the spring and we cancelled in favor of higher elevation to escape the heat.
When we decided to spend winter 2017 in Arizona again, McDowell Mountain climbed immediately to the top of list. Originally we reserved 8 days thinking that would be long enough to explore the trails thoroughly. Then we actually arrived, and 8 days turned into 18. Even then we were all sad to leave, and are making plans to come back relatively soon.
Travel Dates: January 5 – 22, 2017
McDowell Mountain State Park is known for its trails. Specifically, its mountain biking trails. You can hike or ride horses on them as well, but the majority of users we've seen have been on bikes. They also have a competitive track and run races here on a regular basis.
Mountain biking in the desert is a completely different experience. We've biked in Utah, Minnesota, Florida, California and plenty of other states, but the Sonoran Desert is unique. Rolling, mildly sandy trails, Saguaro catcus, ocatillo, palo verde, and jagged mountains all make this landscape one of a kind. Throw in a few amazing Arizona sunsets (seriously they are not this good ANYWHERE else) and you can begin to understand our difficulty leaving.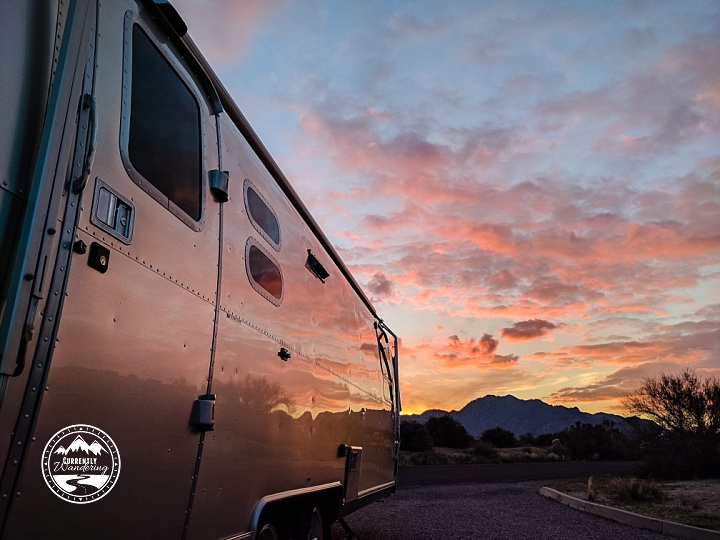 The Campground
This campground fills up regularly. After our initial 8 day reservation, we spent a few days in the campground overflow (basically a parking lot), 2 days back in our original site, and then we managed to pick up a 5 day site that backed up to the playground. You can look online for sites, but once you are here you can avoid the reservation fee by just calling in or talking to the campground hosts in person at the nature center.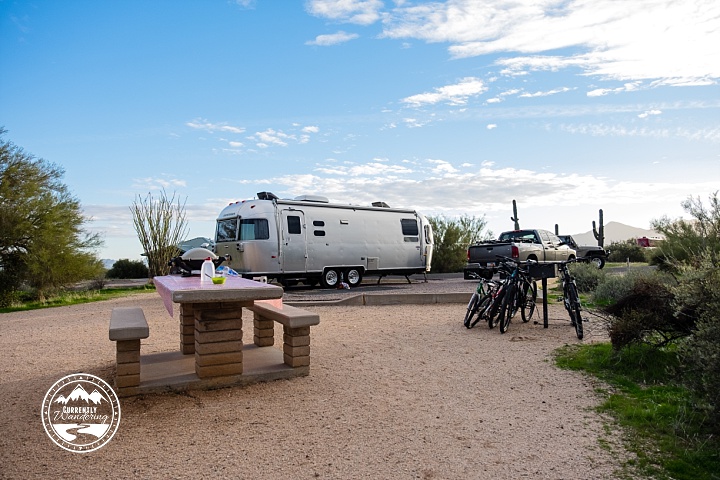 There is a 14 day stay limit in any one site, so even if you want to be here longer you'll have to shuffle around. Sites are water/electric so unless you are camping solo and have large tanks, you're going to need to take a trip to the dump station anyway.
Sites are level, spacious, and not too close together. They all have a picnic table (the sturdy stone kind), and a fire pit. We always find it amusing when the camp hosts rake the gravel nicely between campers, but it does make the site feel tidy and neat.
The Trails
Someone asked me on Instagram if all the trails we've encountered are this smooth and rolling. Nope. Don't let the smoothness fool you though, from the campground headed north-west all the trails are uphill. We could easily get in a good 8 mile loop in an hour and feel like we got worked. Its nice to head uphill first and then have a nice, swift downhill on the return.
Some of our favorite loops:
For the Kids
Granite – Bluff – Granite (4 miles): Start at the campground and take the connector trail to Granite. Stay on Granite when it turns left and heads down into the wash. Climb back up and you'll run into Bluff. Turn left and enjoy the ride down back to Granite. Turn right to head back to the campground. Granite is a nice, easy, rolling uphill, and Bluff is slightly more technical on the way down. The downhill is fun with some rollers but overall not technical (except for the waterbars).

Tortoise – Pemberton – Shallmo Wash – Escondido – Cinch – Scenic – Pemberton – Tortoise (4 miles): Feels like a lot of trails but many of them are short connectors. Start at the nature center and ride Tortoise down to the intersection. From here its an easy 0.1 miles on PB until you hit SH. SH is a great downhill – fast and furious until you hit the staging area. From here find the trail head for Escondido and follow it 0.2 miles up to the turn off for CI. 0.6 miles up CI you'll continue on up Scenic. Its fairly smooth and not steep, just a gradual uphill the entire way. Turn left on PB and ride the short distance back to TO and then up to the nature center.
Rachel rode this one with Sam and I, but I'm not sure I'd take the other two. Cara and Andrew did ride with Sam from the campground down Tortoise and Shallmo Wash to the competitive track where I picked them up after we played around for a bit.

"Cara sometimes gets frustrated as she's not as capable as the older kids. She was upset the other night because she was scared to ride the hills on the pump track. I assured her she didn't have to ride, it was okay to be scared, and that we would keep practicing until she felt comfortable. Instead of quitting Cara put her intense game face on and rode the hills over and over until she smiled and laughed the whole way. I've never seen such fierce determination and desire to overcome an obstacle. I hope that's a lesson she keeps with her for the rest of her life!" -@currentlywandering
North Trail (3 miles): We drove up McDowell Mountain Park Dr and Asher View Dr to park at the trail head for North Trail. Along Asher View Dr. there is an amazingly old and gnarly Saguaro cactus we had to get out and inspect – so don't miss that on your way. North Trail is a fairly tame 3 mile loop. You can ride the trail in either direction and its pretty symmetrical. Gentle uphill and then back down on the return. Rachel found it almost too easy, while Cara was upset it was too sandy in spots to ride. Great recess break from school!

For the Adults
Granite – Delsie – Pemberton – Lariat – Granite (8 miles): Start from the campground and take the connector trail up to GR. About the same place GR splits off left and goes left down the wash, DL heads right and continues climbing. We felt this was one of the easier climbs but still managed to get a good work out. From there, this section of PB is super fun! A short sprint uphill and then its downhill, smooth, flowy and fun to Lariat. LR was a bit boring but you have to get back to camp somehow.

"First MTB ride is in the books with another scheduled for today. There are so many trails here and I intend to ride most of them over the next week. Not gonna lie – all of you and your snow photos are making me grateful for 70 degrees, sunshine, and cactus. 🌵☀" – @currentlywandering
Pemberton – Scenic – Cinch – Escondido – Pemberton (11 miles): This one starts at the trail head staging area which is also the campground overflow. This section of Pemberton is fairly smooth so its a nice ride up to Scenic. SN is definitely more rocky as it climbs up to and along the bluff. Definitely more technical and we do recommend riding it clockwise. Once we hit the bottom we turned onto Cinch which is a small connector to Escondido. ED is a nice rolling uphill all the way back to Pemberton. It is a good combination of technical and smooth rolling hills. I really liked it. Once you hit Pemberton again its downhill all the way back to the staging area.

Granite – Pemberton – Dixie Mine – Coachwhip – Pemberton – Bluff – Granite (14 miles): If you are looking for a rocky, technical trail than you'll love this. Riding on a hardtail, I struggled over the rocks but it was still a really good loop. Granite is an easy fast couple of miles from the campground before your hit the turn off for Pemberton. From there follow the trail past the old Ranch homestead and then start climbing up towards Dixie Mine. This part of PB isn't too rocky and traverses some really pretty landscapes. Once you hit Dixie, there's a gradual, rocky downhill before hitting a gnarly, long technical climb. Summit is at the turn off for Coachwhip, which has a fun, rocky downhill before another long slog uphill. From there its mostly downhill or rolling all the back to Pemberton. We chose to turn left and end our ride down Bluff rather than doing a return up Granite the way we came. Definitely the better choice as downhill doesn't  get much better than Bluff in this park!

A note about Tonto Trail, Granite & Delsie – These trails are super easy, gradual climbs. We came down Delsie once and it was actually quite boring, fast, but boring. Most of our trail rides including going up one of these trails and taking something a little more exciting on the return. Tonto is steeper than Delsie which is steeper than Granite.
Hanging Out With Friends & Regular Life
One of my favorite parts of our stay was hanging out with friends. @TheFamilyCan came up from Lost Dutchman to join us and we convinced them to hang out for more than a week (it wasn't hard). Our kids played for HOURS at the playground, we enjoyed a few campfires, and the kids had some solid Minecraft time. We loved having other adult company!

"Our kids have spent hours at the playground with @thefamilycan this week. Mostly it's been Harry Potter games and imagination central, but after they left today Andrew found a different use for the slide." -@currentlywandering
The only downside to this park is that laundry is 45 minutes away no matter which way you drive. I paired our laundry trips with grocery shopping and other errands so it wasn't too bad.
We have some college friends down in Gilbert, and they were gracious enough to watch our kids while Sam and I attended a session at the Gilbert, Arizona LDS temple. We loved catching up with them as they are nomads at heart and are still trying to figure out how to take their 5 kids on the road someday.

"Roughly three years ago we attended the Gilbert LDS Temple open house as we passed through Arizona heading West. This week we had a chance to attend a session as we pass through Arizona (slowly) headed East. I love the focus that the Temple brings, pointing us to the Gospel of Christ and His Atoning Sacrifice. Visiting so many different temples is one of the perks of a nomadic life." -@telegramsam

"We visited some college friends yesterday and the the kids got a kick out of their indoor trampoline. Everybody needs awesome friends like this! This is not the only cool thing in their lives as @funawesomefamily has a fun YouTube channel with plenty of fun family stuff." -@telegramsam
We were stationary long enough to get not 1, but 2 Amazon deliveries. We utilized the Amazon locker pick- up that is available in the Phoenix area and it worked like a charm. You send your package to a nearby locker and then use your phone or a code on the keypad and it pops open your locker with package(s) inside. Brilliant. Now we just need these in more remote areas.

One of Airstream's marketing companies paid us a visit and we were privileged to be interviewed by their amazing team. They are rolling out a new "Home" campaign highlighting the various uses of full-time Airstreamers and we can't wait to see how they edit our story together. Lisa gave us a preview of some of their previous shoots and they look top notch. Ours should be published in a few months and we'll definitely let everyone know when it goes live!

"Fell in love with our tiny, shiny space all over again today. We spent a couple of hours cleaning yesterday in preparation for a video/photo project with @airstream_inc today. Our house looks amazing! If only the kids could keep it this clean all the time." -@currentlywandering
We briefly went "ice skating" with @campytrails in Bakersfield a month ago and the kids have been begging to try it for real since then. With my ankle still not to full strength we determined I shouldn't skate (not really my thing anyway) but I came along for moral support. Sam was amazingly patient with the kids and they learned to glide around the ice. I can definitely see more of this in our future!

One last errand to top off our stay was to replace our toilet. We weren't really planning on it, but the darn thing sprung a leak (clean water thank goodness!) and we decided it was time. After some research Sam sent me to Camping World in Mesa, AZ where they had the correct toilet in stock. Really grateful this happened in civilization and not out boondocking in the desert!

We had a fabulous stay at McDowell Mountain and honestly can't wait to go back. We attended a record three times at the same LDS ward in Fountain Hills, and there are plenty of hikes, museums and restaurants we weren't able to check off our list. For now, however, its off to south eastern Arizona!
Related posts: