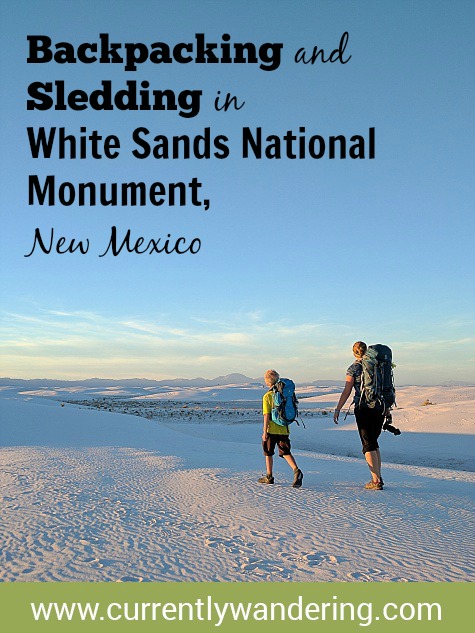 White Sands National Monument is one of those other-worldly places. Located in southern New Mexico this park is truly one of a kind. We visited three years ago on our initial trip from Virginia to Utah and the kids have been begging to go back. When we decided to stay west this winter they unanimously voted White Sands as the one place they wanted to visit for sure.
Travel Dates: February 17-18, 2017
Ages of Kids: 11, 9, 6
Where to Stay: There is no campground for trailers in White Sands National Monument. However, Lake Holloman is a free option about 5 minutes from the entrance, or Oliver Lee Memorial State Park is about 30 minutes away.
Where to Get Sleds: The Albertson's in Alamagordo sells sleds (usually) but you can also get them from the Gift Shop through the courtyard and past the Visitor Center desk. At the time new disks were $16 and used were $10. They will also buy them back once you are done ($7 new and $3 used I believe).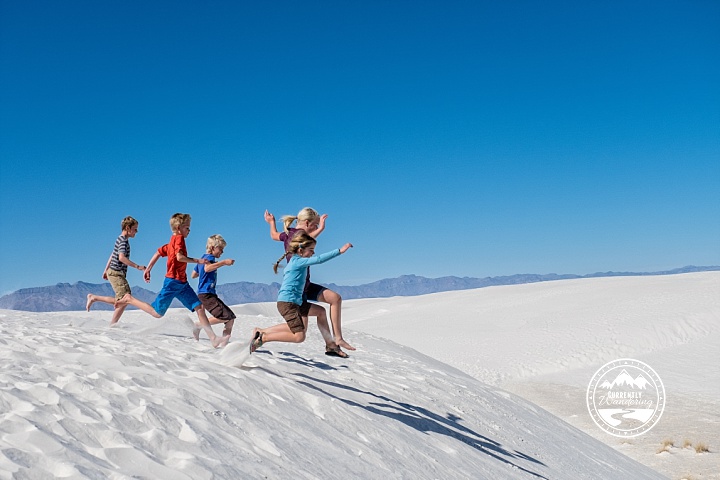 We arrived Airstream in tow and parked in the Visitor Center lot where they have ample room for bigger vehicles. We went inside, grabbed our Junior Ranger books and headed to watch the video about the park. Unfortunately about this time a school group came through so we didn't explore the exhibits further. After about 15 or 20 minutes of working distractedly on their books, the kids looked up at me and said, "Mom? Can we just go sledding?"
I realized we weren't going to get anything else done before we hit the slopes as it were, so we bought used sleds from the Gift Shop for $10 each, some wax, and loaded up for the drive into the park.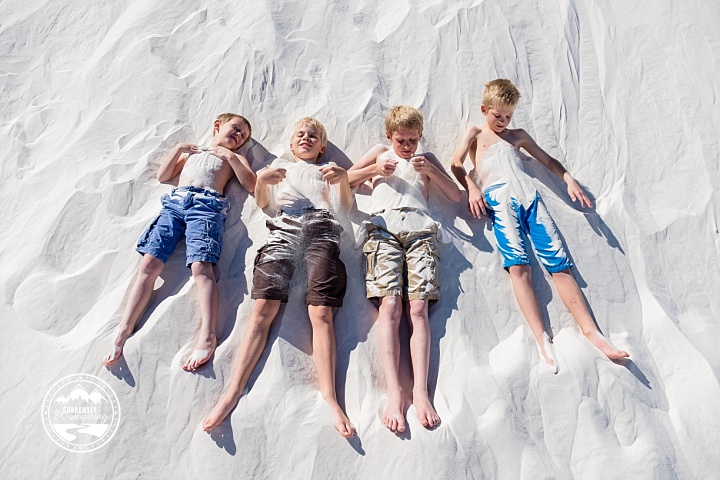 I love that the parking lots are HUGE and we can just drive our entire Airstream into the park. The best dunes are located near the end of the one way, teardrop shaped loop. We parked near the Alkali Flat Trailhead where there were multiple large dunes to choose from.
We also met up with both @liddleadventures and @thefamilycan so it was a full day of friends and sun! We couldn't have asked for a more perfect day.

With cloudless blue skies, and warm temperatures, our visit this time was totally different. We basked in the sun wearing shorts and short sleeves, and even had to apply sunscreen in order to not be burnt. It felt like the perfect beach day and we were up and down the dunes for hours.
At one point in a conversation with another family, we were musing about the back country camping in the park. There is a loop for tenters and we joked about pulling out our tents and just staying the night.
And then we totally did.
Sam drove back to the Visitor Center to grab a permit (first come, first served) and I double checked to make sure we had enough food to pack in for dinner and then breakfast the next morning. Around 3pm our friends both took off for their next destinations and we set about packing up our overnight gear and prepping food.
Once we were ready, we drove to the backpacker trail head, parked the trailer and set of into the sunset for our short one mile hike to campsite #2. Cara insisted on bringing a sled and pulled it behind her as we followed the orange markers out over the dunes.

We got to camp and hurriedly set up our tents before it got dark. In hindsight, we could have timed things to arrive just a little bit sooner, but honestly the kids were having so much fun sledding with their friends that I'm not sure we would change anything.
Have you ever had a random idea to turn a one day visit into a backcountry overnight trip? Me eithe…. Yeah. That happened. In our travels, we have learned to say Yes when adventure calls. That is how we ended up hiking into the otherworldly scene displayed here. We found our campsite amidst the dunes just before nightfall. Staying overnight allowed us to experience not only the late evening and early morning unavailable to daytime visitors, but also a brilliantly bright full moon. -@telegramsam

Hooray for a spontaneous backpacking trip! While sledding yesterday in White Sands National Park we decided to grab a back country permit and stay the night. With a full moon, plenty of stars, and a gorgeous sunrise we definitely made the right decision! -@currentlywandering

Camping on the dunes is prohibited so all of the camp sites are nestled in valleys between dunes. We settled into our little spot, made dinner, and the kids managed a final sled before bed.
One of the perks of staying the night was the ability to see both sunset and sunrise in the park. Sunset over the gypsum sand was pure magic. Depending on the time of year, the park can close before sunset actually occurs which I think is totally sad. The rangers drive through the park at closing announcing over a loudspeaker that everyone needs to leave. I'm grateful we were able to just stand and enjoy it.

At first we were excited there was a full moon and then we realized that its really hard to sleep when its so bright outside! Sam, Rachel, and I went for a walk at 10pm with no headlamp (and no shoes honestly) to try and bring on some sleep. I didn't even try to capture any star photos as the moon would have just washed them out.
"The moon was full last night, and as it shone upon the brilliant white sand around us, it lit up the night in a way I have never seen before. It was bright enough to allow a late night wander without any light at all. It was so bright that we had moon shadows. It was so bright that we had trouble falling asleep. It was indeed otherworldly." -@telegramsam


We had plans to be 5 hours south of White Sands by Saturday night, so were were up and out of camp early the following morning. We had a quick breakfast of Cliff Bars, fruit strips, and hot chocolate before making our way back to the trailer. Halfway there we realized the Visitor Center didn't open until 9am (we needed to turn in our Jr. Ranger books) so we slowed down a bit and got some more sledding in.
Backpacking trips that involve sand dunes and sledding are much more fun. -@currentlywandering

I love that we could revisit one of our favorite places and the experience was so different than last time. White Sands is definitely a unique visit and camping in the back country made the visit even more special.
Related posts: