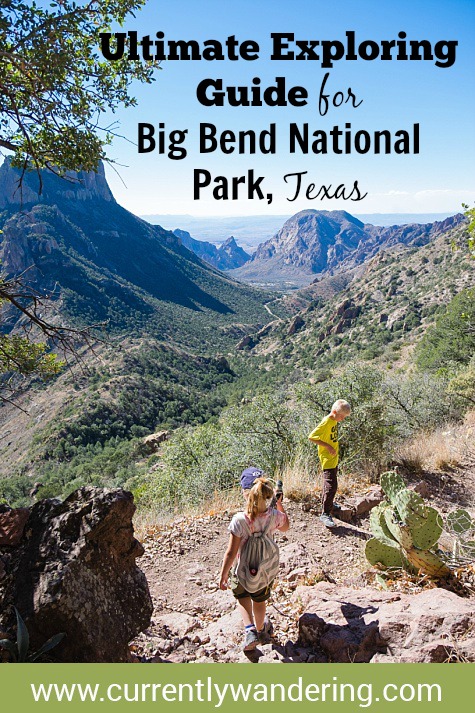 Big Bend National Park has been on our "must see" list for quite sometime. Unfortunately, Big Bend is on the way to exactly nowhere and we hadn't been able to carve out the time to get down there before now.
The park sits on the border of Mexico and Texas where the Rio Grande takes a large bend and gives Texas part of its unique shape. There's also not a whole lot nearby. The small ghost town of Terlingua, TX and the slightly more lively town of Study Butte are to the west, and Marathon, TX is an hour north of the Persimmon Gap Visitor Center.
We set our sights to visit this winter and were able to spend 12 days exploring Big Bend and while we were initially overwhelmed and frustrated the park definitely has become one of our favorites!
Travel Dates: March 12 -23, 2017
Ages of Kids: 11, 9, 6
Since we know a lot of people that are interested in this park, we thought we'd give a run down of our experience and what we learned along the way!
Layout of the Park
Big Bend has three distinct areas: the river, the desert, and the mountains. I was amazed that we could have summer down by the river, yet need jackets and beanies up in the mountains. The temperature difference is about 10 degrees between areas so just be prepared with all sorts of clothing.
There are four Visitor Centers but Panther Junction is the central hub in the center of the park. Persimmon Gap is at the north entrance, the Rio Grande Village is in the southeast, and Castolon Historic District is near Santa Elena Canyon in the southwest.  Chisos Basin is in the middle up a windy road into the mountains.
Also, the park is BIG. It takes about an hour to get almost anywhere and sometimes even longer. From Terlingua to the Rio Grande campground is about an hour, and its 45 minutes from Persimmon Gap down to Panther. Just be prepared to drive. There are gas stations at Rio Grande and Panther Junction and it wasn't crazy awful expensive when we were there.
Where to Stay
I can't even begin to describe the stress that is camping in Big Bend. It's worth it though. Most of the camping is first come, first served and the campgrounds very often fill up during the spring.
Your best bet for a FCFS site in any of the campgrounds is to get there before 10am. We suggest camping outside the park at Stillwell store or in Terlingua (or even Alpine) and then drive in early the next morning.
Each of the visitor centers has the latest report on campground availability and can reserve the backcountry sites so you don't have to drive all the way into Panther Junction for that.
Ideally you could snag a FCFS site at Rio Grande Campground, hike to the hot springs, or maybe even go over into Mexico. From there try and get a backcountry site or  move to a different section of the park.
Backcountry Sites – Trailers
The biggest attraction at Big Bend National Park is the back country camping. There are dozens of 4 wheel drive roads with designated camping spots. We saw so many over lander vehicles, truck campers, and even a decked out pop up trailer.
While it feels like boondocking, you do have to get a permit from one of the visitors centers and each spot has a bear box. So not totally primitive, but definitely solitary. It was awesome.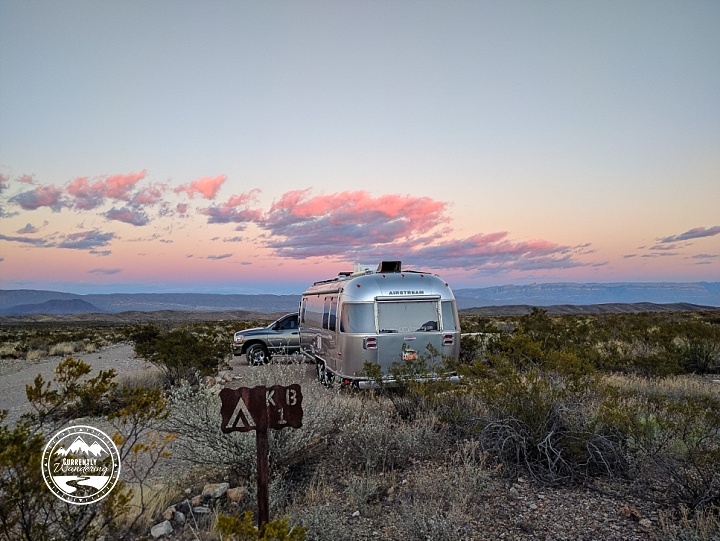 "Spending a few days in the Big Bend back country is exactly what we needed after a packed week of adventure." -@telegramsam
You can only get a permit 24 hours before you plan to occupy the site, but the catch is that people can switch sites during their stay. So even if you go in on a Monday to get a spot for Tuesday it could already be taken by someone from last week. Totally confusing, right? A 14 day permit only costs $12 though so once you can snag a backcountry site staying is really, really cheap.
While they are plenty of roads we wouldn't take the trailer down, there are a few that fit a 27′ trailer (or even slightly larger). Campendium has a great blog post on the different sites and which ones would work for trailers: What You Need to Know about Backcountry Camping in Big Bend National Park.
We ended up at K Bar 1 for 6 nights at the end of our 12 days. It was awesome. There was one ranger that wouldn't let us camp there due to being visible from the road (and people came here to see wilderness not an RV park). So…. we found someone else that was a little more helpful. Maybe it is policy and the volunteers just didn't agree with it? I don't know. All the other volunteers we talked to all mentioned KBar as a place they send campers with trailers.
Our friends the Hendricks stayed at Croton Springs with their 30′ Airstream and absolutely loved it. He has a blog post on that here.
Rio Grande & Cottonwood Campgrounds
We stayed 2 nights at Rio Grande Campground and it was a great base for exploring the southeast corner of the park. We visited the hot springs twice, and the kids enjoyed playing the water and mud when they flooded the campground for irrigation purposes. We also ended up here over Valentine's Day with our friends @thefamilycan. We had a little dinner celebration and the kids made each other Valentine cards. It was adorable.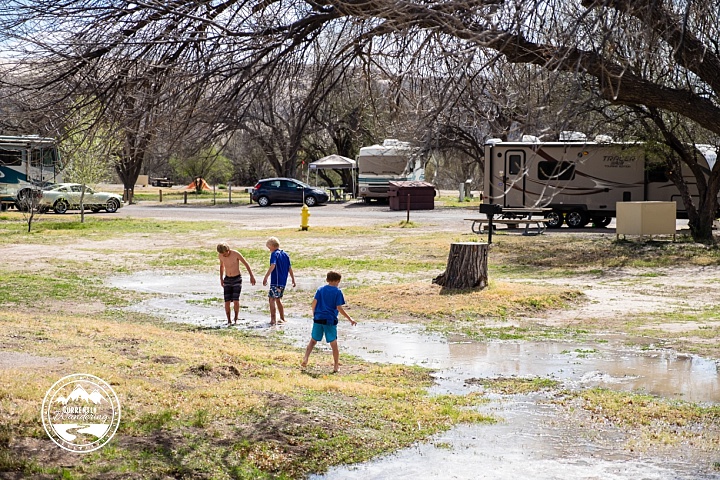 There are showers at the store, which also has basic groceries (eggs, milk, hot dogs, etc.) laundry, and gas.  There is a "no generator" loop but you can use them in the remaining sites during limited hours. This is also the only NPS campground that takes reservations for some of the sites. The rest are first come, first serve.

We moved over to Cottonwood Campground early on day 4 to use it as a base for our overnight canoe trip. There's absolutely no signal down there, but since our purpose was canoeing it wasn't really a big deal. Cottonwood doesn't allow generators, so its very quiet. The sites are not as large as Rio Grande and aren't recommended for large trailers. Supposedly the javelina frequent Cottonwood, but unfortunately we didn't see any.
We visited the Castolon Historic District while we were down there mostly to complete pages in our Jr. Ranger Books. They did have a really interesting (okay, boring for Cara) exhibit on the Mexican/US border and the Texas rangers. Apparently early settlers also grew cotton in the area. Who knew?
WiFi & Verizon
Naturally we wanted to be able to work while we were in the park, as taking 12 days of vacation just isn't feasible for us. We also love to spend longer in our National Parks and spread out the exploring a bit while still getting some school, work, and regular life in.
We stayed our first night in Terlingua at Retro Rents because we arrived later in the evening and the campgrounds were all full. We had heard it was cheap but we found it that's only if you stay a week. Otherwise I think we would have picked one of the RV parks closer to the west entrance. The Wifi at Retro Rents was just okay not great. I've heard good things about the wifi at BJ's RV park and there are a few others in Study Butte that could work. Staying out there just means a long drive to get into the park to see anything.
There's fairly decent wifi at Panther Junction & Chisos Basin Visitor Centers and the Rio Grande store. Sam "commuted" to work while we camped at Rio Grande and although it was annoying it allowed us to stay down there for a few days.
After a few days off signal at Cottonwood, we managed to snag 6 days at KBar 1 (back country site) and had decent enough Verizon to work. Unfortunately for the children it wasn't fast enough to stream Netflix. Darn. Time to go hiking instead.
There's no T-mobile in the park, but our phones did roam to AT&T and we were able to get cell service in some parts of the park (but no data).
Things to Do
We kept ourselves fairly busy! There's so much to do in the park and it just takes time to check them off the list especially if you don't want to drive yourself crazy in the process. We did plenty of hiking, soaked in the hot springs, canoed the Rio Grande, sat out at night and looked at the stars and earned our Jr. Ranger Badges.
Hiking
There are quite a few hiking trails in Big Bend and we slowly made our way through some of the more popular ones.
Nature Trail (Rio Grande Village area, .75 miles round trip). This is a great little trail with pretty views of the Rio Grande river and campground. The kids never made it out here, but I ran it a couple of times.

Balanced Rock (Panther Junction area, 2 miles round trip). This short hike was perfect for a Sunday evening wander with the whole family. My kids have learned that when I say we are going on a "short hike" to still lace up their hiking boots. Apparently nothing counts as short around here anymore! The trail wanders along a flat wash, and then there's some serious scrambling/elevation to get up to the formation. It was a great warm up for Emery Peak.

Emery Peak (Chisos Mountain Basin area, 10.5 miles round trip). We went from hiking in the desert one day to mountains & trees the next. The Chisos mountains are over 7000 feet tall and it tripped our minds to be hiking with oak trees, cactus, and even some snow! Out kids rocked the 10.5 mile round trip hike up to Emery Peak – the highest point in the park. The views were absolutely incredible the entire way up.


"Sitting on top of the world! Emery Peak sits at 7832 feet above sea level. So crazy that a mountain that tall is in Texas smack next to the desert. There's quite a rock scramble up the last bit and Rachel mustered up so much courage but ultimately the sheer height did her in. Not a bad lunch spot though, eh? This was our first peak summit and I'm thinking we have more to come!" – @currentlywandering
Hot Springs Trail (Rio Grande Village area, 6 miles round trip). While you can drive to the Hot Springs, the hike was quite beautiful. My friend Charlene, and I set out to hike the 3 mile trail with 6 kids in tow. The trail actually had quite a bit more elevation gain than I had anticipated, but the views were stunning! After work the dads drove our trucks over to meet us so we didn't have to hike back as well. I think the kids would have rebelled if we had made them! Even I wouldn't have enjoyed a wet, 3 mile hike back to our trailer.


"It's so amazing to me that much of our deserts were once lush, tropical forests and huge seas. We found this fossil on our hike from Rio Grande to the Hot Springs in Big Bend National Park. The older kids were hiking fast and completely missed it, but Cara's sharp eyes picked it out of the surrounding stone. Not too shabby." -@currentlywandering
Lost Mine Trail (Chisos Mountain Basin area, 5 miles round trip). We had heard this was the best trail in the park, so naturally we had to fit it in. We hiked this only 2 days after Emery Peak so we were all a little tired. It gains some pretty steady elevation, with a lot of switchbacks up the ridge. If you can't get up to the south rim, then this is definitely a good one for the view!

Santa Elena Canyon (Castolon Historic District, 2 miles round trip).  This was a great evening walk! The trail was fairly flat except for the nice switchbacks up the steep canyon. We hiked this the night before our canoe trip and it got us all excited for getting on the river.

Soak in the Hot Springs
After driving to the parking lot, the springs are only a short .5 mile walk away. We managed to visit three times and each was different! We noticed many people stayed for just a few minutes, but our kids had fun jumping and swimming down the river for hours. The water is a consistent 110 degrees and was absolutely lovely, if a bit on the sediment-y side.

Along the trail are remnants of an old hotel that would house tourists visiting the springs. It was a really neat historic area and I love that the buildings are still there!

Canoe the Rio Grande

When we researched activities in Big Bend, canoeing in Santa Elena Canyon was at the top of our list. We had never attempted an overnight canoe trip with our kids (I did a multi-day rafting trip as a teenager) and it sounded like a challenge. We could have just done a day trip – or a boomerang as they call it – but that just didn't sound as appealing.
This trip took a lot of research and planning so I put together an entire blog post just for our canoe trip. You are welcome.
Stargazing

We've been to quite a few "dark sky" National Parks but Big Bend blew them all away. There were So. Many. Stars! I seriously couldn't believe it. Another perk is that we had some pretty warm nights. We were out shooting star photography at 11:30pm and it was about 70 degrees with a nice warm breeze. 
Dining and Food
There aren't a lot of places to eat in the park. The Chisos Basin has a lodge with a restaraunt, but that's the only one. After our hike to Emery Peak we treated the kids to dinner at the lodge. Sam and I were hoping for a hamburger, but unfortunately the only one on the menu was a vegetarian bean burger. That just wasn't going to cut it.  Instead we opted for the all you can eat salad & soup bar and it really  hit the spot! They also had a pretty decent kids' menu (which actually had a hamburger) and we felt the food was good for the money we spent.
There are convenience stores in most of the areas, and we may or may not have grabbed ice cream bars at 10am one day.
The only "real" grocery store is in Study Butte and we were surprised at the variety and quality of the food. After our canoe trip we stayed in town long enough to grab Mexican food for dinner, a coin operated shower, and a trip to the grocery store.  It says something about our travels when we can shrug and say, "Well, its not the most expensive bread we've ever bought."
Earn a Jr. Ranger Badge
Naturally we had to earn our Jr. Ranger Badges while we there. The nice part about a 12 day stay was that we could stretch it out a little. There are pages to complete in each section of the park, but the kids don't have to complete all of them to earn the badge.
They also had centennial hiking patches we could earn and since I figured we'd never get down there again we were going to earn all the things! There were patches for hiking the Panther Path Nature Trail (easy), the Hot Springs Trail (medium), and Emery Peak (hard). Super proud of my kids for snagging all three!

If I'm honest, planning and visiting Big Bend took about everything we had. Canoe trip, hikes, hot springs, campground jockeying, plus all the driving completely wore us out. Kids and parents alike. It took us quite awhile to recover!
Even though we were in this park for 12 days, I feel like we only grazed the surface. They have some great scenic drives, you can mountain bike on all the back country roads (and cycle the paved ones!), and the backpacking in the Chisos Mountains looked top notch! I feel like we did a great job with the time we had though and we always try to save something for next time!
Related posts: