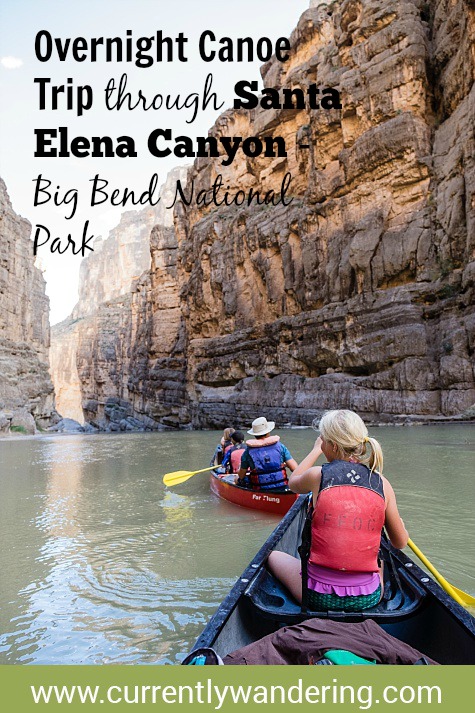 When researching Big Bend National Park, we picked out a few things that were on our "must-do" list, and a few for the "would be great if we had time" list. Canoeing Santa Elena Canyon was at the top of the "must-do" list for sure! We'd seen some friends do a boomerang trip where you put in below the canyon, paddle upstream, and then turn around and go back. They had mentioned there were great campsites which got us thinking about how to extend our paddle to an overnight trip. After a lot of research and plenty of stress we pulled it off and we are so glad we did. This trip was definitely the highlight of our visit to Big Bend!
For the rest of trip see our Ultimate Guide for Big Bend National Park – Texas.
The Gear & Planning
We travel with backpacking gear & bikes, but we don't have our own boats. We rented two regular canoes and related river gear from Far Flung Outdoor Center in Terlingua. There are other rental shops in town, but we felt these guys had the most extensive equipment for an overnight trip vs. just a day trip. We also paid them for a private shuttle at both ends of the trip. The shuttle was expensive (several hundred dollars) but going just as a family instead of a fully guided trip saved us about a thousand dollars.
Far Flung also has a great mileage chart for the river and shuttle fee estimator. Seriously tons of great info right on their website. We knew we wanted to take out at Santa Elena Canyon so the best spot for us to put in for roughly a two day paddle was Lajitas. Total river miles between the two is 18. Definitely the longest paddle we've done, but we knew we were up for it!
After we figured out our camping situation in Big Bend, we were able to call and reserve our canoes ahead of time. We were definitely there in the off season, so reservations were not a problem. We did get our desired dates, but Far Flung does run their own trips so coordinating a shuttle could have been difficult. Best to reserve everything as far in advance as possible.
One of the hardest things for us when we head to the back country is what to do with the Airstream? Many times we've been able to leave it in visitor center parking lots, but that wasn't going to work here. The day before our trip, we moved the house to Cottonwood Campground in Big Bend which was the closest to Terlingua. It was cheaper than staying in an RV park in town ($15/night vs closer to $30) and we knew it would be safe. We unloaded and locked all our bikes next to the trailer and spent the afternoon packing and getting our food ready.
Equipment We Rented for 2 Days:
Fire Pan (required by the NPS whether you plan to have a fire or not): $10.78
Canoe (x 2): $340.48
Toilet System (we went with a groover, basically a plastic box inside an ammo can + a seat): $38.80
Larger Waterproof Bags (x 2): $32.32
Shuttle Fee: $80.81 drop off + $202.03 pick up = $294.84
Lost Paddle (oops): $30.17
Backcountry permit (required by NPS): $12
Total equipment rental: $747.39
Equipment We Brought:
Basically we took all our backpacking gear. We've worked hard to make sure its small and lightweight (not really a concern in a canoe though) and it was easy to just throw it all in the dry bags. We did pack everyone's clothes, pajamas, kindles, headlamp, earphones, in individual packing cubes to keep things organized. I feel like it worked really well!
We then had our Freezer Bag cooking meals (We did a Thai noodle dinner this time and it was delicious!), Jet boil, and extra canister.
Just because we could, we packed our two REI camp chairs. They were awesome to have around at camp and the kids were jealous we wouldn't share. I think next time we might need to pack a few more.
We had a small cooler bag for some lunch items (everything in it got totally soaked so I'm not sure I'd recommend it), and two 5 gallon Rhino water jugs for fresh water. The Rio Grande is a pretty nasty river and we were advised against filtering it, but 10 gallons was plenty for overnight.
Day One – Putting in at Lajitas
We arrived at Far Flung Outdoors by about 8am on Thursday morning. We needed to sign paperwork, double check equipment, and our shuttle timer started promptly at 9am so we wanted to be ready to go.  Everything went smoothly, and just before 9am we loaded up in the company van and our driver set out for Lajitas. Our driver was chatty and told us a little about the history of the ghost town and the area. Before we knew it, we made it to the put in, quickly unloaded, and then we were on our own!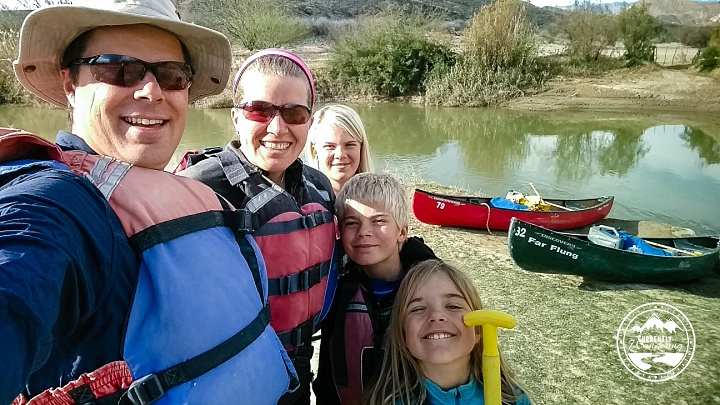 The Rio Grande was running fairly low and slow, and took a great deal of effort to paddle. It was definitely not a float trip! We traded up canoe crews several times each day. Rachel and Andrew are both excellent paddlers, and Jess and I manned the rear seat. The blue bags you see are large dry bags that contain our gear. Yellow bags and ammo cans contain the required 'groover' toilet system. We used straps to tie the gear in the boat just in case we all spilled out!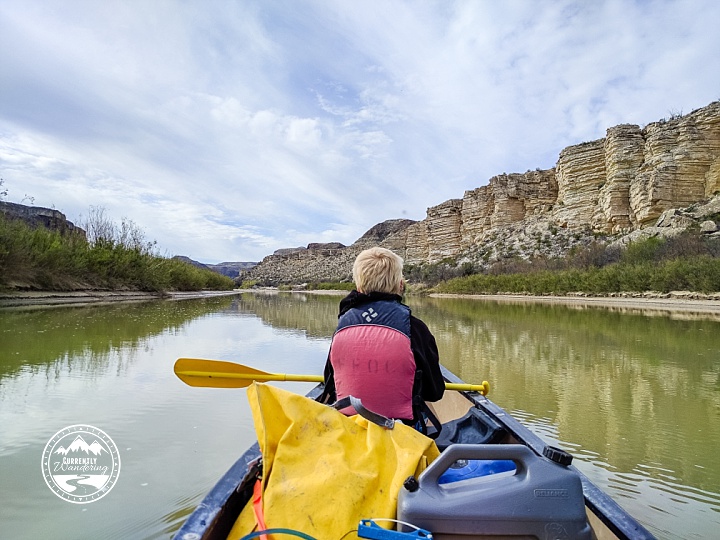 The first day we covered 10 miles of river with open views and an occasional minor rapid. For our only real rapid of the day, Jess and I paddled each canoe through while the kids walked down the bank. The kids kept themselves entertained by singing songs, telling stories, and just talking. We counted all the turtles we saw, and broke into song whenever we saw one.
"These kids. I'm so grateful to be their mom. Cara is an excellent paddler but with 21 miles to go on our overnight trip we didn't want to push her. Instead, anytime she wasn't paddling, she happily took on the task of being our figurehead. Most of the time with kids and the outdoors it's a "whatever it takes" mentality. 😂" – @currentlywandering

We stopped for lunch about mid-day by just pulling off the river. We had made sandwiches early that morning and paired with veggies and chips it was the perfect lunch!

We reached our overnight spot earlier than expected. It was chosen with two goals in mind: a non-muddy landing and non-rocky tent sites. Our camp was of questionable nationality: a river island at higher water levels, this piece of land was divided from the south by only a small trickle and was clearly frequented by Mexican cattle. One of our maps placed the border across the middle of the island, and the other map only showed a border where the middle of the river was clear and no border across the island at all.
Once we got our tents set up we had a few hours to kill until dinner. The kids all brought both audio books and kindles, and spent quite a bit of time relaxing in their tent. We also managed to play a game of Ticket to Ride on my phone. This is the hardest part for me about back country trips – dealing with bored kids once we get to camp! There was a little exploring we could do, and Cara had fun shoveling cow pies with our oars, but mostly it was just time to relax. We had forgotten our card games or even our backpacking bocce set (unfortunately) but we all survived!
The only person we saw this first day was a Mexican cowboy on the opposite bank. We figured he was out checking his herds, and just waved as he trotted past. There's definitely something to be said for the isolation and peace found in our country's wilderness places!

"As a family, we are constantly seeking to push ourselves outside our comfort zone. Although I've rafted plenty of rivers, planning this overnight canoe trip was extremely uncomfortable. Canoeing has never been my strength, and we were planning to be in very remote areas of Big Bend National Park.

Thursday night after a long day of paddling I stood on the shore of the Rio Grande and watched the sun set over our little campsite. Later, we sat by our fire, gazed at the most stars I have ever seen, drank herbal tea and for the first time in months I felt incredibly at peace. I am content. Happy with our choices, proud of my kids, and in awe at the path @telegramsam and I have traveled to get here." -@currentlywandering

Day 2 – Paddling Through the Canyon
After a peaceful first day and a good night's sleep, we felt prepared for day two. Within just the first few river miles, however, we fought with vegetation along a bank, high centered and tipped our first canoe of the day, and Jess hit a rock hard at Entrance Rapid near the mouth of Santa Elena Canyon. Needless to say, we were already pretty rattled.
Most of the paddling trip was fairly flat, boring water. We were warned sufficiently about Rock Slide, however, as its a boulder maze with no good way to portage around it. Sam had stressed the night before about our ability to make it through, but I had adopted a fairly "we'll make it work" attitude. Fairly normal for both of us. Far Flung had given us a detailed map of this section and the various routes we could take to make it through.
"Rock Slide is rated a Class IV at much higher water levels, this is a Class III at current flow (284 CFS) mostly due to tight navigation. If we had a guide with us, I wouldn't have been worried about this rapid at all. Because we were on our own, Jess and I felt the direct responsibility for the safety of our kids. We studied maps and guides, and we scouted the rapid in advance. Frankly, it was out of our comfort zone. We reminded the kids of some river safety practices, and made an appeal for divine guidance and strength.

Our courage gathered, we headed in. Rachel and I went first with an attempt at the fast moving Texan Gate, and spilled into the river as we were unable to keep their balance against a large boulder. After draining the canoe on a small sand bar mid-rapid, we managed to nail the small rock you see here in the center of the channel and dumped in again.  Luckily, we were able to drain enough water out to make the canoe workable in this tight spot, and then more fully drained the rest of the water out below the rapid. We lost both the toilet seat and a paddle in the process, but luckily picked the seat out of an eddy later on that day. A paddle was a small price to pay to make it through safely!" – @telegramsam

"My track record so far that morning was not great. I paddled Rachel through scraggly brush, dumped both girls in the water after siding on a mostly submerged rock, and ran straight into a large boulder after missing a turn – smacking my shins on the canoe bar and instantly developing large welts and bruises. As I watched the water rush towards yet another large rock I knew there was no way I could make that sharp turn and keep everyone safe and in the boat.

I could also tell the kids were scared. So much of parenting is protecting our children both physically and mentally and I was doing a poor job at both. After scouting the rapid we determined that Sam and Rachel would run the Texan gate first and I watched as they launched, turned, side hit the rock and promptly were dumped in the river. Luckily there was a sand bar and they were able to beach the canoe, dump it out and reset, but if Sam couldn't do it, how on earth was I to? Fortunately there was another option. The Mexican gate had more turns but the river was moving much slower. Andrew and I dragged our canoe upriver and headed for the right side instead and we made it with only a few minor bumps.

After an entire day of paddling and honing my rudder skills, I look back and think, "Well, shoot. I could do that NOW." Isn't that a lot like life? We bumper our way through collecting bruises, get dumped in the water, and at the end of it are so much stronger and capable than when we began. Luckily along the way there's also calm water and incredible views. We are all stronger from our experience, and Rachel will tell you Slide Rock was her favorite part of the trip." -@currentlywandering
With Rock Slide behind us, we began to relax and enjoy the rest of the day. The walls of Santa Elena Canyon rose high around us, and the views were spectacular! The Canyon was pleasantly warm, and we paddled easily. We counted turtles, watched birds fly through the canyon high above or heads, and snacked on Perky Jerky and Starburst. We had a few more tight turns to paddle, but by this time we were all definitely in a rhythm and much more confident of our skills. After executing one rather well-time turn, Rachel looked back at me and exclaimed, "Mom! That was graceful!" High compliments from a girl who doubted all of my skills just a few hours earlier!

"Somewhere in the midst of overturned canoes, shin bashing, and bumper boats my Enso ring slipped off my finger and disappeared into the murky depths of the Rio Grande. Or more likely it floated downstream, got caught in an eddy, and now a Mexican Señora is in awe at the incredible comfortableness of this amazing piece of silicon wrapped around her finger." -@currentlywandering
As we neared the mouth of Santa Elena Canyon we saw hikers on the same path we had walked just two days before. It was a surreal experience, remembering back to our limited view of this magnificent stretch of river. The view at the end is beautiful but insufficiently captures the adventure, the challenge, and the beauty of the 20 miles we paddled to get there.
We made it to the take out spot 20 minutes early, which gave us enough time to haul our boats out of the water, change our clothes, and grab a snack. Once our shuttle arrived, we piled everyone in and set out for the hour drive through Big Bend back to Terlingua.
We celebrated our successful trip with coin operated, hot showers and dinner out at a local Mexican restaurant. It was the perfect end to a fabulous trip! We don't often push ourselves this far outside our comfort zone, but I'm so glad we did. There are so many ways our trip could have ended badly, and I'm grateful for the protection we believe the Lord gave us on our journey. I'm pretty sure we will all remember this trip for years to come!
Related posts: