Leaving Lubbock, TX we only had about a week to make it all the way to Sandy, UT for my sister's wedding on March 17th. We knew that sticking around Texas would make that trip a sprint, but the kids were up for it and we were able to set a fast pace that wasn't too incredibly insane. We had also wanted to see this part of New Mexico and Arizona for a few years, and driving somewhere new is always exciting!
Travel Dates: March 8-13, 2017
Our first stop was the Very Large Array after an incredibly long drive across almost the entire state of New Mexico.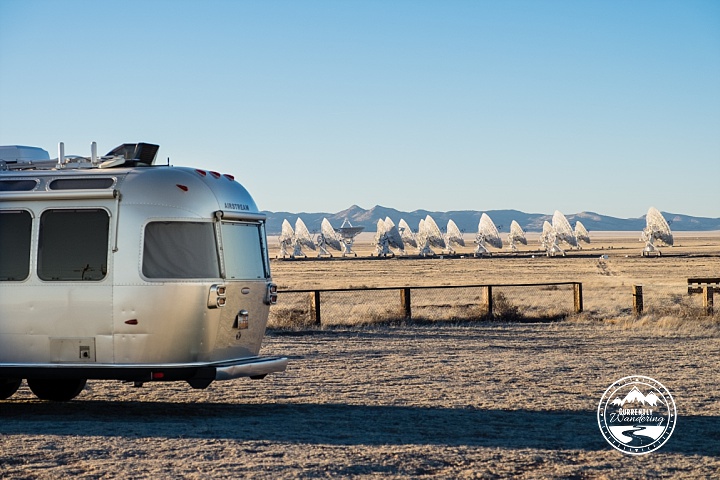 My initial reaction to the VLA was, "That's all the telescopes there are?" In the movie Contact,  there are over a hundred of the radio telescopes, when in reality there are 27. Amazing what visual effects could do even back then.  We arrived around 3pm and spent some time exploring the  Karl G. Jansky Visitor Center. They have an extremely good movie with an overview of how the telescopes work, the history, and various projects that have been conducted using the VLA. Its also narrated by Jodi Foster (chuckle). After the video we bundled up and headed out into the wind for the walking tour.
"I've wanted to see the Very Large Array since we started traveling, and today was the day. This multi-receiver antenna stimulates one huge radio telescope out of 27 'small' dishes. I say 'small', because they are 90 feet high and weigh 230 tons." -@telegramsam

"The 27 dishes of the VLA are arranged in a Y shape. The individual signals are combined with serious computing power. The VLA has appeared in multiple movies including Contact, but the array might appear different in person than you expect.
The array itself has 4 different configurations, which they switch between every few months by moving the dishes closer or further apart. Right now, the array is in the 'D' configuration, with the dishes spanning only a .62 mile diameter circle. The 'A' configuration is the largest, spreading the dishes across a 22 mile diameter circle! Each configuration allows detection of different cosmic materials.

Also, in the movie Contact the array was expanded digitally to include 131 dishes for visual effect." -@telegramsam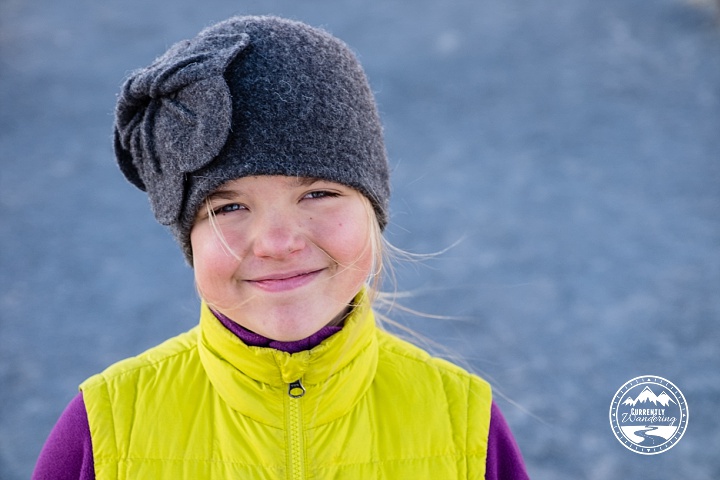 Cara's ears got a little cold so she stole my favorite Aventura Clothing hat. She looked so darn cute I was tempted to buy another one just for her!
"Our long drive across New Mexico yesterday took us right past the Very Large Array. @telegramsam has literally been waiting three years to see this and was like a kid in a candy shop. I was surprised there were not more of the radio telescopes. Have you ever seen the movie Contact? Turns out you can take 27 dishes and turn them into 181 or so with digital manipulation magic. We also found out there is a small visitor center and a walking tour. We spent about an hour learning how astronomers and scientists move the dishes around in different configurations and use radio waves to take pictures in space. Science is so cool." -@currentlywandering
We spent Monday night nearby at the Datil Well Campground.  We were sure there would be no Verizon service, but surprisingly it was quite good! at 7,400 feet elevation it was definitely chilly (with spots of snow still!) but we took our time in the morning to get going. I got in a trail run, Sam got work done, and was even able to fly the drone a bit.
Once we got moving around lunchtime we drove through Pie Town, New Mexico. With a name like that we absolutely HAD to stop for pie and met some fabulous people at The Gatherin' Place. We bought two small pies: boysenberry and a ginger pie. I think we should have bought at least 6 more as they were so good!

By late Tuesday afternoon we arrived near the entrance to Petrified Forest National Park. The Crystal Forest Gift Shop has free overnight RV Parking (I think you can stay for 4 days) so we grabbed a spot in the empty lot. The kids and I drove in to the Rainbow Forest Visitor Center/Museum to  grab our Jr. Ranger Books while Sam got in an hour of work. We played in the Visitor Center, watched the video, and then walked the Great Logs nature path outside before heading back for dinner.

Wednesday morning we hitched up the Airstream for a drive through the National Park. We stopped at various overlooks, did a short hike or two, toured the Painted Desert Inn, and finished with passing off our books and lunch at the Painted Desert Visitor Center. Glad we could check this one off our list, but Petrified Forest was definitely not our favorite park.

Driving north we stopped at the Hubbell Historic Trading post in the late afternoon. Once again the kids and I worked on Jr. Ranger books while Sam got some paid work done in the Airstream. The kids had a blast dressing up and pretending to be traders, and we all loved watching the volunteer work the loom. It was a short stop, but a nice way to break up a long drive! We finally landed at Canyon de Chelly National Monument and grabbed a spot in the campground.

"Today felt like an actual road trip. We drove through national parks, stopped at a bunch of places and saw tons of things. We covered miles at a much faster rate than normal as we head North for family stuff. It was really fun to have a change of pace, even if that pace is faster than normal." -@telegramsam

"Legit road trip today as we towed the Airstream through Petrified Forest National Park & stopped by Hubbell Historic Trading Post on our way to the campground at Canyon de Chelly National Monument. Lots of car dancing, audio books, music, viewpoints, Jr. Ranger Books, and some short hikes. We figure road tripping is something we should legitimately do at least once a year. 😂 "- @currentlywandering

"We moved fast this week, leaving Lubbock on Monday and arriving in Moab on Friday. We drove every day with visits to cool places along the way. We visited the VLA, ate Pie Town pies, explored Petrified Forest, creaked the boards at the Hubbell Trading Post, and hiked this beautiful view at Canyon de Chelly. We moved fast to stage for a wedding in the family next week in Northern Utah." -@telegramsam
Thursday morning we got going early to hike the one public trail down into Canyon de Chelly. It was fairly steep, but gorgeous with White House Ruins at the bottom of the canyon. We also drove down to the Spider Rock overlook which was an easy walk from the car. The Canyon is in the Navajo Nation, so any further exploration of the canyon has to be done with a native guide and we just didn't have time for that.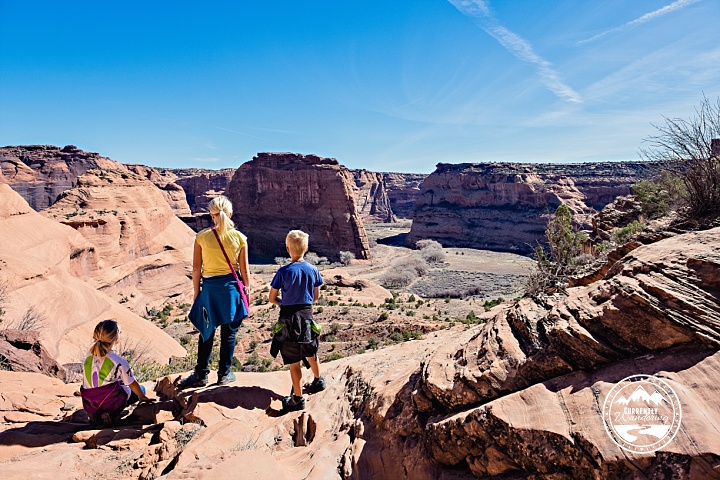 Thursday afternoon we made it to Blanding, UT where we had planned to camp at a National Forest campground north of town. Turns out it was still closed. Until May. Oops. We ended up moochdocking at a friend's house instead which turned out fabulous as the kids got plenty of play time in! These friends are practically family, and it was great to catch up with them even if only for a night.
Friday morning we left around lunchtime and drove the two short hours up to Moab and the Moab Valley RV Resort where we had reservations. The kids immediately wanted to swim in the heated pool (naturally) and it felt good to finally be settled for a few days! Friday night, Steve & Tess from @themorewexplore came over and the four of us went a bike/dinner double date. We love having an 11 year old who can babysit, and honestly, they get made if we come home too early! After riding, we ended up at the Moab Brewery and stayed until they closed around 10pm. Steve & Tess are an awesome, outdoor adventure, Airstream couple and we totally hit it off right away. We are planning a canoe trip with them for the end of April and can't wait!


"What's the first thing we do after arriving in Moab? 🚲 Okay, okay, in my defense I took the kids to the RV park pool first and THEN we hooked up with @themoreweexplore for a double bike/dinner date. This whole hanging out with adventure Airstream friends is pretty awesome." -@currentlywandering

"One thing I love about Moab is there is so much variety! We normally dry camp or boondock, but this time we splurged a bit and stayed at Moab Valley RV Park and Resort. We aren't normally impressed by RV parks but we loved staying here. Giant chess & checker sets, pool & hot tub, full hookups (such a nice treat!), across the street from the bike path, and 10 minutes from Arches National Park. Plus, they have the cutest cabins you can rent which was perfect for my brother's family in town from Minnesota." -@currentlywandering

We swam, mountain biked, and then Sunday afternoon my brother and his family arrived from Minnesota. They were also out for the wedding but wanted to get some sight seeing in while they were in Utah. We had so much fun playing with cousins! Monday morning we packed up our two families (Sam stayed behind to work as he needed to take time off later in the week) and drove into Arches National Park for some exploring. My sister-in-law had never hiked Delicate Arch so that was our first destination. The park was not TOO crowded since it was still early, and we had a great time hiking up the hill to the arch.
"We spent a beautiful day exploring Arches National Park with my brother & his family today. The kids loved hanging out with their cousins and it was great to catch up with family! The hike to Delicate Arch is not my favorite (not super pretty and too many people) but this view is one of my favorites!" -@currentlywandering

We ate lunch down at the Devil's Garden picnic area, and then took the short hike to Sand Dune Arch where the kids had fun running up and down the dune. By that time we were pretty done, so my kids and I drove out to pass of our Jr. Ranger Books (earning them for the 2nd time!) and to get home for dinner. We topped off the day with some after dinner swimming and then all the kids collapsed into bed!

Tuesday morning we packed up our bags, dropped the Airstream off for the week and drove just the truck up to Sandy to stay with family for the wedding!
Related posts: