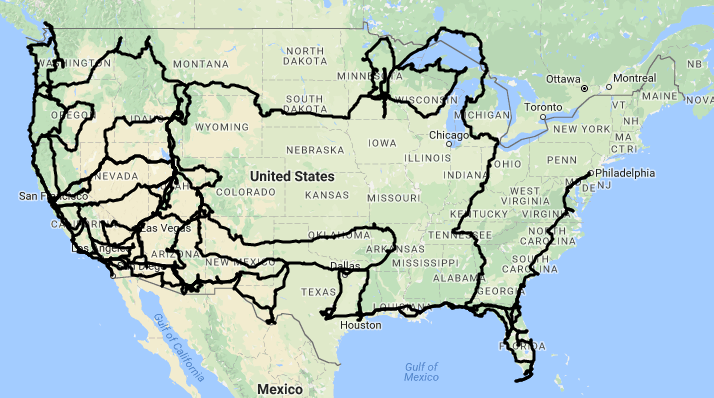 Since November of 2013, we've traveled 40 thousand miles with our Airstream home, visiting over 350 places along the way. It has been amazing. This year, we are going to continue our adventures in slightly different ways. We are going to do some significant repair and renovation to the Airstream, try our hand at running an AirBnB, and this fall we will spend 4 months in Hawaii while Sam teaches a university class. Let me break it down a little bit.
Airstream Repair / Renovation
Over the past year or two, we've had some weakening  in the rear floor of the Airstream. This particular problem is common during several Airstream model years surrounding 2008. A slight gap near the bumper allowed water to seep in during intense rain, and the plywood has degraded. I did a quick patch job last year in Manti, but it's time to do a proper job. We also have a laundry list of small repairs we need to make that have just piled up over the last year or so. 
In addition to the floor repair, we are going to rebuild the dinette into the wrap-around style that is becoming common. This newer design uses a pedestal table with seating around the back of the Airstream. This seating configuration will better suit the needs of our growing children, and is nicer for socializing as well. Many of the designs we've seen include a desk instead of the couch, but since that's where we sleep the couch needs to stay. We still need to draw up exactly what that will look like, and how we'll fit everything in. 
Both of these projects will be much easier to do if we aren't living in the Airstream for a few months!
An AirBnB Condo
As our kids grow, we find ourselves chasing adventures that are not always easy to plan and execute in our current travel lifestyle. We've talked about having someplace to use as an adventure base and recently decided it was time. Last September we bought a 3 bedroom, 2 bath upstairs condo unit in Driggs Idaho, just a short hop away from Jackson Hole, WY. (This was part of what became known as the Great Nomadic Idaho Land Rush of 2016.) We rented it out immediately until just a few weeks ago. We spent most of this winter living cheap and saving money to buy furniture and appliances to outfit the Condo for short term rentals.
On our way to Driggs, we rented a moving truck and emptied the small 5 by 10 storage unit where we had stored a few things. We also collected a few items that friends had used while we were traveling. On the way north from Sandy, Utah we purchased mattresses and a ton of  much needed supplies from Costco. The unit has a garage that will basically function as our storage unit while we go through our possessions and decide what we need and what we can now get rid of. 
While we are living in and outfitting the condo, we'll be working on the aforementioned Airstream renovations. We have the precious short time window of 2 and a half months (rest of April, May and June) to accomplish both projects.
Oh, Canada!
Our plan is to spend the months of July and August back in the Airstream, traveling through some beautiful pieces of Canada. Glacier, Jasper, Banff, Waterton, & Yoho National Parks, followed up by mountain biking in Fernie are all on the list. I imagine we will be quite itchy for travel by the time this happens! Our route is already planned and we made reservations months ago, which is actually a nice change of pace for us!
After Canada we will head down to Northern California for some family time, finally heading back to Driggs for the Solar Eclipse on August 21st!
Aloha
A college friend of mine lives on Oahu and teaches at BYU Hawaii. He has arranged a sabbatical for this fall, and reached out a month ago to see if we would be interested in renting his townhouse, and possibly teaching one of his university classes. Failing to find any reason to say no, we gladly accepted and promptly booked cheap flights to Hawaii. Sam will be teaching one CS 400 level class September through December, while keeping up with his regular programming work. I plan to still homeschool the kids while also getting involved in local church and community activities. We are incredibly excited to be able to explore Hawaii, and hopefully we won't go nuts sitting still in one place for 4 months. At least the beach is only a 5 minute walk from the townhouse!
Ski Winter
We'll leave warm Hawaii and fly to frigid Driggs, Idaho to start 2018 with a ski winter. We plan to be in the condo January through March, but we'll have to see how we handle the cold Idaho winters! After learning how to fall in style as a family, we'll likely be ready to head back out in the Airstream for the spring or summer season. Several families are talking about an Alaska trip. We still haven't been to Maine. Who knows where we'll end up that summer? We love keeping our schedule open and flexible. 
Airstream Rental
One of the main reasons we want to do the Airstream renovation now, is that we have looked into possibly renting the Airstream while we are in Hawaii and through the winter while we ski. Our cushions around the dinette are old (and franky, ugly) so we would need to replace them anyway. Rather than buy new cushions now, and then again in a year when we do the dinette remodel, it just makes more sense to do it all now. Theoretically. The place we plan to take it is basically an upscale hotel where our Airstream would get love and attention while we are gone.  So, no one would be towing it, and it would be in good hands until we are ready to pick it back up. Once things are finalized we'll give more details about where it'll be!
Adventure
We've always said our adventure was not about the Airstream, but about adventuring together as a family. The Airstream has been an amazing catalyst for travel, spending time together, and really creating a unique family bond. We are forever grateful for the 3 years of full time travel we've had! We aren't done exploring by a long shot, but mixing things up now and then helps keep us on our toes.  Through all of these new experiences, we are likely to adjust our plans and take advantage of new opportunities. If there's one thing we've learned over the last few years, its best to keep things open and flexible because you never know what might happen!
Related posts: