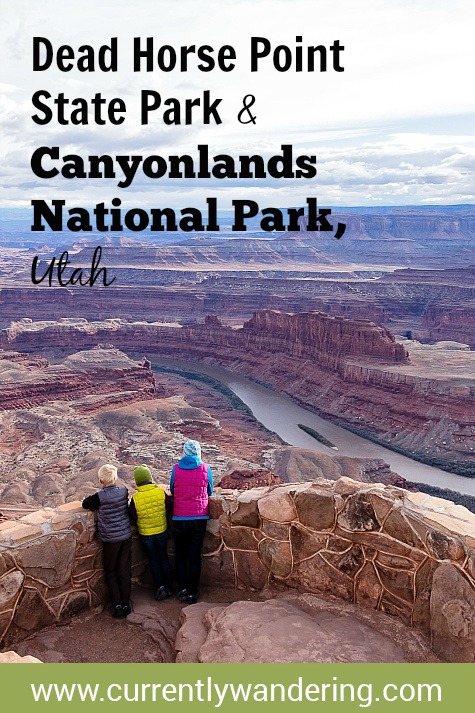 After an awesome week in Sandy with family, we drove back down to Moab on Wednesday morning and collected the Airstream. Once in tow, we headed out to Klondike Road where @wanderingnation was hanging out. Being ultimately lazy, and knowing we were only there for one night, we squeezed into the same site as our friends and had a blast hanging out.
Travel Dates: March 22-25, 2017
Ages of Kids: 11, 9, 6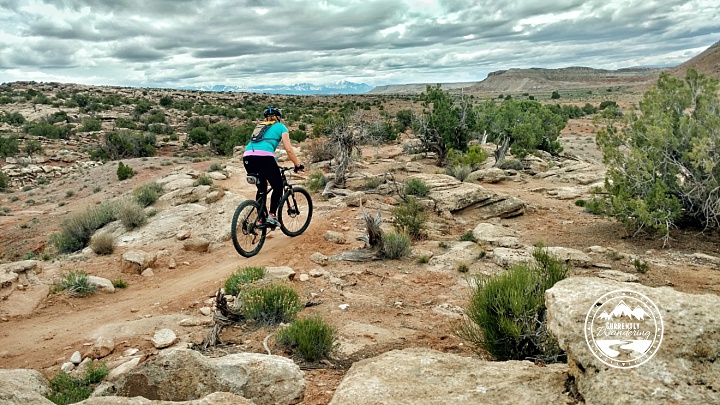 "Back in Moab! We ended up sharing a boondocking campsite last night with @wandering_nation. Gave Sam and I the opportunity to lose again in a game of Dominion and the kids a chance to play. Bonus: I snuck out this morning during recess to hit the nearby Klondike trails while the kids were all distracting each other. It's good to be with friends!" – @currentlywandering
We managed to snag a campsite at Dead Horse Point State Park for the weekend and moved over on Thursday afternoon. Dead Horse Point State Park has been on my list for quite sometime as I heard it was amazing. The campground itself was just okay, but the mountain biking and the views over the rim were absolutely incredible! We arrived around 4pm, got the Airstream set up in our tight spot and then raced to the viewpoint for a pre-dinner walk.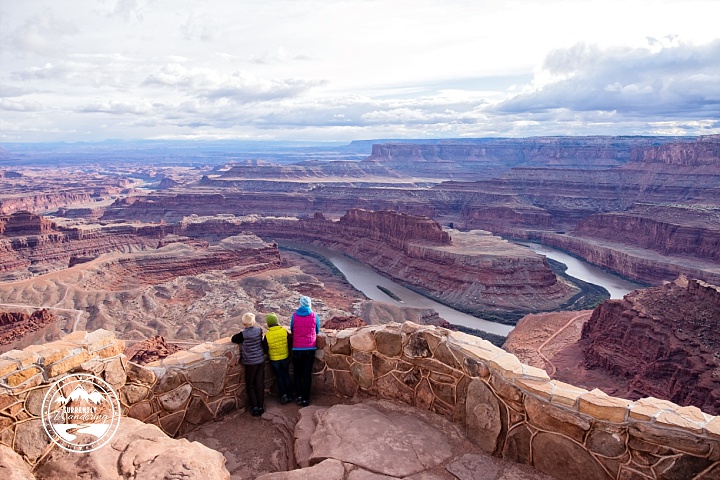 "Drove up to Dead Horse Point State Park to camp for the weekend and we were blown away by this view! There's something about seeing the river that carved the magnificent canyon that is incredibly awe inspiring. We also walked a section of the rim trail and the kids especially enjoyed all the rock scrambling we found. So excited it stays light later and we can resume our evening walks!" – @currentlywandering
Out at the end of the road there is an overlook with a viewing platform, as well as a short(ish) loop you can walk around the rim. There are walls in some places, but in others there are no barriers between the path and the edge of the cliff so be warned if you are there with little ones. There was plenty of rock scrambling as the trail was mostly just a well used path marked with cairns in some places. The kids loved it, the sky was beautiful and we had a fantastic evening!

"The past two weeks have been…. full. Full of good and family and wedding and work. Also full of challenges, like a nail in a tire sidewall that led to a full new set of tires earlier than expected. Chief among our challenges is a kidney stone that I discovered I had at 5 am the morning after the wedding. Quite luckily we were super close to a hospital, where I was diagnosed and prescribed some pain killer. The stone has made progress but I'm not out of the woods yet. I felt pretty lousy all day today, but at least I get to feel lousy in a pretty place." – @telegramsam
Dead Horse Point is fantastic to explore on its own, but the park is also *really* close to the Island in the Sky section of Canyonlands National Park. Also a place we had never been. Friday morning we ditched regular school and took of with Rhonda, Joe, & Austin Hendricks to earn a Jr. Ranger Badge and explore a bit.

"I feel like social media is both a blessing and a curse. On the one hand, people tend to put their best out there so when I'm struggling it feels like everyone else has this amazing life.

On the other hand, I love being inspired by the places you go and the experiences you have with your families. We have also met so many amazing people through Instagram! Not having a stable geographic community could be lonely, but our traveling social family more than makes up for it! Sometimes I joke that our real life is a little TOO social as I feel there are constantly people to hang out with and I'd rather play than work. Last week we visited Canyonlands National Park with @rhondahendricks & @joehendricks & @austinexplores. We had a blast hiking the trails, taking in the views and getting caught up since we had seen each other last year. I had no idea Rhonda was such a daredevil for photos! 😁 They are just one of the many families I'm so grateful to have met over our last three years of travel!" – @currentlywandering
We picked up our books from the Visitor Center and then set off to hike the easy 1 mile to Mesa Arch. Its probably the most photographed area in the park, but was worth seeing in person for sure! I just loved watching Joe scramble around getting different angles. He's a much more motivated photographer than I am!
After Mesa Arch, we drove down to the Grand View Point Overlook and hiked the easy 2 mile round trip out to the end and back. The end wasn't anything spectacular, but the views along the way were pretty fabulous.
After a quick lunch we passed off our books and headed back to the Airstream for an afternoon nap. Okay, not really but I probably could have used one! Joe convinced us to get up a 2am and hike back to Mesa Arch for some night photography. I've done astrophotography before, but this was the first time without my 5D Mark II Canon and I honestly missed it. A lot. I love my Fuji X-T10 but it didn't hold up as well shooting the stars. Boo.  Pretty proud of Sam and I for getting ourselves out of bed though!

"This is what happens when you hang out with awesome photographers like @joehendricks. Somehow he talked us into getting up at 2am and hiking out to Mesa arch because "the Milky Way is going to be perfect!" Haha it's good to have friends that will push you out of your comfort zone!" – @currentlywandering
Saturday morning we had school to get done but we dragged all the kids outside for a bike ride after lunch. They came kicking and screaming, but all wound up having fun. We were pretty impressed with Rachel & Andrew's skills going over obstacles and rocks, and Cara did well once we got her attitude in check.

"Pretty great day for a ride. We took our kids on the trails at Dead Horse Point State Park and I observed a few things: 1) No one wanted to go. It took threats. Like "I'm going to sell your bike if you don't start riding it"" real ones to get them all out the door. 2) Attitude is everything. Even once we were out the door Cara insisted the trail was too hard (it was decidedly not) and she wanted to go home. We had a serious talk about positive thinking and doing hard things. 3) Rachel and Andrew are more capable on bikes than they know and totally rocked some of the harder sections. 4) We really have two different skill levels and as parents have to split up. 5) Taking kids out on the trail is never for me. It's all about them and teaching them to love the outdoors. There's time for crushing my own trails later. 6) By the end of our ride everyone was having a fabulous time and there were smiles all around.

Being an outdoor parent is hard. It's hard to know when to push and when to give a little. Okay, that's true for any kind of parenting, but some people look at us and think we must have it so easy. It's just not! But we keep trying and keep going and hope that someday our efforts will pay off!" -@currentlywandering

"The doctor that diagnosed my kidney stone gave me some instructions: "Try to stay as active as possible. This will help the stone pass." The pain is intermittent, so we went on a mountain bike ride. Doctor's orders." -@telegramsam
Saturday night, Rachel and I drove into Moab for a girls' night. The Church of Jesus Christ of Latter-day Saints holds a semi-annual women's meeting in conjunction with its General Conference sessions.  I love that she's old enough to go with me, and we always turn it into a fun date by getting dinner afterwards! She's growing up into such a fine young lady and I couldn't be more proud!

We definitely could have stayed longer at Dead Horse Point State Park, but reservations in the campground are hard to come by, so we'll take what we can get. Definitely left many miles of unexplored trails  for next time!
Related posts: