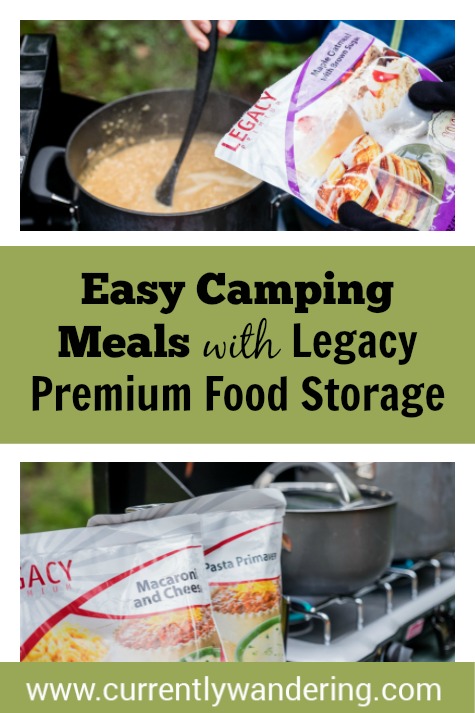 We haven't done a whole lot of car camping in the last few years. Understandable as we have the Airstream and just take our whole house with us wherever we go. "Camping" meant throwing on our packs and heading out into a back country site. Since we've been in the condo for the last two months, however, I've made a considerable effort to get the family out tent camping in some of the front country sites  in Grand Teton National Park where we wouldn't take our trailer.
One of the biggest struggles for me is figuring out what to eat while camping, and then getting it all packed in the cooler. We love tin foil dinners, dutch oven meals, and roasting hot dogs over the fire, but those take quite a bit of prep and feel overwhelming when we just want to head out for the night.
Enter: Legacy Premium Food Storage.
They contacted us a few months ago about trying out their meals, and I immediately agreed. We are always looking for good alternatives to Mountain House or homemade camping meals and although these guys seem like they make only emergency food storage items, their meals are actually quite handy for outdoor adventure! Legacy Foods sent us quite a few meals and its been fun to try them all out and see which ones we like best over two different camping trips.
Jenny Lake Camping Menu

Sam surprised me just before Mother's Day with the suggestion to head out camping overnight midweek. I jumped on it and within a few hours we were packed and ready to go! It was so easy to toss in the Legacy Pouches and not stress about food. For dinner we tried out the Enchilada Beans & Rice in tortillas. We kept it pretty simple, but it would be easy to add cheese, lettuce, and tomatoes to really round out the meal next time.  We chopped up some carrots & cucumber for veggies and called it a meal!

Breakfast the next morning was hot chocolate, and Strawberry Creamy Wheat with fresh strawberries, and brown sugar on top. It had been a long time since a cooked Cream of Wheat and I totally forgot I needed to stir it continuously. Oops. We ended up with slightly lumpy cereal, but it tasted good just the same. The strawberry flavor is subtle, but adds some nice flavor.

Both meals were delicious and we had leftovers with just one pouch! Sam and I were both seriously impressed. We've always found food storage, or even other freeze-dried meals to be completely inadequate as far as serving size goes. There never seems to be enough to go around. Just one Legacy pouch makes about 6 cups of prepared food which was plenty for our family of 5.  Each serving is roughly 400 calories, with all non-GMO ingredients; perfect for after a day of hiking and exploring.
Colter Bay Camping Menu
Our friends from over at Kidproject.org drove up to hang out last weekend. The problem with getting two, outdoor adventure families together is we want to do ALL the things. We finally settled on camping at Colter Bay in Grand Teton, taking the bikes to ride the paved trail from Taggart to Jenny Lake, hiking, and possibly getting the canoes out on Two Ocean Lake. See? We can't ever decide.
Once again it was super easy to toss in Legacy Food pouches for meals, and it was fun as we shared meals so everyone got to try them! We decided on 2 pouches of Pasta Primavera as well as 1 pouch of  Macaroni and Cheese for dinner. Alyssa also threw in a veggie tray and hot dogs for the kids to roast over the fire. The kids gobbled up the Mac & Cheese, and we ate almost all of the Pasta Primavera. Quite a lot of food, but after an 8 mile hike everyone was hungry. We did sprinkle salt over the top of the pasta which helped bring out the flavor. Definitely make sure you have some on hand.


The following morning was cold. Everyone layered up once we convinced ourselves to climb out of our warm sleeping bags, and we sipped on hot chocolate while we waited for the Maple Oatmeal with Brown Sugar to cook. We cooked two pouches of oatmeal, and I probably should have split it into to pots because boiling that much water at high elevation takes awhile.
Having something warm to fill our tummies was fabulous. We ate ALL the oatmeal even though I think everyone was full before it was officially gone. It did need a little salt to bring out the flavor (should have added some to the water), and we topped with fresh blueberries. Loved that the brown sugar was already in the mix so we didn't have to bring extra.  Pretty delicious.

Overall we've been super impressed with Legacy Premium Foods. Their serving sizes are the largest we've seen and I love that one pouch can feed our entire family. On average, each meal takes between 12-20 minutes to cook and we found that at high elevation (7000+ feet) they took longer than the package stated. Pretty typical for cooking in general, but handy to know when all the kids are hungry!
We wouldn't take these backpacking with us as we are more of the pour-hot-water-in-the-pouch type people (less dishes to wash!) in the back country. For car camping, however, Legacy meals were perfect. I loved not stressing about food and being able to just throw them in and head out was awesome. We have a few more flavors to try (pancakes, potato soup & stroganoff!) which makes me even more excited to head out camping again this summer.
Disclosure: We were sent product and compensated by Legacy Premium Foods for our blog post. All opinions are our own, and we are totally happy they contacted us to work with them! We'd never blog about anything we didn't absolutely love. 
Related posts: