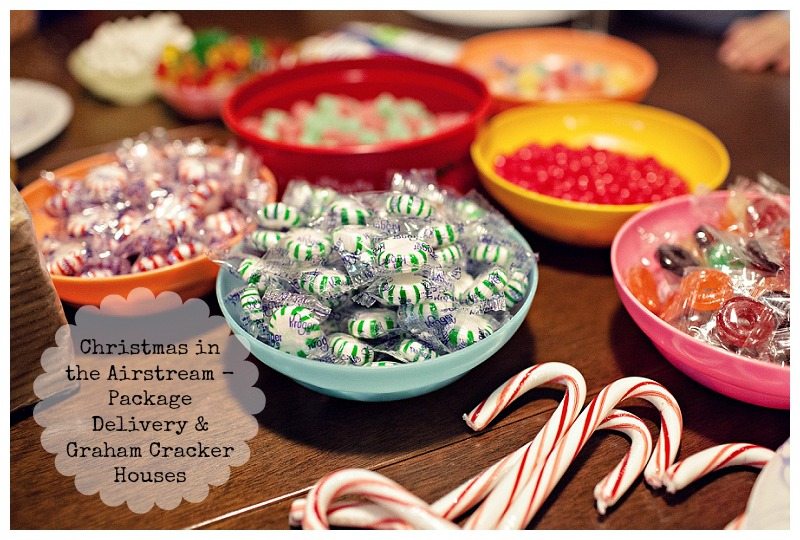 This post is Part I of a series on our first Christmas experience living full-time on the road in an Airstream. Here's also Part 2, Part 3 and Part 4.
My Aunt & Uncle moved to Houston, TX when I was little and I told myself that someday we'd make it down to visit. They also have 2 children and their families that live within a 20 minute drive, and a son (and his family) that are currently living in the Netherlands who came back for the holidays. The short story – lots of cousins, kids to play with, and the most loving, kind-hearted people you'll ever meet. Spending Christmas in Houston seemed like a logical (and fun) stop between Thanksgiving in Tampa, and Disneyland in February. We also knew we wanted to spend Christmas out of the city, but the weekend before was fair game. My Aunt & Uncle graciously allowed us to adorn their property with  a shiny curb-side ornament for a few days.
We arrived around dinner Friday night, and since we had had other plans fall through we weren't expected. My Aunt & Uncle already had plans, but had told us how to get in and where the leftover lasagna was in the fridge. See? Awesome. The kids scrambled upstairs to find the toys, and I went into the dark living room and just sat on the couch and stared at their lighted Christmas Tree. Always that's my favorite thing to do at Christmas. A dark room, the glow of the tree, and happy memories bouncing around inside my head. It was peaceful and perfection and the one time I've had a twinge of homesickness during the holiday season.
We also found a  pile of  Christmas presents that had come via Amazon Prime. Since we had a known address for a few days, we bought practically all our gifts online and then just shipped them in advance. It is also the address we gave both sets of Grandparents to send their gifts to. I couldn't wait to put the kids to bed. It was like Christmas before Christmas for Sam & I as we opened, sorted, and wrapped all of the presents.
Saturday was errand day. Whenever we are in the middle of a city, we try to get errands done as we use less gas that way. A trip to Costco (to return the Elf on the Shelf), Target so Andrew could buy presents for the girls, a nearby LDS bookstore, the Temple Distribution Center, etc. Since we don't have crazy errand days all that often, our kids do really well. We also spent time playing with new cousins, and just relaxing.
Sunday, December 22nd we all got together to make Graham Cracker Houses. It was utter and complete chaos and ridiculously fun. I loved how Rachel & Andrew were the only two still at the table long after all the other kids lost interest and ran off to play. Apparently they take candy house building quite seriously. Cara built her "house" all by herself and was so proud of her creation. I think she did a great job: not much living space, but it would do great in a wind storm!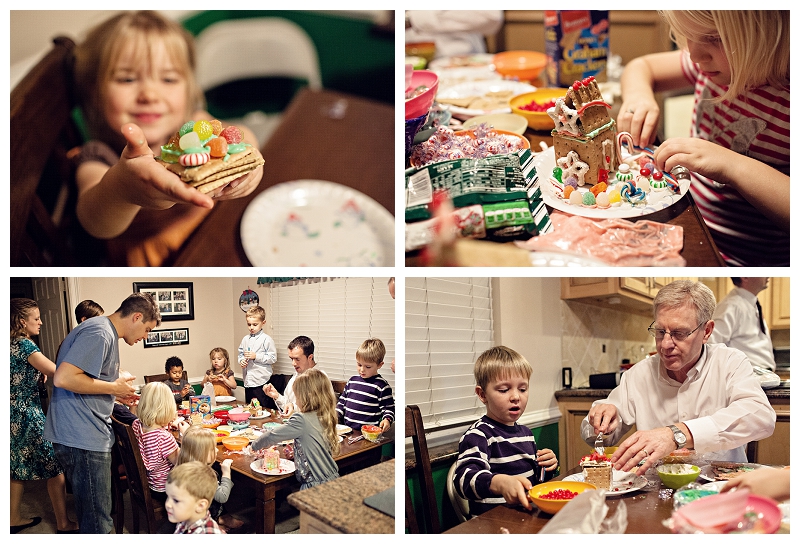 With all the crazy, the kids fell right asleep in their beds. On Monday morning, we headed north to find a place to spend Christmas. Stay tuned for our next few posts!
Related posts: