One of the most important items for working in a busy, and sometimes noisy place is a GREAT set of headphones. I use AKG 271 MKII closed back studio headphones. I've had them for a few years and found them to be useful in my home office (the one without wheels) as well. I bought them on a recommendation of a colleague, and I've been very happy.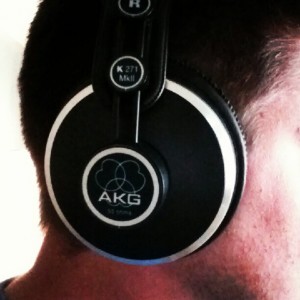 Why are these headphones so awesome?
Each earpiece is large enough to fit around my hears without pressing my ear to my head. This is critical to comfort, and unfortunately hard to find. Or maybe I just have big ears. Either way, this allows me to wear them for hours if needed. I can only get away with an hour or so with earbuds, which just isn't long enough.
The Closed Back design blocks out background sound. These are not noise cancelling headphones, which mostly only work on repeat noises like airplane engines. These just block the noise, and with music playing softly it blocks all unwanted noise from around me.
The sound quality is great. I'm no audiophile, but the sound on these things are amazing. I'm constantly hearing lower tones and picking up other small nuances in favorite songs that I've never heard before.
When I'm wearing my headphones, someone generally has to wave a hand in front of my face to get my attention, or I don't notice they are talking to me.
Not quite perfect…
These things do not fold flat. They are bulky, but not enough to motivate a move to lesser quality earphones. One of these days, I'll find a comparable set of headphones that has swivel ear cups, and that will be a nice upgrade.
No microphone. I often take work calls on my laptop, over Skype and Google Hangouts. Though I can't hear my own background noise due to the stuff mentioned above, those I'm talking too usually can. I can often hear my own background noise louder through their feedback then I can through my own headphones. If I found a set of headphones with a good mic, I would share my noise a little less. My clients all know my traveling circumstances, so the noise is rarely a significant issue. Even so, I'd love a built in mic.
Listening Material
I listen to some podcasts, but mostly I listen to music while I work. My best work seems to be done to the sound of Moby, Lindsey Stirling, Samantha James, and The Piano Guys. If I'm in range of cellular data (unlimited on my phone), I'll use Pandora. Otherwise, I'll play the music stored on my computer.
As I try to work about 7 hours a day in a small space, having a great set of earphones is a definite must! If you've never spent $140 ish on a set of headphones, you should give it a try.
Related posts: