Our Airstream has 4 stabilizers that we used when parked to keep it from moving around. Many folks use a power drill and bit to run these up and down, but I prefer to assign that job to my kids, who don't have enough chores anyway.
This leads us to the crank: stored in our bumper compartment, the crank is what we use each time we move. When we bought the Airstream, the previous owner included a swivel-head crank. Within a few months, the pin connecting the socket to the crank handle broke, and I replaced it.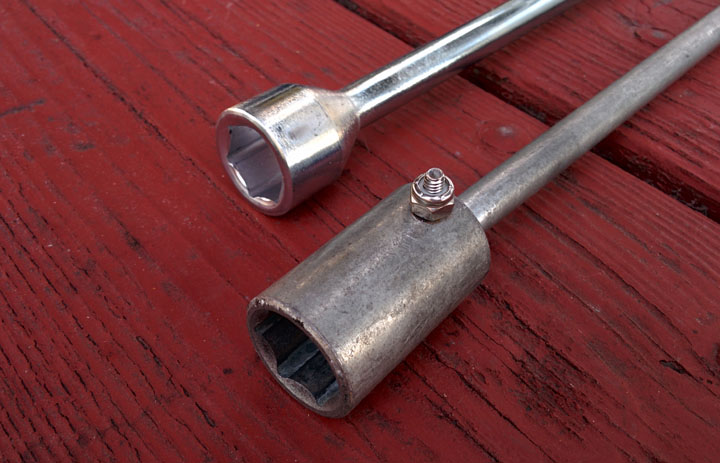 As full time travelers, we use our travel gear much more often than normal weekend folks. Tools used a few times a year by a normal traveler get used 50 to 100 times by a full-time traveler. Within a few months, the pin broke on the new crank, and I started getting cranky.
Finding a replacement pin turned out to be an exercise in frustration, as the pin was a custom part that was completely un-findable. I rigged a temporary pin by bending an extra allen wrench into place and holding it in place with some tape.
I ended up replacing the pin with a screw and nut I bought at the hardware store. I bought a 10 pack of each, and simply replaced the pin every 4 to 6 weeks when it broke. That was 10 months ago, and I just used my last screw and bolt.
I'm tired of the constant repair. The crank is otherwise in good shape, but if the stupid pin won't hold up, it isn't much use to me. I've decided to replace my crank with a non-swivel model, in the hope that fewer moving parts will also require less repair and replacement. The new crank provides less leverage then the old one, but I'll be happy to deal with that if it remains in working condition longer than a few weeks.
Early reports from the kids (the primary crankers in this operation) indicate probable success. We'll see how they do long term!
Related posts: