About a month ago, we decided we needed to sit somewhere for at least a week. A few weeks of 2-3 day short stops were wearing on us, and we just needed time to get some
cleaning done and catch up on other small repairs and chores. Looking ahead, we also knew Halloween was coming up and being in one place the week before to get ready for the
holiday sounded fabulous. As much as we don't like to plan ahead and make reseravtions, holidays turn out to be the exception.
We choose Lincoln City for two reasons: it was on the Oregon Coast (which was on our list of places to see) and we had Instagram friends who we were excited to meet.
When We Visited: October 24-31, 2014
Where We Stayed: Devil's Lake Campground – Full hookups, right in town, it seemed like a great except for the flooding in the campsites. There was so much rain that week that many of the campsites were their own lake. Not exactly encouraging. Fortunately, we were able to change sites to one that was more dry and our stay got infinitely better. There were more than a few doubts about our choice of accommodations that first night.
Ages of Kids: 9, 7, 4
Halloween is one of my favorite holidays, ranking right up there was Christmas. I especially love decorating and costumes as evidenced by past years. Last year in Virginia was a bit crazy and I was determined to do better this year. We actually planned ahead and I ordered costumes from Etsy, sent them to the Waller's house, and we started looking around at thrift stores for other pieces of our costumes way back on Whidbey Island. See? So prepared. We decorated the Airstream, and read Halloween books every night before bed.
We managed one treat craft, and dropped in on the local library's Halloween party. It was pretty small town, but the face painting artist was AMAZING. She paints tiles, and her skill was evident. It was also a good test run for our costumes.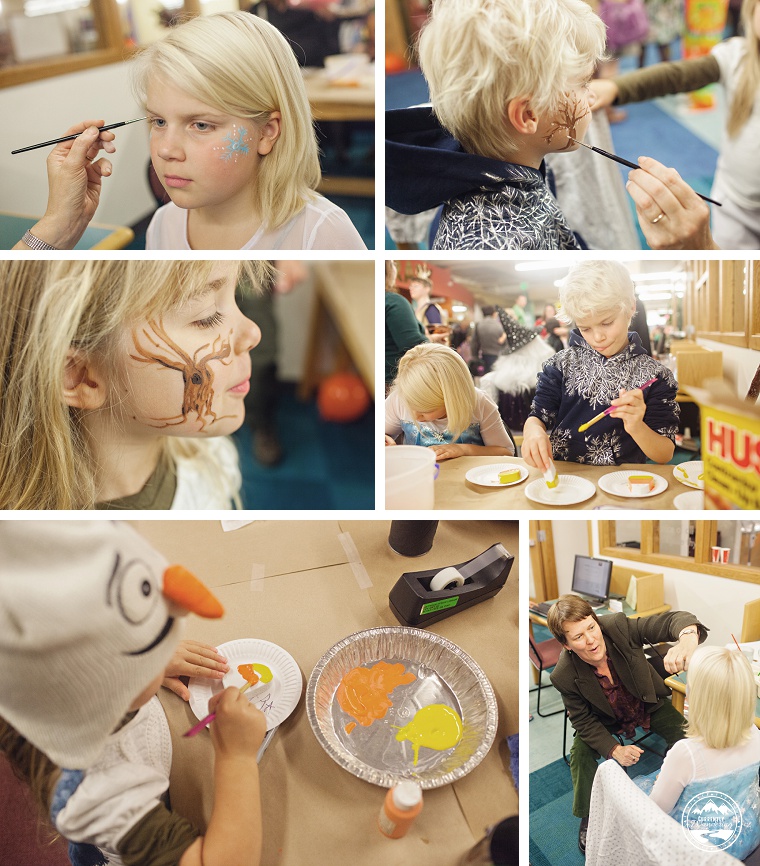 Halloween Eve we carved pumpkins with the Waller's. Don't judge our use of gloves. It was the only way we could get the girls to clean out their own pumpkins. Andrew, however, fully enjoyed the slimy experience. We were so proud of Rachel and Andrew who drew and carved their pumpkins all by themselves.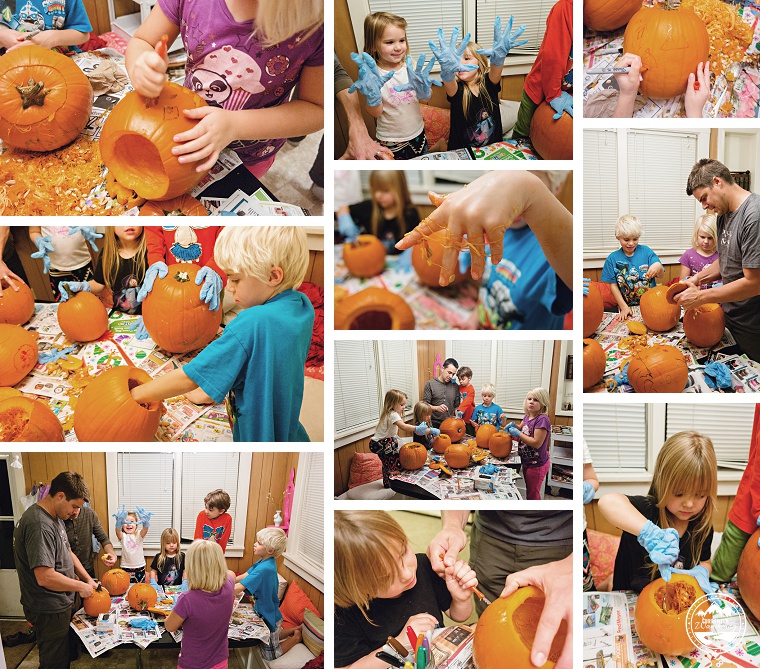 Halloween morning started out with our typical pumpkin pancake breakfast (cooked this time by Rachel), and then we met up at the Waller's church to help set up for the Harvest Festival later that evening. Amazingly, it made me homesick. That doesn't happen often, but setting up tables and chairs in a church, getting ready for carnival type games, and a chili dinner completely overwhelmed me with homesickness for our church family back in Lehi, Utah. Every year we'd have a "Soup & Spook" event that involved, you guessed it, carnival games, chili, good friends, and a Trunk or Treat in the parking lot. It was something we looked forward to every year. I was pretty excited that we'd get to celebrate this year with new friends doing something similar.
Our kids totally rocked the cold, snowy theme this year. After a comment on an Instagram photo months ago about how Andrew looked like the "real" Jack Frost, we couldn't resist. Rachel was Elsa from Day #1 (her and everyone else), and we talked Cara out of Merida (from Brave) and into Olaf to complete the ensemble. I love their Halloween photos so much, they got their own post. You are welcome.

Bring on the party! This community knows how to have an event. The games were great, the food was delicious, and the kids ran around collecting as much candy in their treat bags as they absolutely could.

The hat totally made the outfit. I don't think most people realized how ridiculously hilarious our costumes really were.

Our awesome friends the Waller's:


For our first, official, on the road Halloween, I feel like we did a pretty sweet job. I don't know what next year will hold (or where we will be!) but if we can come close to pulling this off again we'll be okay!
Related posts: