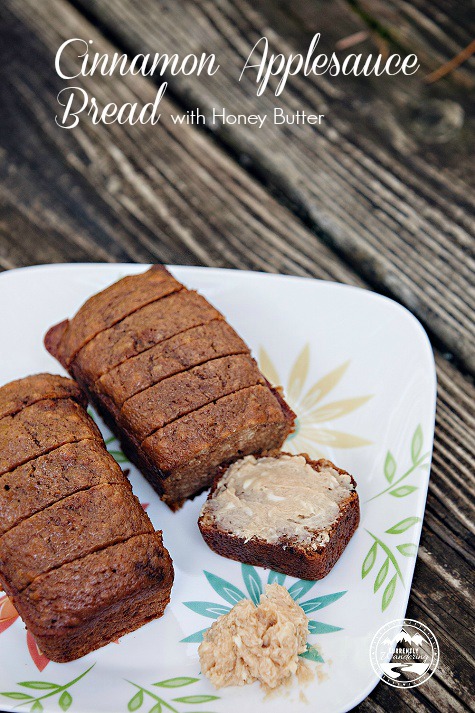 We've found a new favorite recipe!  I'm not the most organized chef in the kitchen (and I'm pretty lazy about following directions), but I do love trying new recipes. Especially when they involve bread, cookies, or any other treats. With the coconut oil, applesauce, and Greek Yogurt I almost feel like this bread is bordering on healthy. Maybe next time I'll try it with wheat flour and see how that goes.
This recipe makes super soft, moist, yummy cinnamon bread with just a hint of applesauce yumminess. There's something about the approach of winter that makes me want to cuddle up with a book and plenty of carbs.
We also tried out the honey butter, and while it didn't blow us away, it was good. The bread is definitely best hot right out of the oven, but we also froze some in the freezer for later.
Let me know how it goes if you decide to make it!
Cinnamon Applesauce Bread
2 large eggs
1 cup applesauce
3/4 cup granulated sugar
1/2 cup melted coconut oil (much healthier than Canola or Vegetable, but you could use any!)
1/4 cup light brown sugar, packed
1/4 cup plain Greek Yogurt (I suppose you could use sour cream, but this is MUCH healthier. Trust me.)
2 tsp vanilla extract
2 TBSP cinnamon (not teaspoon)
1 tsp ground nutmeg
3/4 tsp salt
1 3/4 cups all-purpose flour
1 tsp baking soda
1/2 tsp baking powder
Honey Butter
1/2 cup unsalted butter, extremely soft
1/4 cup honey, or to taste
pinch cinnamon
DIRECTIONS:
Bread – Preheat oven to 350F & spray a 9-by-5-inch loaf pan or 3 mini loaf pans with cooking spray.
Whisk together first 7 ingredients in a large bowl.
Add the flour, baking soda, baking powder, and stir until just combined. The batter will be slightly lumpy and that's okay!
Spoon into pan(s).
Bake for about 56 to 63 minutes (large loaf) or 30ish minutes (small pans) until top is set and firm. Test with a toothpick to see if its done.
Allow bread to cool in pan on a wire rack before turning out. Or, really, just eat it straight out of the pan. Its amazing. Store in an airtight container at room temperature for up to 5 days, or freeze for up to 6 months.
Honey Butter – Combine the butter (make sure its really soft!), honey, and cinnamon in a small bowl and whisk vigorously combined. Keep extra in an airtight container for up to a month!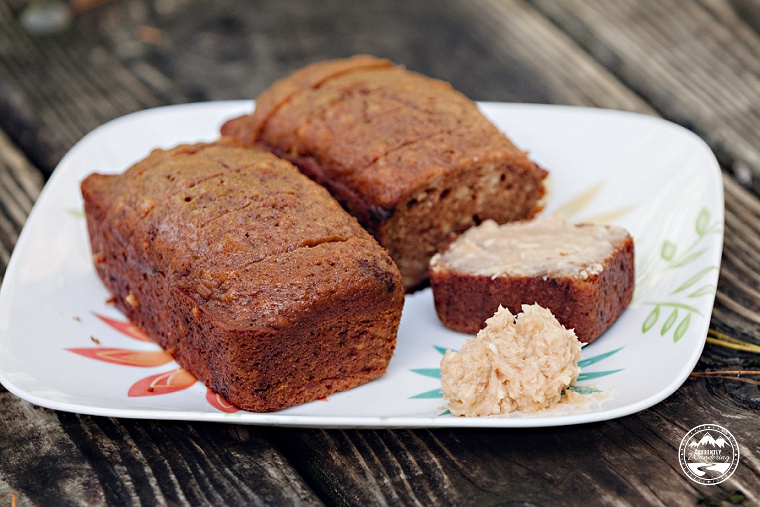 Recipe adapted from http://www.averiecooks.com/
Related posts: