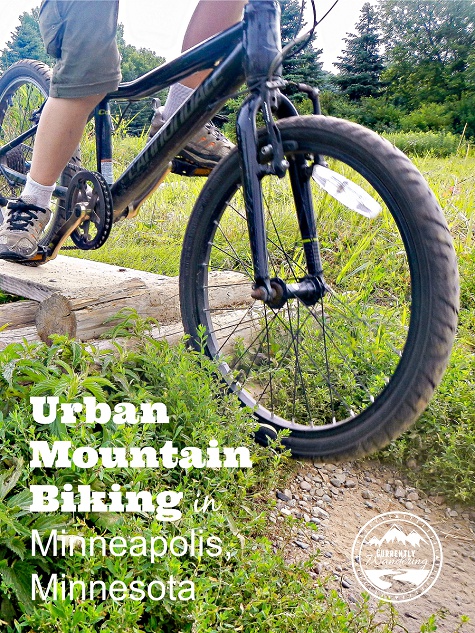 Let's start this post by saying we were aware of the love affair Minnesotans have for road cycling. They often plow the bike paths before the roads and ride (commute to work) all winter long. Minneapolis has some of the best (and arguably the most – sorry Portland!) bike paths we've ever seen.
What we didn't know was that this love affair extended to off road cycling as well. I was amazed to visit two different areas around Minneapolis that had some really great mountain bike parks for all levels. We took our kids and had a blast!
Rachel and Andrew generally ride ahead with one parent while the parent on the cyclocross bike hangs back with Cara who is much, much slower. Sam and I will trade off who does which, but its definitely more a ride for the kids than for us and that's fine. Instilling a love a mountain biking in my kids while they are young will pay out later when they are older I'm sure.
Lebanon Hills Regional Park (pdf of the trails)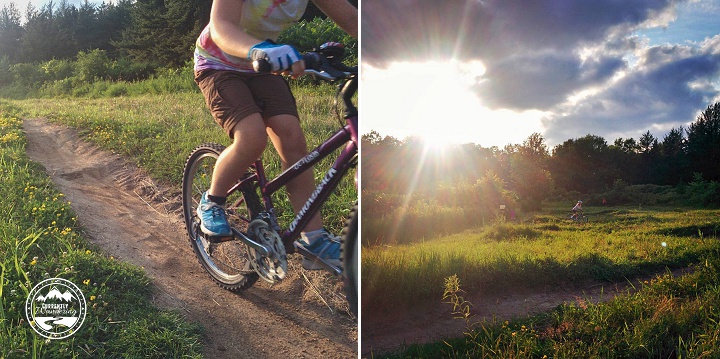 Lebanon Hills Regional Park is located in Dakota County on the south side of downtown Minneapolis. We camped across the road in the campground and Sam and I were both able to bike over to the trails. Since we wanted the kids to conserve their energy we opted to drive over when we took them.
Cara is still a pretty novice mountain biker and hates anything with "bumps" or rocks. The beginner trails are pretty smooth but she still threw a tantrum and refused to ride any farther. I'm pretty sure the whole park heard her yell how mean of I mom I was. I talked her through it and once she got going she didn't want to leave opting to ride another small loop when given the choice. See? Being "mean" pays off sometimes.
Lebanon Hills also has a fun skills park in a small area where people can practice going over or down different obstacles (logs, bridges, bumps and rollers, etc). Our kids had a lot of fun doing laps around the skills park both before and after we rode the trails.
The only downside we found to this park is that the return path for some of the more advanced trails is the beginner loop. On a busier Saturday, Cara was frustrated at having to frequently pull over at let more advanced riders pass her.
Website for just the mountain biking park.
Elm Creek Park Reserve (pdf of the trails)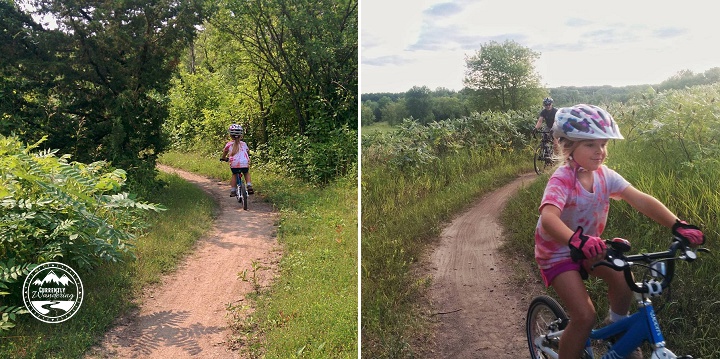 Elm Creek Park Reserve is on the northwest side of the Twin Cities area. We tried this trail twice and loved it both times. The first was a quick spin around one of the loops on the day of the great bike fiasco. The second time was after we had left Minneapolis only to return for a family event and a meet up with some other Airstream families a few weeks later. We were camped at the KOA only 15 minutes away from Elm Creek and I desperately wanted to get back over here before we left. I'm so glad we did!
We took the kids on the beginner loop and they did great! Smooth, easy trails and even though Rachel ended up with a bee sting mid-ride she toughed it out and even did another lap.
The following morning I snuck over for a longer ride on one of the intermediate routes. The trail wound through a lot of trees – some of them so close I thought I was going to clip a handlebar. For all the technical sections, there was an easier path around and I ended up clocking a little over 8 miles.
It was good, but I think for more advanced riders the trails at Lebanon were more fun. Elm Creek definitely has the easier of the two parks for beginners and it was definitely less crowded.
With how much Minnesotans love their bikes, I'm sure there are more trails in the area we'll have to discover next time through. Both parks were well marked with trail maps, difficult levels and direction arrows so it was obvious which direction you should be riding on the one-way trails.
I'm grateful we were able to get some great biking in a place where I was sure there would be nothing and a total bonus for the kids who had a ton of fun and gained more confidence every time we rode!
Related posts: