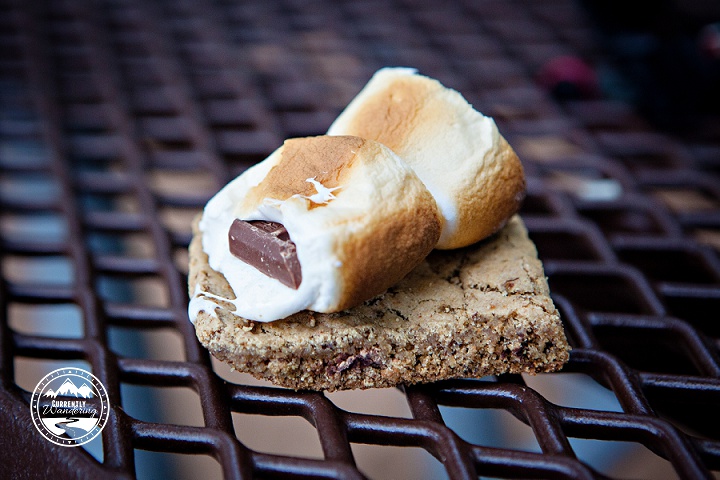 We discovered these delectable treats as I was looking for a way to pack a dessert in to the Apostle Islands for Andrew's birthday.  Made with whole wheat flour & ground flaxseed, I can at least pretend they are more healthy than regular chocolate chip cookies, right? At least until we add the marshmallow.
Whole Grain Chocolate Chip Cookie Bars
1 cup whole wheat flour
1 1/4 cups white flour
1 1/2 Tbsp ground flaxseed
1 tsp baking soda
1 tsp sea salt
1 cup unsalted butter, softened
3/4 cup packed brown sugar
2 eggs
1 tbsp vanilla
1 cups semi-sweet or dark chocolate chips
Large, toasted marshmallows (optional)
Hershey's chocolate bars
Preheat oven to 375 degrees, and spray or grease a 9×13 pan.
In a medium bowl, cream butter, then add sugars and mix until creamy. Mix in eggs and vanilla. Gradually stir in flours, baking soda, and salt until completely mixed. Really you should mix these all separately first, but I always just mix the soda and salt in the measuring cup with the flour after dumping a little in the bowl to make room. Call me lazy. Or just efficient.
Add chocolate chips until just mixed in.
Spread mixture evenly in prepared pan. Bake for 20-25 minutes or until golden brown. Cool in pan, cut into bars.
These are easy to wrap individually and take hiking or backpacking, or cover and store in a cool, dry place.
We roasted marshmallows over the fire, stuck a piece of Hershey chocolate inside, and then smashed them on top of the cookie bars.
I don't think we'll ever eat a regular S'more again.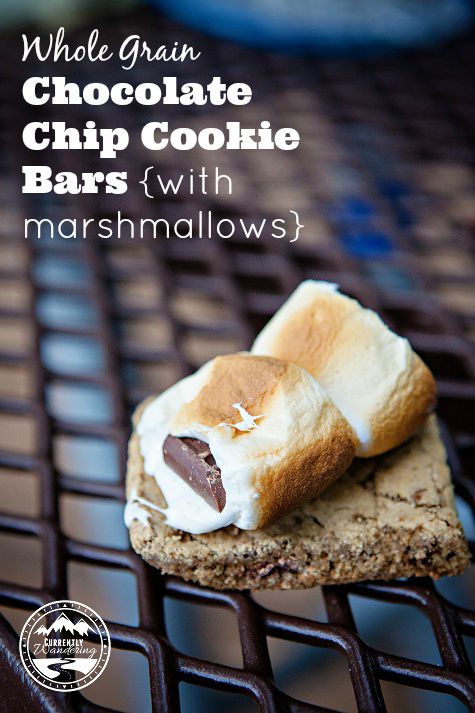 Related posts: