Travel Dates: November 3-22, 2015
Getting back to the Airstream felt great! After two weeks with family in Utah, we were excited to have our own, tiny space back. In addition to checking to make sure the repairs went well (which took a few hours and some extra brake adjustments) we wanted to take a tour of the factory.
Every weekday at 2 pm, Airstream gives factory tours. We first enjoyed this tour a little over two years ago, in our pre-Airstream days. Pictures are only allowed in a few places in the factory and the wash bay show in here is one of them. Airstreams are given a thorough wash with an inspector on the inside before the interior insulation and paneling are placed. The tour isn't amazing for kids, but ours found enough entertainment that it was fun!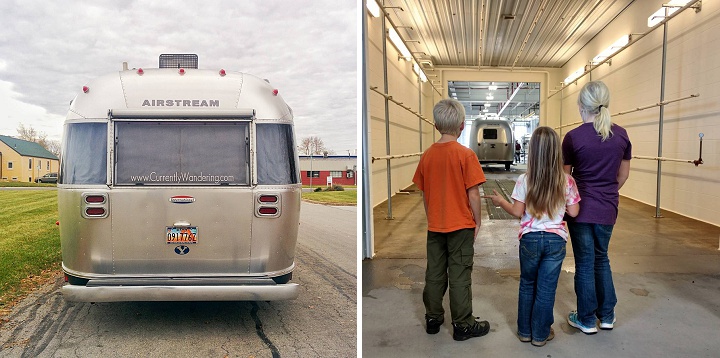 After a few weeks of not traveling, we really needed an empty campground to relax. Rachel took on the role of route planner, and found us a great campground outside of Cincinnati, Ohio called Miami Whitewater Forest. Her selection was a huge win, including plenty of space, beautiful fall scenery, and an amazingly cool playground just a skip away from the house. She also researched and found the Newport Aquarium for us to visit for school one day.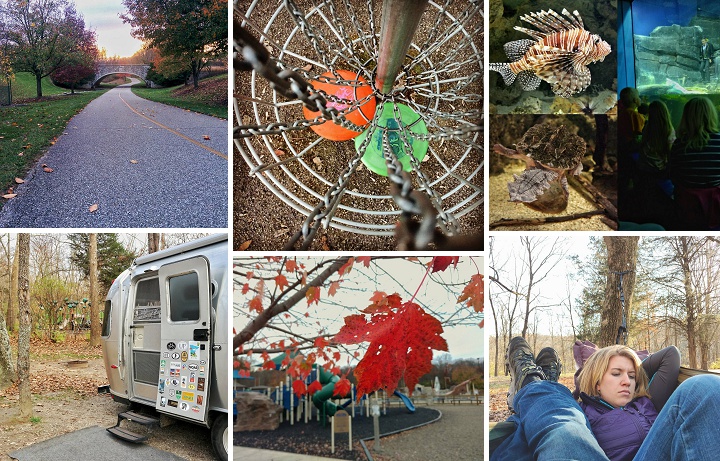 We have our blog address on the back window of the Airstream. We love having people ask about it, and even getting emails from people who pass us on the highway! Our favorite campsites are back-in sites, and we decided to add the blog address to the front as well.
Why do we blog? It serves partially as a collection of memories for us, but also is a way for us to share useful information with others. We have learned so much by reading the writing of other travelers and adventure families, and we want to contribute back the things we have learned. Hopefully, others will make fewer mistakes than we do!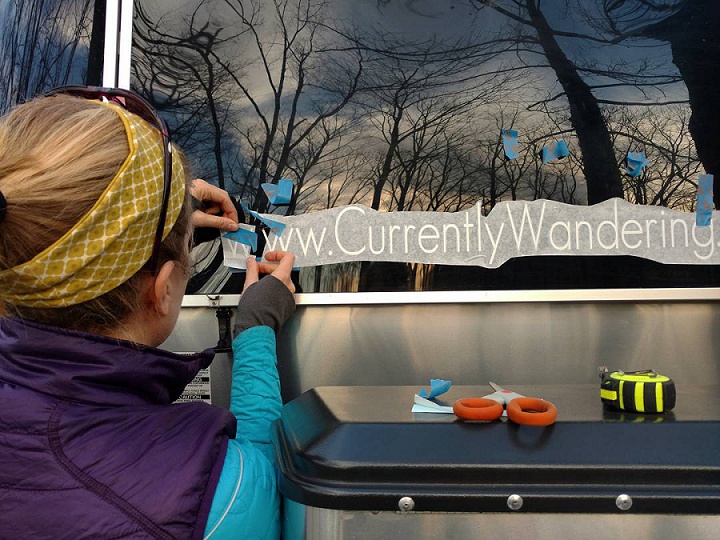 Staying in the park also put us close enough to the Trout family to visit. We drove up one evening and had dinner, the kids played, and the adults chatted it up in their Inglenook (yes, I still giggle over that word!). Check out Doug's write up of our meet up here on his blog.

Headed south, we had a one night stop in Glendale to visit the birthplace of Abraham Lincoln. We had amazingly beautiful weather so we ran around outside, and explored the birthplace of Abraham Lincoln. Inside that memorial is a log cabin as an iconic representation of Abe's humble beginnings, and there are 56 steps to symbolize his 56 years of life. We counted them at least 5 times.
Cara made this scary mask, and has been jumping out at us repeatedly. I'm not going to lie: she's startled us more than once. 

Our next stop was Mammoth Cave National Park. We had a few options for a tour and opted for the Domes and Dripstones tour. The first half was in the dry portion of the cave, and while there were no formations (stalactites, soda straws, etc.) the narrow passageways and vast caverns were fascinating. The cave system totals over 400 miles long and you could easily spend weeks exploring the underground tunnels.
In all our previous cave visits, we had never seen cave crickets. We made up for that today, with crickets aplenty. These insects travel outside of the cave to eat every few days, but spend the rest of their time down here being gawked at by tourists.
We also took to the trails and managed an 8 mile mountain bike ride with the kids. While the scenery was beautiful not pictured was the whining and complaining that preceded our adventure this afternoon. This ride was long, beautiful, challenging, peaceful, and entirely worth the effort. Adventuring with kids isn't about everything always magically working out, it is about pushing for it in spite of (and sometimes because of) the obstacles that confront us each day. 

We accidentally took the long way to meet up with@ramblingfamily. On the plus side, back roads in Tennessee are gorgeous.
We headed just outside of Nashville, TN to meet up with our friends Jason and Julie of@ramblingfamily. We enjoyed plenty of friends, good conversation, some time on the four-wheelers, and a wonderful campfire. This is the third time we've met on the road, and I suspect there will be at least one more.

Stones River Battlefield, TN was the site of one of the bloodiest battles in the Civil War. It also occurred over the day Lincoln gave the Emancipation Proclamation on January 1, 1863. The Union victory a day later gave weight to the president's speech.

School today was Jr. Ranger badge #83.#roadschool is awesome.

After the battlefield, we headed inland to Rock Island State Park to meet up with Tim & Amanda Watson. Just a few days before we also found out that Rhonda & Joe Hendricks just lived nearby and they managed to come as well. 
Joe is also an incredible wedding photographer and it was fun to have him close by to get great photos!! He captured the one of Sam in the hammock working as well as our group photo.
We often get asked if we miss having a stable community, or neighborhood of friends. Our answer is, "not really". Turns out the full time life (and Airstream life in particular) has one of the best communities I've ever been a part of. People are friendly, helpful, have common interests, and are generally pleasant to be around. We couldn't ask for a better roving neighborhood of friends.

With road life its never "goodbye" just "see you later!"

One thing that's great about traveling is meeting up with family and friends. We spent a few days in Chattanooga, TN to visit a cousin of Sam's. While we were at it, we also ate at Uncle Larry's and had the most amazing fish we've ever tasted.
We also had a pretty relaxing Sunday. Sam wrote on Instagram, "My main take-away was that The Lord plays a long game. If he played a short game, every day would be blissful and trouble free. But he has greater goals for us, and the bumps in the road are often necessary for our own growth: to help us become the people He knows we can be. It is easy to get discouraged with our short-sightedness, and we must trust in Him."

We had the most amazing breakfast this morning before we left Chattanooga. It was bitterly cold when we woke up, so we pulled out some warm layers and headed out. We had been informed that Arethra Frankensteins has some amazing pancakes. Jess has a special place in her heart for amazing pancakes, so off we went.
The restaurant is in the middle of a residential neighborhood, which means three things: No parking, limited seating, and food good enough to draw fans despite the previous two downsides. All three were true of Aretha Frankensteins.
Luckily for us, the aforementioned cold temperatures limited the crowds, making parking relatively easy. Instead of a 90 minute wait, it was only 20. Space inside the limited interior area is filled with seating, and has no waiting area. A very cold 20 minutes waiting outside was alleviated by warm clothes and some hot chocolate.
The menu looked fantastic, and we planned our meal while waiting. This made ordering fast and easy after getting to our table. We ordered a Fat Stack of their famous pancakes and two egg entrées.

The ambiance inside is perfect. Quirky and odd posters decorate the walls, and the main light is a skateboarding skeleton. The staff is a perfect mix of hospitality and hipster: Tattooed and wonderfully nice and accommodating to our family with three kids.

And the food was wonderful. Their pancakes are thick without being dense; fluffy but somehow crispy. They were wonderful. The egg dishes were also excellent, but somewhat overshadowed by the awesomeness of the pancakes. The three breakfast entrées filled the five of us quite well. Finally full and warm, we paid and left, ready begin a wonderful day.

Related posts: