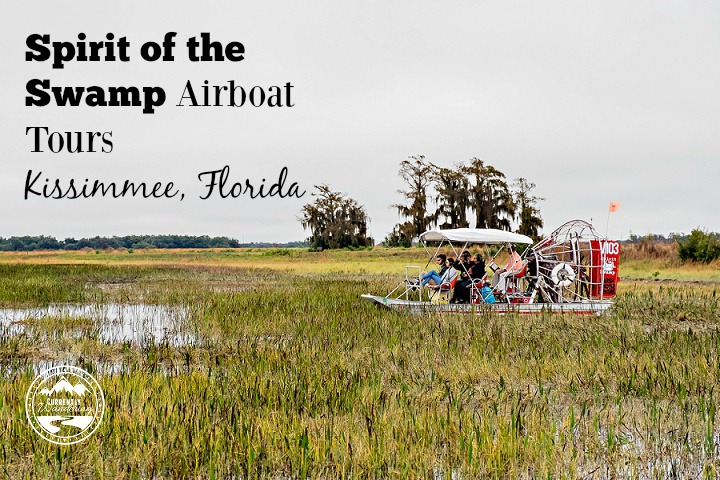 Last month we spent a little over a week in Orlando, Florida. While we were, there my younger sister flew in from Utah to stay with us in the Airstream and play tourist. In addition to visiting the popular theme parks, she expressed interest in also finding an activity unique to Florida. Immediately, I thought of an airboat ride! We hadn't found the right opportunity or location in our travels so far and this seemed like good motivation to make it a priority. Remember how I'm obsessed with alligators? Yep. That was definitely motivation as well.
After looking around online, I contacted Spirit of the Swamp Airboat Tours  via email and was impressed with how quickly they were able to get us in! We also had some concerns about a pretty big storm front moving in, but Debi contacted us the day before to push our airboat ride to the morning and we were able to dodge most of the rain! I loved how quickly and easily she responded to any questions I had. Spirit of the Swamp is located in Kissimmee, Florida which was only about an hour from where we were staying at Bill Frederick Park in Orlando so it was perfect!
The day of our tour, we arrived about 30 minutes before our schedule time to the dock. This allowed us to pack up our jackets and cameras, use the restroom and be ready to go on time! We were greeted warmly by Captain Dale, Cara was outfitted with a life jacket (requirement for any child under 6), we loaded on to the boat, and set off!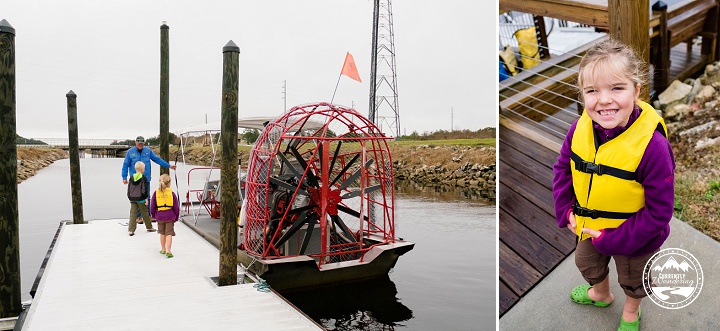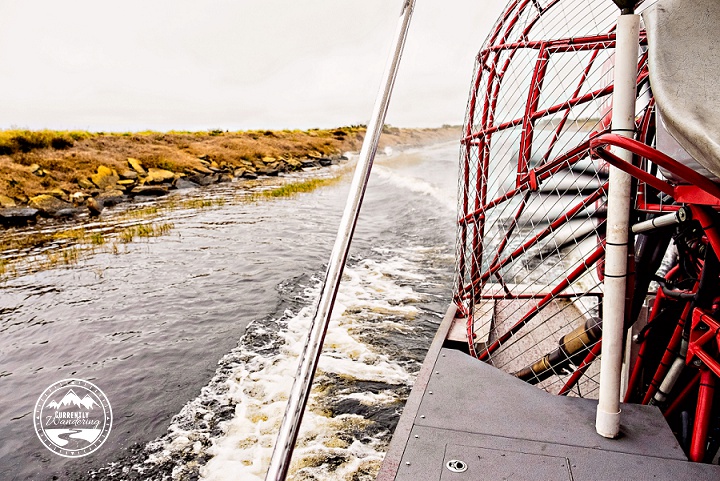 A few things we loved specifically about Spirit of the Swamp – the headsets. We each had a headset with microphone so we could hear both the captain and each other over the roar of the fan. The kids thought this was a fabulous idea and loved wearing them. Spirit of the Swamp also only run small boats. Not only was it just our family on the tour, but Captain Dale was able to take us places where larger boats just won't go for fear of running aground.

Captain Dale told us that many of the alligators in the swamp are regulars. He's been driving airboats in this area since he was a teenager and was extremely familiar with the terrain and where we would find the wildlife. We were able to see both a female and male alligator, dozens of smaller baby alligators, plenty of birds and even a bald eagle! Once Dale turned off the engine, we were free to take off our headsets, move around the boat and take photos.

After watching one of the alligators for a few minutes, he kids expressed interest in learning how the fan worked, so Captain Dale happily gave us a demonstration by revving the fan without the boat actually moving.

Super happy group!

Captain Dale also took us to "the meadow" which is basically a flooded cow pasture. He drove the boat up and over a few sand bars (Wow Mom! We are going over LAND in a BOAT!), and pulled a few donuts in the shallow water. The airboats are actually quite fast, and despite the chillier weather we had a great time speeding through parts of the swamp! This type of terrain is the "REAL Florida" as the state parks service likes to say. I've grown to love the marshes, cypress trees, Spanish moss, and the abundance of unusual wildlife we've been able to see!


Photo Bomb! I suppose I have to make sure I'm in a photo every once in awhile!

Our awesome Captain Dale. He is extremely knowledgeable about wildlife, the area, and airboats in general. We were grateful for his patience with our kids and answering all of their questions. We told him this was "school" for the day and he took on the role of teacher pretty easily!

Our tour lasted about an hour, and just as we were getting back to the dock, it started to rain more heavily. We had great timing! Doing an airboat tour was definitely a highlight of our stay in Florida. We love participating in activities that are unique to the geography and location and this definitely qualified. We would definitely recommend using this company and make sure to ask for Captain Dale if you go!
Sponsored post :: We were provided a complimentary tour with Spirit of the Swamp Airboat Tours in exchange for us sharing our honest opinion and experience with you. All opinions are my own. We really loved this experience and would highly recommend it to our friends and family! 
Related posts: