Our travel pace is usually pretty slow, by design. Our average 'move' is only about 100 miles, and we move about every 3 to 5 days. This varies of course, but we commonly travel our average pace. We have often talked about executing a 'fast' move to linger a little longer in one place and still make our planned destination, and we recently did just that.
In May we moved 1,114 miles in 5 days, driving through pieces of 6 states, which is about 10 times our usual pace. We did this to spend extra time mountain biking in Arkansas and still arrive in Utah when planned. This might not sound like much of a push, but consider that we are working, schooling, and living 'normal' life along the way.
We've found the trick to covering a large distance is to: 1) make sure you have a rest day in there somewhere and 2) break up a longer distance (6 hour drive) by leaving late in the afternoon, over-nighting at a truck stop/Wal-Mart, etc. and then covering the remaining distance early the following morning.
Here's how we did this particular fast paced trip from Arkansas to Utah:
Monday
Bella Vista, AR to Red Rock Canyon State Park, OK.
Distance: 297 miles
Time: 5 hours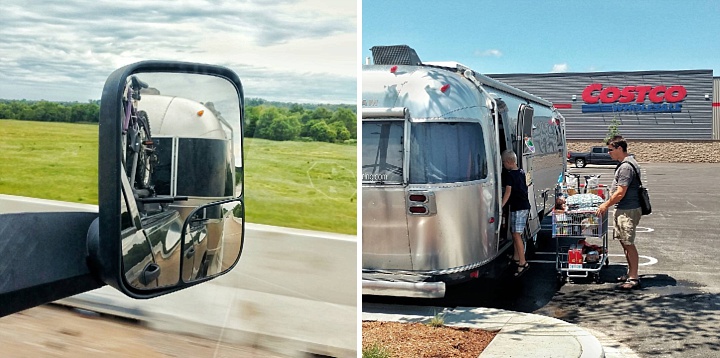 We left early-ish, mostly to avoid a storms that would be hitting Bella Vista later that morning. We still had some rain on our drive, but managed to avoid most of it. We made a stop in Tulsa, OK at the newly opened Costco for some much needed supplies. I also had a local brake shop check (and then replace) my front truck brakes. They had been feeling odd, and it was definitely time for a replacement. I was grateful that I had done so when we faced a steep road with sharp turns when we arrived at Red Rock Canyon State Park.
After arriving mid-afternoon, we made sure to get out for a walk and enjoy the park for the little time we were there.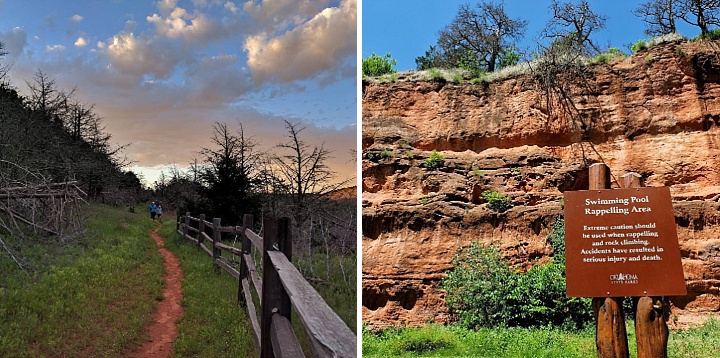 Tuesday
Red Rock Canyon State Park, OK to New Mexico / Texas State Line
Distance: 287 miles
Time: 5 hours
Tuesday was the first half of what we call a 'split-drive.' When facing a longer hop, we leave late and drive partway, overnight somewhere, and finish the drive in the morning.
We spent the morning working, schooling, and a even got in a workout. We pulled up the crazy scary hill (in 4WD low!) and made a quick stop at the hardware store for some… spray paint! More on that in a moment.
We made a stop in Shamrock, TX to visit a cute little visitors center remade in classic style along Route 66. We enjoyed our visit, but didn't stick around for the view of the classic neon lights after dark because of our next adventure for the day.
"Epic driving today across Oklahoma, Texas, and into New Mexico. Stopped for a quick break at the Center of Commerce in Shamrock, Texas along the historic Route 66. I thought it was quite fitting that Cara watched the movie "Cars" before we arrived." – Jess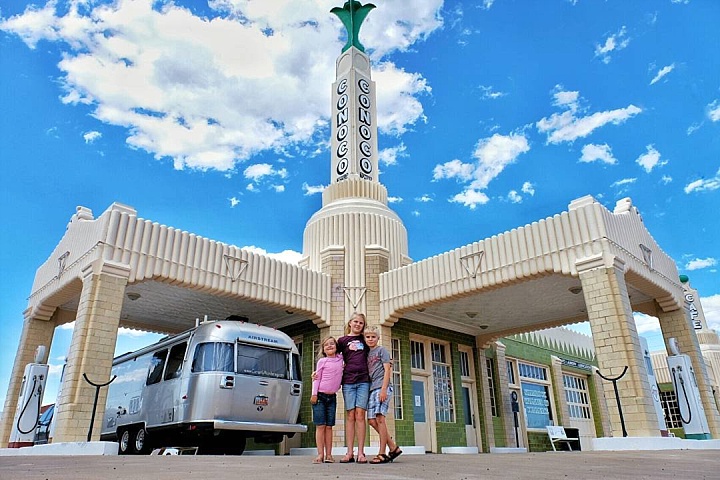 Just west of Amarillo, TX is the famed Cadillac Ranch, where we stopped for a break and some graffiti practice. The kids thought it was pretty cool to spray paint these old cars!
"The kids took adding their mark to Cadillac Ranch very seriously. Like, seriously? We get to do this? We brought two cans of spray paint (red and blue) but were able to use many other colors people before us left behind. Turns out gold, silver, and black do a great job outlining whatever it is you are painting. Maybe next time we'll brush up on our graffiti art skills before we stop by." – Jess

"It was such a departure from our usual activities, and party of what made today great.

On the way out, we picked up all the empty spray cans and left with smiles on our faces." – Sam

We enjoyed an unhurried experience and then grabbed dinner at nearby Subway truck stop to eat during the last leg of our journey.
We headed West again as the sun was setting, arriving at the Texas/Oklahoma state line rest area / visitors center right at dusk. We found a truck parking space on the edge of the lot, and headed to bed without much ceremony.
Wednesday
New Mexico / Texas State Line to Cochiti Lake Recreation Area, NM
Distance: 234 miles
Time: 3.5 hours
We awoke to find a semi-truck parked a 'little' close, but after a quick cereal breakfast we left without incident and headed into New Mexico.

We made quick stop at the grocery store for supplies in Sante Fe, and then arrived mid-day at Cochiti Lake. We picked a dry camping site which totally boggled the mind of our neighbors as there were still hook up sites available. The weather was going to be reasonably cool, we had plenty of sun for our solar panels and we weren't staying long enough to need a sewer connection. Plus, the dry camping sites were only $10/night! Can't beat that. Overall the campground was quiet and reasonably spaced, and we enjoyed not moving as we worked and relaxed for the remainder of the afternoon.

Thursday
Rest Day  at Tent Rocks National Monument
After a morning of school and work, we headed out in the afternoon to hike at Tent Rocks National Monument.  One of our traveling friends had mentioned this was one of their favorite places so we were excited to see what it had to offer! There's no campground, and one main loop hike that most people come to do.
The hike included a slot canyon which all of us love! After a fairly steep (but doable) switchback up a large hill we were rewarded with an amazing view of the surrounding area!
These rock formations are different than anything we had seen, and we loved exploring here.

Friday
Cochiti Lake Rec Area, NM to Hovenweep National Monument, UT.
Distance: 296 miles
Time: 5 hours
Our final stretch of driving took us out of New Mexico, across the corner of Colorado, and barely into Utah. We managed to find an epic pull off for lunch – it looked like a combination of the Badlands in South Dakota and the Painted Hills in Oregon.

We had heard that Hoveenweep National Monument was a great stop, and we planned to hang out there for the weekend before heading up to Moab to meet friends. Hovenweep is a fair distance from anything, which made it a peaceful location to explore and recover from our fast travel week. More on our visit there later as it turned out to be a pretty epic place to explore!

We had quite a few longer drives in the car (2-3 hours) and to keep everyone's sanity in check Jess and I alternated driving while the other person worked. I was able to keep up pretty well on work, especially because I had most mornings to get a few hours in before we drove anyway (minus the overnight stop).
The kids listened to their audio books, read, played with toys, watched movies, played Minecraft, and we listened to Harry Potter as a family. The kids were actually pretty excited about some long car days as they get to watch movies and play the tablet more than they would if we were sitting still!
It was so unusual for us to breeze through so many places without pausing, but in a way it was a bit refreshing to cover so much distance in such a short time. Although there were places we could have explored a bit more, we reminded ourselves of the extra time we had in Arkansas and just moved on. Though 'warp' drives like this likely won't happen frequently, we are glad to know we can move fast if needed.
Related posts: