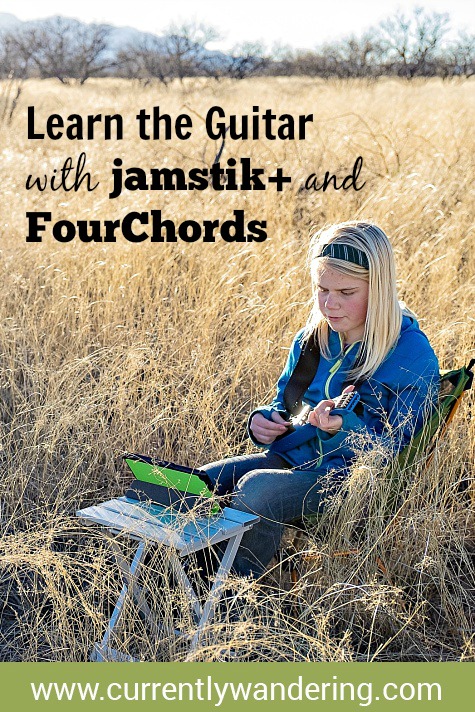 There are many perks to the traveling lifestyle, but there are also a lot of activities and hobbies we have put on hold. When we were selling the house and most of our stuff, I looked longingly at the guitar I had bought 6 months previously. I had every intention of learning to play, but naturally life got in the way and I never found time to dedicate to practicing. I grew up playing the piano and love to have music in our lives which is something we've definitely missed!
Last summer, Sam found a company called jamstik+.  We don't have room for a full size guitar, but the jamstik+ is small, compact, and lightweight and comes with an app to actually teach me to play. We contacted the company and they graciously sent us two jamstik+ guitars so Rachel and I could both learn how to play.  Over the last 6 months we've written about our experience in three different posts for their blog (Part I & Part II), but I figured it was time to post over here as well!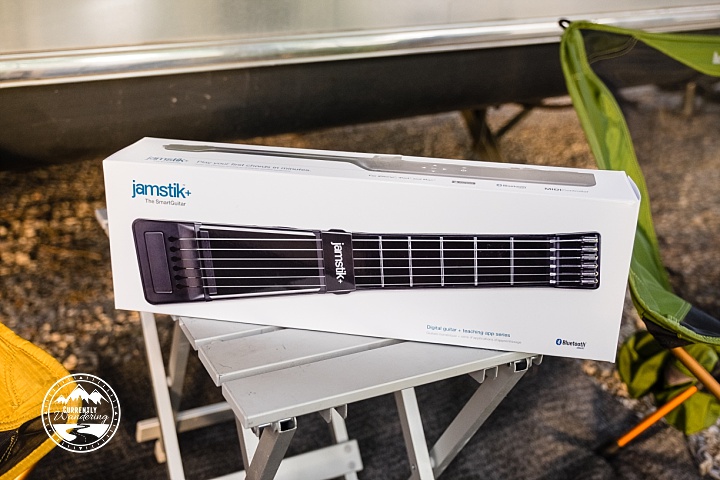 The Guitar
The jamstik+ connects to our devices via Bluetooth, so there are no cords between the jamstik+ and the device we are using. Its also smaller than a normal guitar, and a bit harder to hold in your lap. We've found using the included neck strap helps keep it in a more comfortable position.
When we've gone back and forth between a regular guitar and the jamstik+ over the last few months, we have noticed the difference in fret board in size. Also, friends that can already play the guitar take a minute to get used to the smaller fret board and fingerings! Overall we've had success transitioning between the two and Rachel has already asked for a "real" guitar once we settle down somewhere.
Where to Buy: On Amazon or use code "CurrentlyWandering on jamstik.com for 15% off your order (more color choices here!)
The Lessons
JamTutor is their lesson app. Its easy to get set up and the lessons progress fairly naturally. The lessons include picking single notes, strumming, chords and introduce "Arcade Mode" which is a fun way to play with background music. Kind of like "Dance Dance Revolution" video games where you have to step on the correct arrows as they scroll down the screen. Arcade Mode is Rachel's favorite and she spent close to an hour one day just going through the different challenges.
My favorite part about the jamTutor app is that we can start and stop as needed. I realize that for some that may be de-motivational, but for me it's a perk. Sometimes life gets crazy busy and there is little time to practice. Not having the guilt of paying for lessons is such a blessing! Granted, it can be hard to get started again, but we've found that repeating a few lessons or arcade challenges brings us up to speed very quickly.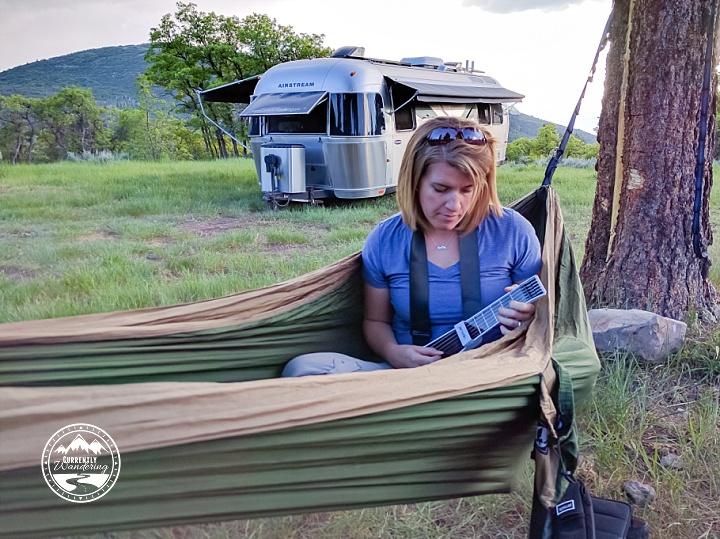 In a small space, it is also nice to have a guitar with headphones! Rachel can play right next to Sam while he's working and both are able to accomplish their tasks. Occasionally I'll have her practice without headphones just so I can hear her progress, but mostly she will have them in.

Learning Songs
Rachel has far surpassed me in skill as she is assigned practice for school and I get, well, lazy. Distracted? Otherwise engaged? She's been fairly diligent and has learned to love and look forward to playing. I'm so proud of her.  I love listening to her sing and even our other two kids will sing along with whatever song she's playing.
She now practices songs mostly using the FourChords app. From their website: "FourChords Guitar Karaoke is the fastest way to learn new songs! The songs are displayed in adjustable karaoke-style display with easy chords, an acoustic backing track and lyrics. Songs are re-arranged into easy versions, no knowledge of tabs or sheet music needed. Each song includes chord charts."

Her current favorite songs are: "Eye of the Tiger", "Gironimo", and "Pompeii". Using the app, she's easily able to filter songs by chords. She can choose to exclude the pesky B chord, for example, and only look through songs she knows the chords for. She loves there are culturally popular songs as well as achievement awards that keep her motivated to practice! She's also learned a few strumming patterns (something not included in jamTutor right now) and can easily switch between chords as she plays. I'm very jealous.
Last week out in the grasslands we utilized Sam's video skills and put together a little music video of her playing. Notice the drone footage. Yep. More on that later!

The Giveaway!
Now to the REALLY good part! We've teamed up with jamstik+ to give away a guitar, travel case, and a 1 year subscription to the Four Chords app! We are super grateful for their generosity and can't wait to get this instrument into one of our reader's hands. Use the widget to enter below. Contest ends on February 5, 2017 at midnight Mountain Standard Time. Good luck!
jamstik+ & Four Chords Giveaway

Related posts: