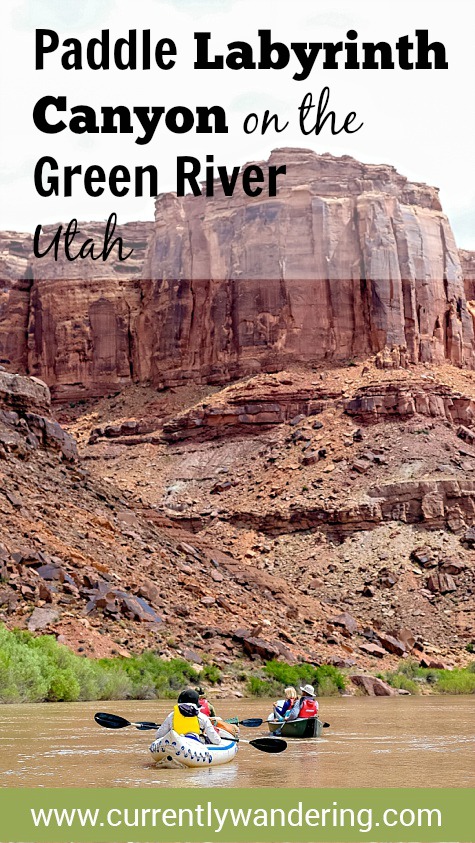 Located just north of Canyonlands National Park, Labyrinth Canyon is a flatwater stretch of the Green River. Completely remote and isolated, this float trip boasts towering, sandstone mesas, side canyons, lush vegetation, peace, and solitude.
When We Went: April 27 – 29, 2017

Ages of Kids: 11, 9, 6

Stretch of River: Ruby Ranch to Mineral Bottom
Having just completed our overnight trip on the Rio Grande down in Texas we were falling hard for flat water canoe trips. After meeting up with Steve & Tess from The More We Explore in Moab, we decided to jump on their planned 3 day trip through Labyrinth Canyon. Paddling a three day trip down a swift moving, large river was a bit intimidating but knowing we would be with others helped boost our confidence levels.
Don't forget your map! Get it here on Amazon: Belknap's Waterproof Canyonlands River Guide
Boat Choice
While the rest of the group decided to single kayak, we choose canoes for a few specific reasons. From previous experience, we knew we could fit all our gear. Utah had an abnormal amount of snow over the winter and the river was running fairly swift. While our kids do great kayaking small streams and lakes, paddling a big, fast, river by themselves was outside their skill set. With canoes, we could always have one adult in each boat and the kids could switch out.
Rafts were out due to the flat water nature of the river. When there are no rapids, a sizable raft is hard to paddle and steer while being completely overkill.
Steve introduced us to Sea Eagle Boats, and after some conversation they agreed to send us two of their T16 Inflatable Travel Canoes to test out in exchange for some drone footage of the trip. We were stoked. With our traveling lifestyle, there's no way we could ever buy canoes, but these seemed like a viable option and we couldn't wait to try them out.
Packing the Gear
We mostly just brought our backpacking gear. Sam's dad has been unloading gear for years, and we managed to recently snag his two large, bright yellow, dry bags. We put tents, sleeping bags and pads in one, and then packed our clothes in color coordinated e-cubes and threw those in the other one with our two REI camp chairs.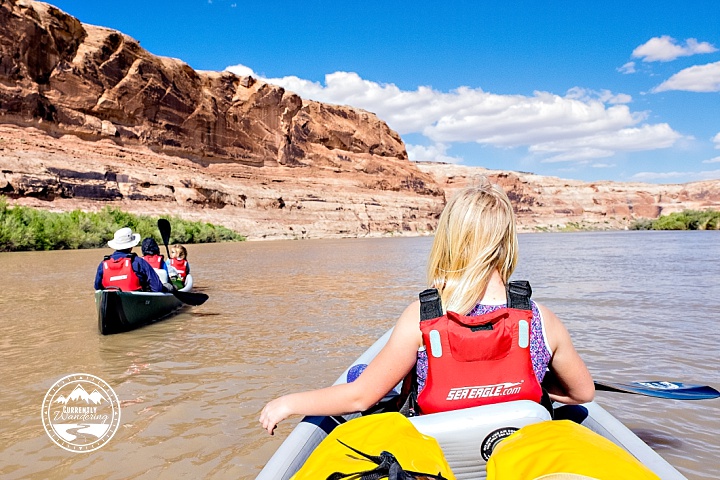 Specific to this trip we also needed to bring our own water as the river can't be filtered. We brought our two two 5 gallon Rhino water jugs for fresh water. The recommendation is 2 gallons per person per day but that also depends on what you plan to cook. We ended up with quite a bit extra, but I like to err on the side of too much water.
We also needed a toilet system as we had to pack out all human waste. For the Rio Grande trip we rented a system, but this time we bought a folding toilet seat on Amazon (threw away the plastic bag and just kept the seat and legs). We combined it with a 2 gallon, Leaktite bucket, a seal tight lid, and a lid tool to pry it off. Worked great and we just found an RV dump after the trip to depose of the contents.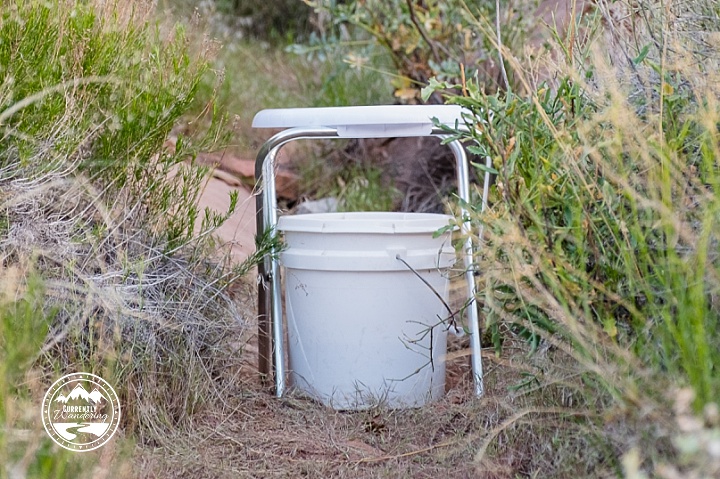 Sam has been bugging me for awhile to try out a pStyle for our back country trips. I was never really on board, but for some reason this time I pulled the plug. Serious life changer! The pStyle basically lets us girls pee standing up which is especially useful on cold mornings. It also helped to not fill the bucket up with pee and we used less toilet paper. Both Rachel & Cara used it like champs, so its going to be a staple in our backpacking gear from now on! Plus, there are a ton of cute covers available so we can be styling while we are at it.
Meals & Food
We packed our typical Freezer-Bag cooking meals. This trip we also tried out a new flavor from Mountain House. They sent us their new Chicken Fajita Dinner Bowl and a Spicy Southwest Breakfast Hash to try out. Love that they are adding some Mexican inspired dishes to their product offerings! Inspired, I also dug up our own recipe for chicken fajitas and we had fun comparing the two. The Mountain House version definitely had more kick, but we liked them both! We also pulled a Mountain House Breakfast Skillet out of our emergency supply (time to rotate it anyway!).
With our REI member dividend a few weeks earlier, I bought a Classic IceMule Cooler & a couple of Coleman Chillers Hard Ice Substitutes to go with it. I figured that we could have some refrigerated meals our first day while the ice was still cold.

Day 1: Breakfast – bagels, cream cheese, Naked Juice smoothies; Lunch – Hard boiled egg sandwiches on pitas, carrot sticks; Dinner – Thai Noodles; Dessert – Cookies Rachel made pre-trip
Day 2: Breakfast – Strawberry chocolate oatmeal, and hot chocolate; Lunch – BBQ Chicken Wraps; Dinner – Chicken Fajita Bowl on tortillas with leftover cheddar cheese from lunch; Dessert- Mountain House Apple Crisp (not my favorite).
Day 3: Breakfast- Mountain House Breakfast Hash & Skillet (was going to be in tortillas but we ate them all the night before); Lunch – Tuna & crackers, cucumber; Dinner – Hamburgers at Groggs Pinnacle Brewery in Price, Utah. Seriously the best burgers ever!
Snacks: I thought we had totally over packed on snacks, but then the shuttle took so long and we didn't get to dinner until around 8:00pm Saturday night. Between the take out and dinner we seriously snarfed the rest of what I packed. We took Fig Bars, Perky Jerky, Bare Snacks, fruit snacks, Go-Go Squeeze, peanut & skittle mix, and Twizzlers. Yum.
Shuttling the Vehicles
A major portion of river logistics is running a vehicle shuttle. Its not like a backpacking trip where we can plan a loop, ending up back at our car. There's no way we are paddling back UP the river, so we needed to get our vehicles down to the take out.
The night before put in, we tent camped near Moab on some BLM land. I'll admit the drive down from Salt Lake was not my finest hour. Packing for a trip is always stressful, plus we added a dentist appointment & stormy weather to our afternoon and I was literally thinking, "What on Earth are we doing?!" as we drove south.

Luckily the rain blew over, we woke up dry and excited and met our group at the dinosaur museum near the turnoff to Canyonlands National Park. From there we sent three cars and drivers down to the take out at Mineral Bottom (about 45 minutes), while the rest of us piled into Fred the Van along with the boats and made for the put it at Ruby Ranch (1.5 hours or so northwest).
This is where its convenient to have multiple cars and a large group. We left one car and our truck at the take out which was enough to fit all 11 of us and our gear at the end of the trip, and the third car drove all the drivers up to Ruby Ranch where we had been inflating boats and getting the gear ready.
There are companies you can pay to shuttle your car for you, and depending on your group size and budget can be a good option. The post-river shuttle took a good 5 hours once we had loaded the boats, driven back up to Ruby Ranch, grabbed the other cards, and reshuffled gear. It was a lot of driving. For our family of 5, though, having a company shuttle us would have been cost prohibitive. Grateful we had friends to go with!
Put In at Ruby Ranch
The boat launch at Ruby Ranch is on private land. They are gracious enough to allow boaters access but do charge a $10/boat AND $5/person fee. Exact amount in cash is required.
The put it was easy enough to find and we were the only group headed out that morning. Our three kids were a huge help inflating canoes and kayaks and we had everything just about done by the time our shuttlers showed up. We ate a quick lunch and then were off!


Floating the River
We needed to cover 45 miles in just three days. The plan was to evenly split and cover about 15 miles per day. The river was moving at a pretty good pace, and I think we mostly expected to leisurely float down the river. I also expected our canoes to be the slowest. Not so much. I think our kayaking friends were slightly annoyed at how much paddling they had to do to keep up!
In order to keep our boats pointed downriver we needed to steer, and in order to steer there had to be a bit of paddling. When they were behaving, our canoes literally sliced through the water. At one point, Sam and Rachel pulled out their 'A' game and took off outpacing the kayaks by quite a bit just trying to see how fast they could go.

We were the first to push off (I think everyone thought we'd be slow) so we tried to keep it casual while waiting for everyone to catch up. Just a few miles downstream we started encountering sandstone walls. While the Green is at least 4 times as wide as the Rio Grande, both Rachel & I started getting fidgety as memories of crashing into rocks and getting dumped in the river came flooding back.
We also learned our canoe was imbalanced. I had put the heavy water jugs behind my seat in the back and we kept getting turned around. Once we were exactly backwards, our canoe did just fine floating in a straight line. Rachel was frustrated at my lack of control and may have burst into tears and quit paddling right then and there. I think one of my better parenting moments was to let her cry it out. I knew why she was frustrated and scared, and we weren't in any danger.
Steve came to our rescue and helped us transfer our heavy, 5 gallon water jug to the front of the canoe instead. Not an easy task while both still floating downstream and trying to not to tip in. It totally worked though! With the heavy weight in the front, we were more prone to stay pointed the right direction. What a relief!
Most of the paddling was easy and enjoyable. The scenery is gorgeous and once my brain finally settled, I was utterly at peace. We had quite a bit of sun our first day, but the following two days were colder and we kept our jackets on. I joked over on Instagram that life on the river can be tedious for young kids. Good thing we brought some stuffy friends along to keep us company!

Fighting the Wind
The biggest challenge was the wind. At one point, Andrew, Cara, and I had drifted to the far side of the river and we needed to make it all the way across for a take out. With a strong headwind pushing us backwards, we gave it everything we had. I was so proud of my kids at that moment for digging in and as we neared the far side we could hear everyone cheering us on! Definitely one of my favorite moments, and also one of the most exhausting.
On Day 2 we headed into Bow Knot Bend. This section of the river literally looks like half of a bow tie while the river bends back on itself. Between the changing river current, and wind coming up over the saddle there was some crazy strong, unpredictable wind. We cut our miles short on Day 2 so we could hit the majority of the Bend with fresh arms and spirits the morning of Day 3.
We set off early and right out of the gate were fighting the wind. I was still having trouble keeping the boat straight, and both Rachel and I were extremely frustrated with our situation. Not a good way to start the day. We rounded the mushroom side of Bow Knot and received a welcome relief from the wind. The sun came out, and we mostly just rested as our boats continued downstream.
As we rounded the corner, I braced myself for the wind I knew was coming. It came HARD. We tried to keep about 20-30 feet away from the bank as one of our biggest frustrations was being blown into the Tamarisk plants along the edges. Not our favorite place to be. The current seemed to moving slightly slower out there as well, although with the strong wind pushing back at us we literally were seeing white capped waves. It was insane.
Rachel and I finally got into a rhythm where I would provide driving force from the back, and she would do a reaching stroke from the front to keep us pointed downstream. We realized later that our skeg (small fin in the back of the canoe) was severely limiting my ability to steer from the back. I could be back paddling extremely hard and go absolutely nowhere. Rachel's strokes in the front helped pull us to one side or the other and I battled against the wind from the back.

"After battling up a long section of river, Andrew and I ducked under this tree for a brief break before heading on. A few minutes later we were joined by the others as we rafted up briefly before continuing downstream.

We headed back out and battled onward into the wind and spray. As it intensified, Andrew joyfully yelled "THIS IS THE LIFE!" Yes it is, Andrew, yes it is." – @telegramsam
It was amazing to me that we could literally see the line where the wind stopped. Something about the shape of the canyon, but once we crossed that line just below Bow Knot saddle the wind reversed into a tailwind, the sun broke through the clouds and the kids and I happily sang, "There is Sunshine in My Soul Today" at the top of our lungs.
Exploring Side Canyons
One of my favorite parts about this trip was all the side canyon exploring. It was fun to get out and hike. Standing up and stretching our legs always felt great!
Day 1 we stopped at Three Canyon & Trin-Alcove Bend near river mile 90 and parked the boats for some land exploring. There was a social trail leading up into the canyons, but mostly we just picked our way over boulders until we reached the end.

Morning of Day 2 we hit Ten Mile Canyon. We could've paddled a ways, but mostly just went until we felt like turning around. These side canyons were a great time to switch things up, and my kids were given the opportunity to kayak for a bit. They loved it!

A little later in the day we stopped at Hey Joe Canyon to stretch our legs. There is a Uranium mine up the canyon a bit, but we realized it was getting late, we still had miles to paddle, and we wanted to save time for the saddle hike.
Evening of Day 2 we camped near, and then hiked to the top of BowKnot Saddle. Don't miss this! There's a legit trail headed to the top and the view up there was unbelievable! Just watch out for the wind.

Day 3 we intended to paddle up Horseshoe Canyon, but never quite find out. We found a bank for lunch instead and just enjoyed the break. Before taking out our last stop was Hell Roaring Canyon where the D. Julie Inscription is located. Super cool history – just don't carve your name into the rock!

Finding a Campsite
Part of the stress of river running is finding a campsite. We joked that often it is too early, too early, and then suddenly its two hours past dinner and everyone is starving.
@themorewexplore did a ton of research on possible campsites, but with changing river levels and overgrown tamarisk we didn't know what we'd find.
We had to make sure that our group stayed together when we were hunting along the banks. If someone drifted too far downriver it was almost impossible to get back upstream.
Our first night, Mariana darted across the entire river and found the BEST campsite we could have asked for near mile 84 on river left. The bank was steep due to the river levels, but we managed to bring all the boats up and there was plenty of room to spread out.

We hung out in the "kitchen" area while everyone prepared their dinner, and afterwards had a roaring fire (well, as good as we can get while using a firepan!). This spot was pretty sheltered from the wind and we all had a great night's sleep!
Day 2 was a bit more of a scramble. Tess knew of some sites past BowKnot, but by the time we got to the saddle take out between miles 70 & 69 on river right I was tired. I could also tell the kids were also pretty done. There was no way we were hiking to the top and then paddling another 5 miles into the wind to find a site. After inspecting the bank for a few dozen yards, we found a spot to beach the boats and haul our gear up on the bank. It wasn't the "perfect" spot, and meant we needed to cover more miles the following day but we were able to set up camp and then hike to the saddle.

"We found this campsite just when we needed it. Unfortunately it was a bit windy (sand everywhere!) and there were pack rats (everyone survived), but we did get our hike up to the saddle and were able to sleep close to the river. We'll call it a win. " -@currentlywandering
Most of the magic of finding campsites is knowing what to look for. At lower river levels, sandbars are a great option. Unfortunately, the river was so high we were reaching for banks and hanging onto tamarisk to keep from floating downstream. Most often people have carved paths through the vegetation to spots where it opens up for enough space to pitch a tent. You just have to look.
Take Out at Mineral Bottom
We made it to Mineral Bottom in the early afternoon on Day 3. This is one pull out you don't want to miss!! The next take out is a good 6 days down river and involves getting a jet boat to shuttle you back up the Colorado. Kind of a big deal if you miss it!

Mineral Bottom is on river left, and at the time had a great big eddy we could pull in to with a nice beach. We pulled all the boats out of the water and then came the task of folding them up and cramming everyone's gear into the back of our truck and a small, 4 door sedan. Good times.
There is an outhouse at the take out but its pretty nasty so don't plan on using it.
Once we loaded everything, we then had the pleasure of driving out the windy, steep road. I'm just glad I wasn't one of the drivers on the way IN. I think I would have passed out as I don't do well on narrow roads with steep drop offs. Also note this road is absolutely impassable after a large rainstorm as it can easily get washed out.

Once we got back to the main road, we drove up to Ruby Ranch for our other vehicles and a reshuffling of gear. From there it was on to a celebratory hamburger dinner in Price!
Would We Do It Again?
I would do this trip again in a heartbeat. It definitely takes planning and coordination, but spending time with our kids on the river is one of my favorite things! We had our ups and downs, moments where things didn't go exactly as planned, but that's what life in the back country is like. Most importantly we had moments where we could really connect with our kids, and that's what matters in the end.
HUGE thanks to Sea Eagle for providing our boats for this trip. As always, any opinions expressed are completely our own. This post also includes affiliate links. Purchases made through our unique links will provide us with a small commission that will go toward keeping the blog running. Thank you for your help!

Related posts: