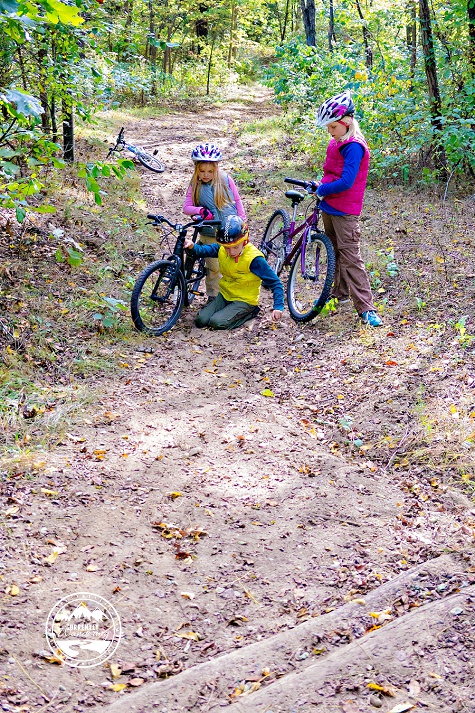 Life is always harder when Sam is gone. This was true back in our sticks and bricks, and even more so on the road. He always gives me my second wind around 5pm when I'm about to crash, and I love sharing responsibilities, fun, and chores (those pesky things) with my best friend.
Occasionally he still has business trips that take him away from home, and I try and keep everyone still breathing and functional on my own. I am two days into his current 3 day business trip and remarkably today went better than yesterday.
We are camped in a State Park that has a network of mountain biking trails and after getting out on my own yesterday (don't worry, the kids were fine) I was determined to take them out today on what the locals assured me was an easier trail.
First off, you have to be a special kind of crazy to take three kids mountain biking by yourself especially when one of them is 5 years old and frequently interchanges her "tired" voice with her "whiny" voice. Both sound the same to me.
Fortunately the trail started out pretty level & smooth, but we gradually had sand, tree roots, and even a few climbs that included sand and tree roots.There was definitely more walking the bikes than riding them on the last half of the trail. When Endomondo called out our lap pace and indicated the last mile took us 33 minutes I just had to laugh.
The bright side of walking your bike up the trail is that you see things that otherwise would have been a blur. As I waited at the top of the hill I watched Andrew bend down and then exclaim, "Mom! This is a really cool caterpillar!"
And it was. I dropped my bike and trekked back down to see it. The little guy was fuzzy, white, and had black spots running down his back and was arguably one of the most interesting caterpillars we've seen. After we saved his life by moving him off the trail with a small twig, the kids continued pushing their bikes up the hill.
This time though there was a little more spring in their steps. Even if the trail was frustrating, slow, and a discouraging, at least there was a caterpillar.
Related posts: