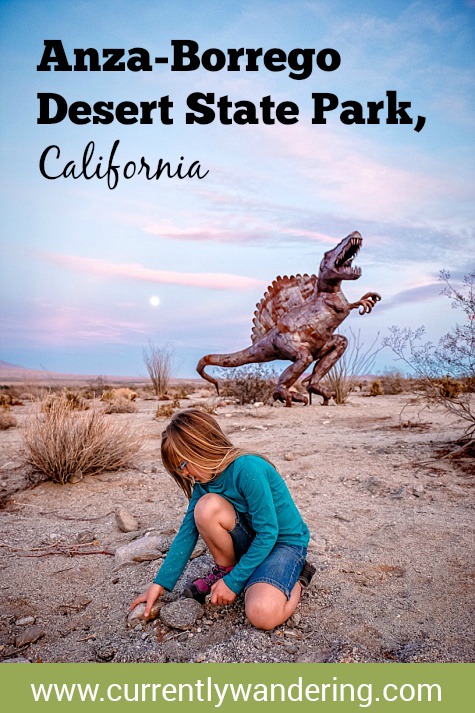 Anza-Borrego Desert State Park has been on our radar for years. There are miles of BLM land and we've watched many travelers spend weeks camping out in the desert for free. For the last two years, there has even been a social gathering of nomads for New Year's Eve although we've never been close enough geographically to attend the party.
After a week in Disneyland, we figured that some desert solitude was just what we needed. With some advice from @upintheairstream about specific camping locations (you can find it here on Campendium), where to get water, the low down on the grocery and all the other essentials we made the drive from L.A. down to the park.
Travel Dates: December 11 – 15, 2016
It's definitely called a "desert" for good reason. Lots of catcus, Ocatillo, shrubs, palo verde and every other desert plant that I absolutely love. Felt like coming home.  We camped in the wide open desert with visible neighbors, but no one close enough to feel like we had to be social. One neighbor had a fairly loud generator, but they were good about not running it at all hours of the night.
We made a point to get out and explore everyday, but mostly we got back into the groove of work & school after a fairly crazy couple of weeks. Here are some highlights from our stay:
Metal Art Sculptures
When I first saw photos of these metal art sculptures on the internet, I thought they were out in the middle of nowhere. Turns out, some are actually just right off the main road.  We got a map from the state park visitor center, and went off to find them.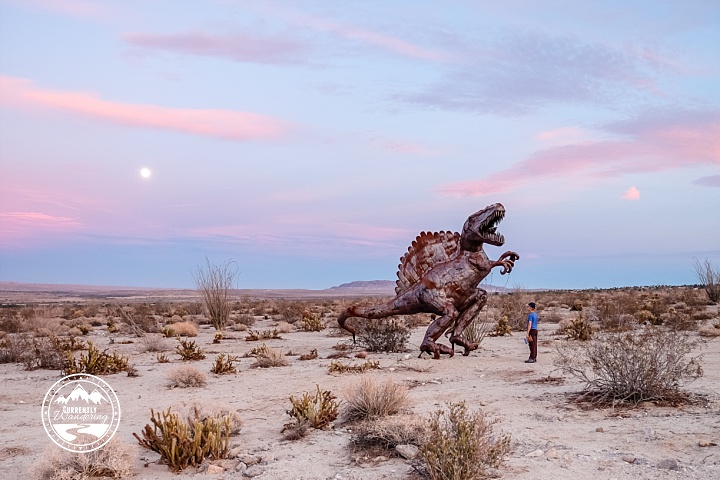 I posted on my personal feed the other week about my struggles with home schooling. I had gotten overly ambitious and more concerned with workbooks and subjects than the magic of learning on the road. Today after a few subjects we went in search of these metal sculptures outside the town of Borrego Springs, CA. My kids were fascinated and thought they were the coolest things ever. Art class? ✔ -@CurrentlyWandering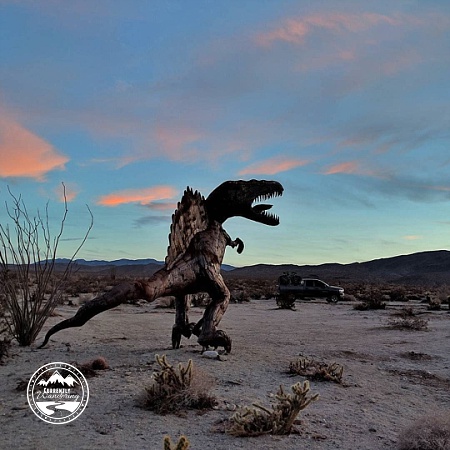 Last week at Disneyland, we had encounters with Yeti, aliens, enemies from the Dark Side of the force, and other wildness. After a visit to see some cousins in Irvine over the weekend, we've made it into the desert. And now this angry dinosaur is going to eat the truck. – @TelegramSam
Hiking "The Slot"
The kids absolutely LOVE slot canyons, and we'd heard from multiple sources that "The Slot" is about as awesome as they come (great review & information on The Outbound). It took us about a half an hour to drive to the trail head and then we spent about an hour wandering around and exploring.

As far as slot canyons go, today's was pretty fun! There's something about squeezing through two canyon walls that seems to put a smile on everyone's face. Wishing the rest of the night was just as epic. I'm lamenting our decision to cook dinner instead of dropping by Taco Tuesday night at the local restaurant. Can't win them all I suppose. – @CurrentlyWandering

Good Morning! -@TelegramSam
Part of Disney recovery (and Jess therapy 101) is being more relaxed with our homeschooling. Even though I still stress about "not getting things done" I made a visible effort to just let the kids play all morning. They had so much fun cutting out snowflakes and hanging them back in their bedroom. Cooperation, fine motor skills, and symmetry are all useful skills, right?

Kids have spent all morning in their pajamas making and hanging snowflakes in their bedroom. Perhaps we've taken this un-schooling thing too far? -@JessCurren

We have been trying to adventure earlier than normal, since the sun seems to set shortly after lunch this time of year. We enjoyed sunset visiting a few of the many metal sculptures dotting the desert, arriving home after dark.

Dinner included some grilled sausage which required more effort than usual. The open desert likes to get windy in the morning and at night when the moving temperature differential produces unevenly heated air that insists on trading places. I carefully positioned the truck on the leeward side of the Airstream and set up the BBQ on the truck's tailgate just in time for the wind direction to shift dramatically.
By sheer luck we had filled our two 5 gallon water jugs at the Chamber of Commerce in town, having between assured by @upintheairstream that filling containers in the dark from an unmarked spigot on the backside of the building was a totally normal thing to do. I positioned the water jugs on both sides of me as I stood in front of the BBQ on the tailgate, thereby forming a wind barrier sufficient for proper grilling of sausage.

I therefore present "Bikes in the Moonlight," captured from my fixed position as a necessary wind barrier. Dinner was delicious.
Laundry, Swimming, & Dinner Out
We had a chore/laundry day in the middle. The only laundromat in Borrego Springs is at the RV park so the kids and I headed over there in the early afternoon. We had been contacted on IG by the owner of the RV park (he's a fan) who offered to let the kids swim while we were there. Super gracious of him and we all appreciated the heated pool & hot tub!
Afterwards the kids and I attended a ranger program on phases of the moon. It was… slightly boring. Our kids were troopers though and we might have entertained ourselves by passing notes. So elementary school, but what can I say?
Another night we ate dinner at the Bighorn Bar & Grill located on the same property. It was delicious. Sam and I both got hamburgers, Rachel & Andrew shared a chicken, pesto, pasta dish, and Cara had the most amazing mac & cheese of the kid's menu. Definitely get something with fries. They were to die for.

There's been a lot of talk lately about how social media isn't "real." How we are all lying about how great our lives are and misrepresenting how difficult a life of adventure really is.

Our life is definitely not ALL rainbows and unicorns, but it IS pretty freaking amazing. We do school, we work. We have times where we are just nose to the grindstone on a project, and days where we just want to be in a house. The difference is that we have made it a priority to get out Every. Single. Day.

We've also given up many hobbies and other pursuits to travel, freeing time for outdoor exploration. As I look back over our feed I have to just shake my head. We do more in two weeks than most people do all year! As parents we deal with whining, we "bribe" our kids with trail snacks, we have days where we'd rather just sit. But, as we practice and keep trying, getting out with our kids gets easier. Our kids now ENJOY going out. They've learned everyone really is happier if we spend time outside every day. If that's the only lesson they learn on this crazy adventure of ours it'll be enough. -@CurrentlyWandering
Palm Canyon Nature Trail
One of the best and easiest hikes in the park is the Palm Canyon Nature Trail. Its about 3 miles round trip and fairly flat as you follow the wash up in the canyon. Turning a corner and seeing a tight knit clump of palm trees was pretty amazing. We grabbed an info sheet from the kiosk and read about the various plants, animals, and cultural significance of the are on our way up.
Definitely take the alternate trail back as it hugs the mountain more and gives you a great view of Borrego Springs.

Our afternoon adventure led us to an oasis. The kids were delighted to discover so much water and life in the middle of a desert. -@TelegramSam

Tucked back in Palm Canyon lies this beautiful oasis of palm trees, waterfalls, scrambling rocks, and vegetation. Seeing as we are smack dab in the middle of the Anza Borrego desert, the scenario pleasantly surprised us. Rachel dubbed this easy, 3 mile nature trail the "best hike we've ever done – and we do a lot of hiking!". Not sure how I feel about that. -@CurrentlyWandering
More Metal Sculptures

With sandstorms to the left of me and rainstorms to the right, we explored some more of the desert metal sculptures yesterday. Most were of animals, but a few included humans, including this sculpture of grape vine workers. The kids wanted in on the work.
The windstorms knocked out power in town yesterday, and continued into the morning before finally yielding to calm. -@TelegramSam

"Hey! Stop fighting guys!" The the other day @telegramsam took the kids out to explore the other group of local, metal statues. They found a giant scorpion, large serpent, grape workers, and even some ground sloths.


Where was I you may ask? Totally in a funk. I ended up hiking solo straight up the nearest mountain to try and gain some perspective on my goals, work, family, marriage and pretty much everything. I suppose everyone goes through their personal dark tunnels yet often we feel alone when it's our turn. I'm so grateful for a patient husband, understanding friends, the love of my Savior and blessings of the Atonement of Christ.
I've got changes to make. It'll be slow and most likely painful but I'm confident I'll make it through stronger on the other side. -@CurrentlyWandering

We hitched up and drove out of Anza-Borrego today. We are headed North in a slightly crazy plan for a place to celebrate Christmas. -@TelegramSam
With crazy winds at night and the desire to escape the swirling sand storms we hitched up and drove out towards Las Vegas and our Christmas plans.
Related posts: