My brother told me that we are "living our dream". I had to sit a minute and contemplate exactly WHEN this became our dream. I promise we haven't always had wanderlust. We bought a practical 2800 sq foot house in Lehi after college graduation. We loved putting in the yard, fixing up the storage room, getting to know the neighbors. The kids had dance class, soccer, gymnastics, pre-school then kindergarten and first grade. The goal was to make enough money to do the things we love – my photography business, Sam's side projects, cycling, backpacking, camping with our family. We were normal. We had normal people dreams.
Then our dreams starting shifting. Perhaps it started last year on our 5 week adventure to Northern California. The time away seemed forever and we were both nervous. He had a 240 mile hike, I had to entertain the kids for two weeks, there was camping with the family, and living in small spaces. But surprisingly – we flourished. We blossomed as a family. We'd never been closer or happier. The kids loved it – I loved it. Our days were filled with finding new locations to explore, new playgrounds, new splash pads, new libraries. We'd go to Target hunting for clearance deals on play-doh and craft materials. Living outside our comfort zone was exciting. Listening to my kids sleep at night was intoxicating. I wanted them close. We were both more patient, more in tune to each other, more in tune to what our children needed. I was a better mother. He was a better father. Everything was exactly the opposite of what we expected.
And so, our dreams changed. Suddenly our house was too large with too many distractions. Our kids slept down the hallway and I couldn't hear them at night. There was "stuff" everywhere. Meaningless emptiness that filled the corners of the place where we lived. We wanted something else. Something simpler. Something that removed the distractions, the everyday routine of sameness that filled us up and left little satisfaction.
Our dreams were refined and focused as we traveled from Utah to Virginia to house swap with a family. The house swap itself started out as the Grand Adventure. The National Mall, The Pentagon, The White House. These were words and phrases barely used in our west coast vocabulary but tossed around without a second thought by those living on the fringes of our nation's capitol. How exciting to be where it all started. What history!
And then came Kickapoo. A seemingly insignificant, random state park between Nauvoo, Illinois and Dayton, Ohio that captivated us with its beauty, simplicity, and peace. So, we stayed. And worked. And rode. And played. And realized that this, this wandering, wasn't broken and didn't need fixing.
We love Virginia. The family we are/were exchanging with is amazing, we couldn't have asked for a better house swapping experience. We just came to realize in a home exchange, you are still living in a house. Its not yours, but there's still too much "stuff". Too many distractions, too much space between you and what is really important. So we set about finding another way. A way to fulfill our refined dream of simplicity and closeness as a family.
And we did. We now own and live full time in  a 2008 Airstream International Signature Series 27FB with a truck to pull it. It is a little piece of heaven on Earth. Is it small? Yes. Is it hard to be with your family ALL the time and not drive each other crazy? Sometimes. Are there hobbies, friends, sports, and luxuries that we had to give up in order to do this? Most definitely. Is it worth it? Every. Single. Moment.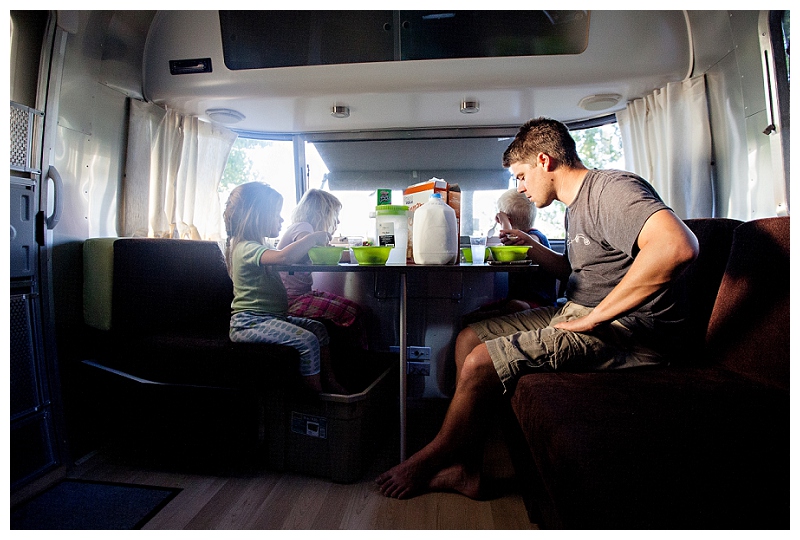 Related posts: