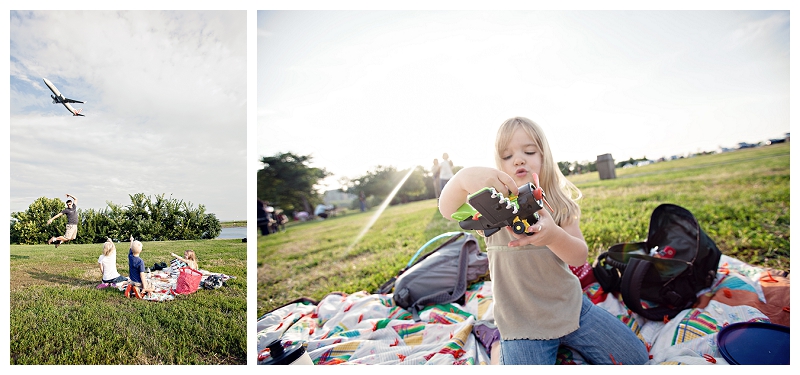 When we visited: August 2013

Ages of children: 7, 5, 3

Don't forget to bring: Picnic blanket & dinner, bikes, bike lock, toy planes
Just north of the Reagan International Airport in Washington DC, there is a small park called Gravelly Point. The park sits right at the end of the runway, giving you a spectacular view of the planes as they take off and land. Every few minutes, you'll get an up close and personal experience with an airplane. You will either see the planes taking off, or the planes landing, depending on how the airport is routing air traffic. (I suppose this depends on wind patterns.)
We heard about the park, and decided it sounded like a great outing with our kids. We gathered a picnic dinner and threw the bikes in the back of the newly acquired truck, and headed out. The park did not disappoint, and we had a great show as we ate our dinner. Just know the because they planes are so close, they are also very LOUD.
We received a tip from local friends that the bike ride from Gravelly Point to the Jefferson Memorial is a short one, great for kids, and is one of the easiest ways to get to the memorial. The Jefferson Memorial is situated on the other side of the tidal basin from the bulk of the monuments, and there's no parking at or near it making it the least accessible monument  at the National Mall. After dinner  we set off on our bikes, riding north on the Mt. Vernon Bike Trail. The bike trail continues to Arlington National Cemetery, but you want to take the fork that leads over the George Mason Memorial Bridge.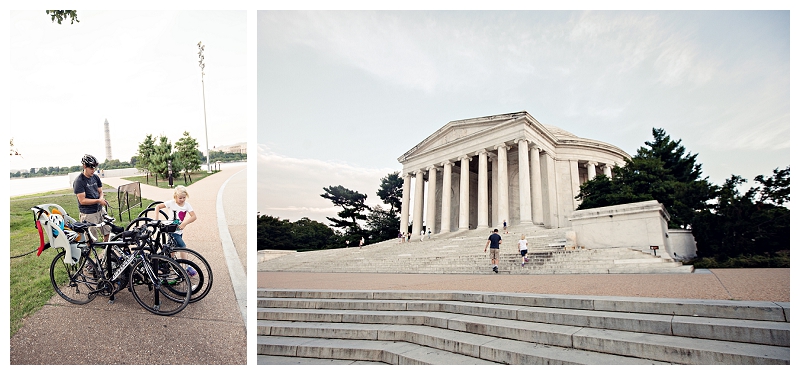 This ride at 3 miles (round trip) , was about the right length for Andrew (5) on a bike,  a little easy for Rachel (7), and Cara (3) rode in the CoPilot seat with Jess. With the exception of one street crossing, the entire path is separated from car traffic and safe for kids. It is an active bike path, so have a talk with your kids about proper path etiquette (stay to the right, pass only when safe, announce passing, and ride in a straight line).
At the memorial, we found a rack to lock our bikes with a long bike lock I carried in a backpack, and then headed into the memorial.
As with the Lincoln Memorial, the light inside the Jefferson Memorial is beautiful. After you have walked around a bit, don't forget to take the elevator or stairs below to view the exhibits and visit the gift shop. There are also ranger talks every hour and these guys really know their stuff. Its always a pleasure to hear what they have to say.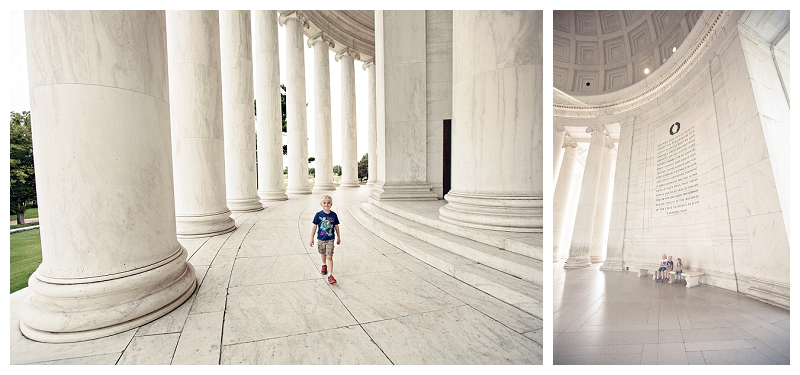 We enjoyed our stay so much we left a little late, and it was getting dark on our ride back to the truck.
To give you an idea of what watching the planes is like, check out this video shot at a different day, but same location:
Related posts: