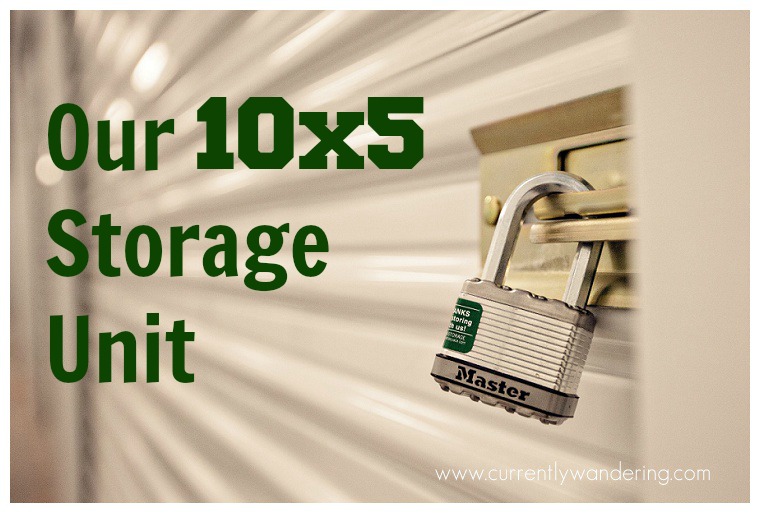 Downsizing is such a simple word isn't it? Maybe not. Maybe just in my imagination. When we decided to sell the house, we knew we'd have to sell, donate, or throw away almost everything in it, but the magnitude of that project didn't really  impress itself into our brains until we were already knee deep. It was tough. 10 and 1/2 years of marriage, 3 kids, and years of  "plenty of space"  led to  a house full of things we rarely used, and definitely did not need. We are actually really good about not being packrats, yet stuff managed to proliferate anyway.
Getting the kids to clean out was probably the hardest part. Knowing they needed some security, Sam and I agreed that they could store whatever they felt they wanted (within limits). We had plenty of storage tubs (34 to be precise) and since we knew WE were keeping very little, we'd most likely have room. For the most part, they did really great. I'll admit I cleaned out most of their room without them, but we saved their treasure boxes, Andrew wanted his orange comforter (me – I'll buy you a new one. Him – MOM! It has to be this EXACT SAME ONE), Cara had some toys, and they all had stuffed animals I refused to let them bring. I drew the line at 3, but I'm pretty sure they all snuck in a few more.
Sam kept his planer since it was the one large tool he'd buy over again. The other tools he would rather upgrade so they were sold. After at least 2 months of going back and forth, I finally sold off the rest of my cute office furniture (I JUST redid that room!), my green velvet chaise, and our dining room table. All replaceable in the future. We did keep our Select Comfort Mattress (sold the bed frame) which boxed up nicely, as well as an Armoire Sam finished as a kid. It has been such a handy (if heavy) piece of furniture. Being a photographer, we also had plenty of wall art which we bubble wrapped and stored in the Armoire. Other items we kept: wooden toy train tracks (these are my favorite and I LOVE them and we have LOTS), folding chairs with our name on it, the toy kitchen (Cara insisted), suitcases (the kids ALL insisted), some games, and just other random memorabilia and home made decorations.
Every time we would make a pile to go to the storage unit, Sam and I would look doubtfully at each other and think "There's no way we are going to fit!". Once we packed it all in with room to spare though we were pretty proud of ourselves!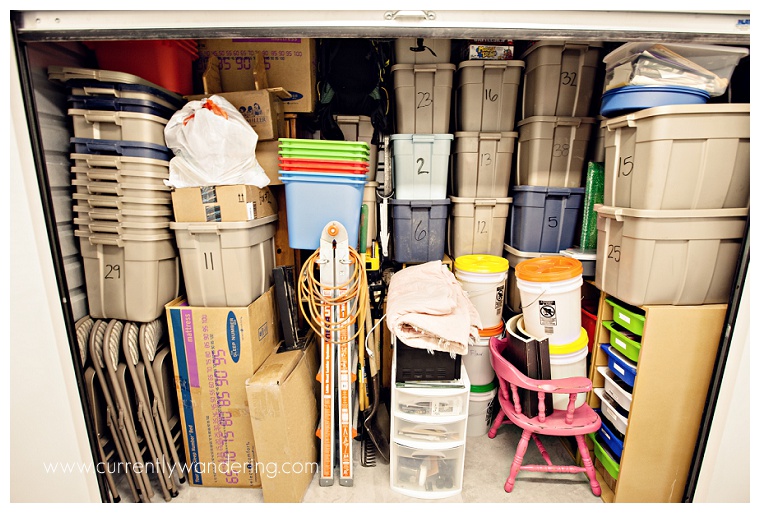 I know that we will be different people when we are finished with this part of our journey. That's okay. When we walk back up to the storage unit, and think "Why did we save all this?" maybe some people will think "I told you so" but for now, its what we needed in order to let go of everything else. I think we needed some tie to the life we've built together over the last decade, and that's natural. We've also had people tell us (almost jealously), "Wow! Its like you get to start all over and buy everything new again!" This is true, although I'm sure we will be a lot more picky about what we let into our lives. This is not a process I desire to repeat anytime in the near future!

So, there you have it: all the stuff not wandering with us will live here till we are done.
Related posts: