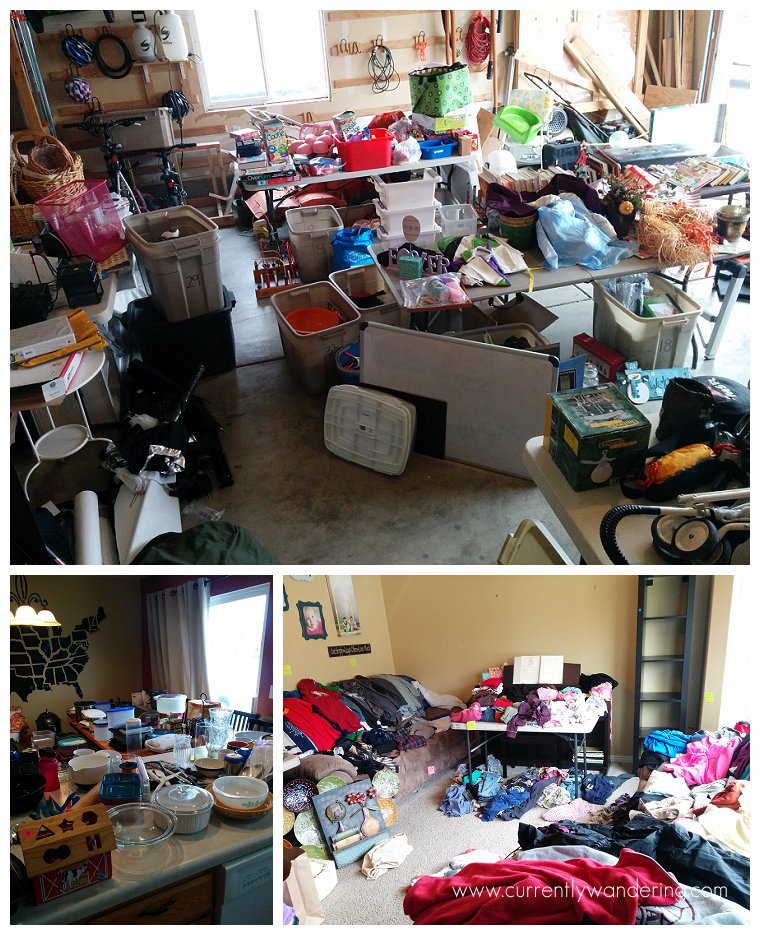 I just wanted to say thank you for all of your kind words and prayers! We survived our first garage sale last Saturday even with all the rain and wind. We had a lot of people come out, and it was great to see some of our friends! We sold quite a bit. Between selling on Facebook and our garage sale our total at this point is about $2200 in addition to $1000 I made selling some of my less used photography lenses (don't worry, I still have 4!).  Not too shabby.
We still have quite a ways to go. Knowing that we still need to live in our house for the next 2 months, we've kept beds, couches, the dining room table, and the washing machine (turns out our dryer is broken but that's another story). A lot of our furniture is being claimed by my siblings as one is moving out and getting her own apartment (taking my dishes and pan set too! Hooray!), and my younger brother and his wife are upgrading to a larger one. We also haven't sold the tools yet as we are still working on remodeling the bedroom in the Airstream. Short answer, this was only the beginning. We'll still have another big "Tool & Misc" Sale in June to get rid of the last of it. For now though, I'm feeling more relaxed that our house is slowly emptying out. We've made great progress in only 2 weeks and I'm really grateful for that!
We are planning on getting storage unit. I have too many wall portraits and canvases of our family (casualty of being a portrait photographer I suppose), we have a nice sleep number mattress that's worth hanging on to, and we've promised the kids we will store any toys or stuffed animals they want. It may be that we'll look at our pile in a few years and think "why on Earth did we keep that?" but for now its what makes sense.
Sam and I have talked at length about the next time we have a house. One great thing about selling *almost* everything is that we have a chance to start over and create a different life for ourselves. While we don't want a ghost house with nothing in it, we definitely want to be more deliberate about what we buy and what we keep.
Related posts: