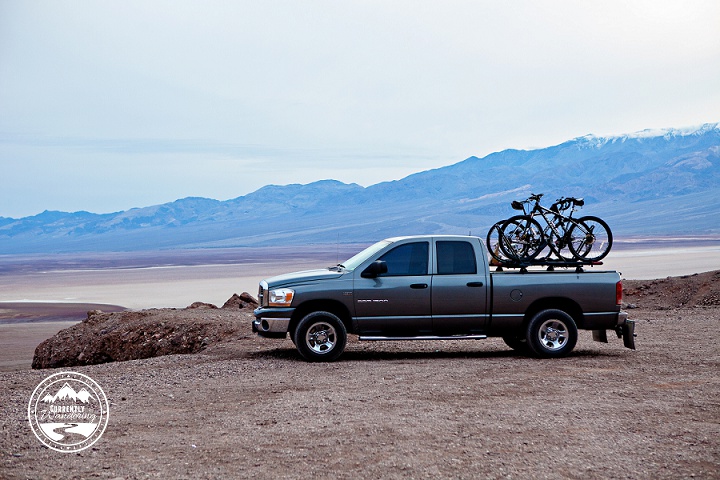 We got an email asking us about our truck purchasing decisions. The email ended up being long enough that I gave it a rework, and here it is as a blog post! Consider this an open invitation: If you want to hear about something we don't have posted to the blog, email us!
Choosing a tow vehicle can be a complicated decision. We tow with a 2006, Dodge Ram 1500 5.7 Hemi, rated for 10,000 lbs of towing capacity. It is unlikely that you would make the same choices we did, but I'll talk about our reasons, and hopefully that can help your own decision. We bought the truck used in Virginia over a year ago, and it has served us well.
How did we end up with this truck?
The answer isn't quite as involved as you might think. We went truck shopping primarily by towing capacity. The max weight of the loaded Airstream (27FB) was 7,500 lbs, so I wanted a truck in the 10,000 lb towing capacity range.
Part of that capacity difference is the stuff we have in the truck while towing: 5 humans (through 3 are smallish), 5 bikes, a generator, and other miscellaneous stuff in the back of the truck. It's worth knowing that the auto industry is going through a conversion of towing capacity standards. My 10k rated truck would be rated lower under the new standards, though I'm not sure how much.
The truck we ended up with was the beefiest 1/2 ton Dodge Ram 1500 you can get. (The Sport models of the Ram 1500s can only tow 2.5k or thereabouts.) It has been a good truck, including towing some fairly serious grades on long highways. I have added 2000lb airbags on the truck, as the leaf springs were getting tired. Those help quite a bit, as well as the weight distribution hitch we use. The Ram 1500 has been good from a size perspective. As it is our only car, Jess drives it into cities and elsewhere (sans Airstream) when exploring with the kids, and a huge truck would make that much more difficult.
Why a truck?
You can tow with SUVs and vans, but a truck has two great advantages in our case. First, I can mount the bike rack just above the top of the bed. This leaves plenty of room up there for 5 bikes without getting insanely tall. Second, the covered bed area gives me a perfect place to store 'garage' items. I store a generator back there, and because it isn't space shared with humans, I don't have to worry about gas vapor in the vehicle interior.
Why Gas?
Because I understand gas engines better than diesel engines. That's about my only reasons there. I'm certainly not opposed to diesel, and the low speed torque advantages are nice. Perhaps a future truck will be a diesel, but I'm not going to start with that as a requirement. I outperform semi trucks on grades while keeping the RPMs under 4k, and it has been good enough for me.
Why Dodge?
In my general opinion, Dodge does a better job at body and drivetrain, but worse at interior comforts. If I had to choose between an air vent failing and the transmission having issues, I'd go with the air vent problem… 🙂 Ford does better at interior, but seems to have more drivetrain issues. Really though, I'm not really stuck to Dodge.
Would I buy the same truck again?
Possibly. I might be tempted at a 3/4 ton truck, though I would look for one with the smallest body possible. I would go looking by towing capacity again, though against the new standards. With growing kids, I might look for a truck with a larger back seat to handle longer legs. We have the mid sized cab and it works, but larger legs would need more space.
Tow vehicles in the full time community are varied, and unique to the individuals who own them. We have friends who tow with beefy vans, Tuareg's for the smaller Airstreams, and plenty of diesel trucks. Do you research and decide what is important to you!
Related posts: