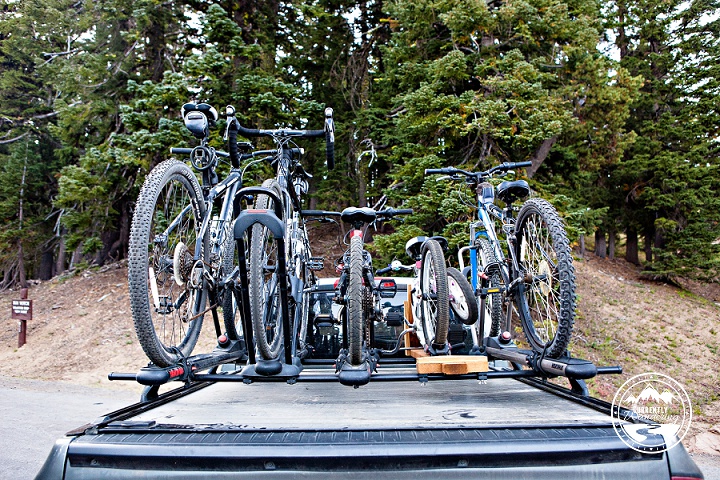 We started this journey over a year ago with our bikes on a rack attached to the back of our mini van. Biking is one of our favorite family activities and we knew they would be important to have with in the Airstream as well, but that required a significant re-arrangement of our current system.
For starters, we sold the mini van and bought a truck.
Sam wrestled long and hard with the dilemma of where to put the bikes. We went back and forth on a few different systems, and there were some key deciding factors. We knew that we would want a cover over the bed of our truck and that would have an impact on which rack system we used. We also knew we'd be upgrading and changing bikes as the kids got older, so the system needed to be flexible. Lastly, we didn't have crazy amounts of money to sink into this since we had just bought the Airstream and truck. Anything we could put off until later would be great.
Many of our Airstream friends have the Airstream Carry-Bikes by Fiamma, which is a great option for them. Designed specifically for the Airstream, it mounts to the aluminium bumper and can hold two bikes. Our problem would then be, where do we put the other 3? Plus, our bikes for the kids are not full sized and would most likely not fit in a rack like this one. The other down side is that we specifically picked our model of Airstream for the rear panorama windows and didn't exactly want bikes blocking the view.
We loved our Yakima system on the mini van, but we sold our previous Yakima system with the vehicle since the bars and towers wouldn't work on the truck anyway. That left us starting from scratch.
Eventually we decided to add the Yakima rails to our Tonneau cover, even if it wasn't the cheapest option availabe.  We bought a set of Yakima 60 inch tracks from Amazon and took them to the guys over at American Truck and Trailer Supply in Manassas, VA and had them install the tracks along with the truck cover.
Once the tracks were in, we could add the towers & bars. For our Dodge Ram 1500 specifically we bought:
2 sets of Yakima Landing Pads
Yakima Control Tower Roof Rack Tower (set of 4)
2 – 78″ Yakima Roof Rack Round Crossbars
Landing pads go in the tracks, Towers go in the landing pads and crossbars go through the towers. Its a great set up, and has worked pretty flawlessly over the last year.
Once the infrastructure was in place, we just needed the racks for the bikes. We already owned two Yakima Boa Fork Mounts, so to keep costs down, we decided to start with two of those for the biggest bikes. We found a Yakima High Roller Rooftop Bike Rack on Craigslist for Rachel's bike, and Andrew's bike, the boot scoot, and the Co-pilot were all piled in the older model Yakima Basket case we had brought out with us from Utah.
This set up worked great for 6 momths until we got back to Utah in the spring of 2014 and upgraded Andrew to a larger bike. We also wanted to reclaim the truck bed space taken up by our bike tires due to the fork mount of the Boa racks, so we upgraded all of the racks to the High Rollers, and Sam built a wooden rack for Cara's new Ride-aLong bike we had purchased while in San Diego last February. We strap Cara's boot scoot to the Ride aLong with some bungee cords and it rides just fine.
So far, so good! We'll have to do some more rework when Cara graduates to a regular bike (or one with training wheels), but we are putting that off as long as possible!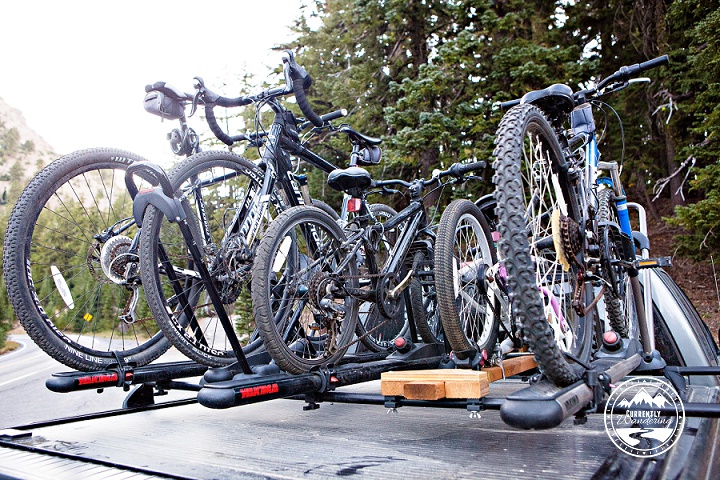 Related posts: