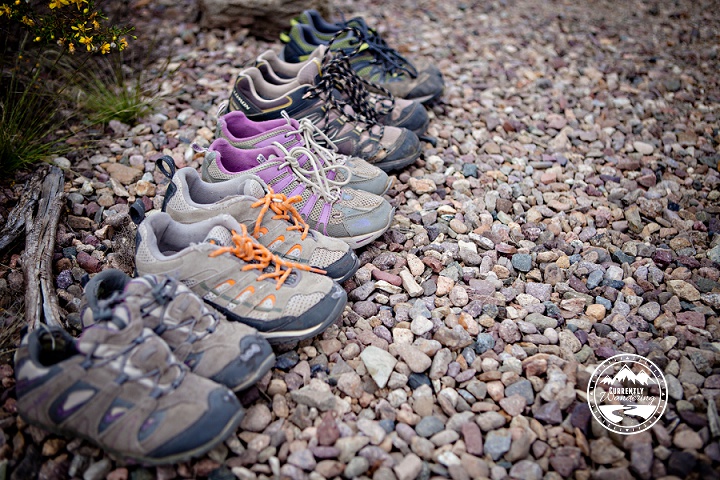 With all the outdoor activities in our life, clothes take it pretty hard. For example, we went through cheap Payless tennis shoes in about 2 months. I no longer think that if I buy something for Rachel it'll last long enough for Cara to be able to wear it. Usually the article of clothing (pants, shoes, socks, whatever!)  wears out before even Rachel outgrows it.
Add to that our crazy, awesome hiking adventures and we spend a lot of time on our feet. One thing that has really helped my kids go the distance is their footwear. Good shoes really do make a difference when you are conditioning your . I figured that Sam and I were pretty picky about a footwear, why should our kids be any different?
The best part? It doesn't have to be expensive!
When hunting for kid's shoes here are a couple of ideas to help:
1. Make Sure They Are Lightweight: Heavier shoes tend to weigh us down. Every step you take has to move those shoes, and the repetitive motion of walking really adds up. Your kids don't need high top, ankle support shoes (unless they've also got a heavy pack for overnighting and maybe not even then). Find something that's low cut and lightweight!
2. Shop Clearance Sales, But Be Careful: All of our kid's shoes come from REI. It's actually my favorite place to buy clothes as they have some amazing clearance sales, and shoes top that list! They usually have a rack or two of clearance shoes, and if nothing fits make sure to ask as they'll often have extra in the back. Rachel's shoes (purple ones) were on sale for $35, and we got both Andrew & Cara's for around $20 each. I did a quick search for "Kid's Hiking Shoes" and came back with a great list of both regular priced and clearance shoes!
The second part of this, is that usually these shoes are on clearance for a reason. Be careful and take a good look at the shoes before you buy. With Cara's the toggles didn't stay on super well (probably why they were discontinuing selling them) but we stuck the toggles back on and tied a knot in the laces instead. Works like a charm and we didn't pay full price!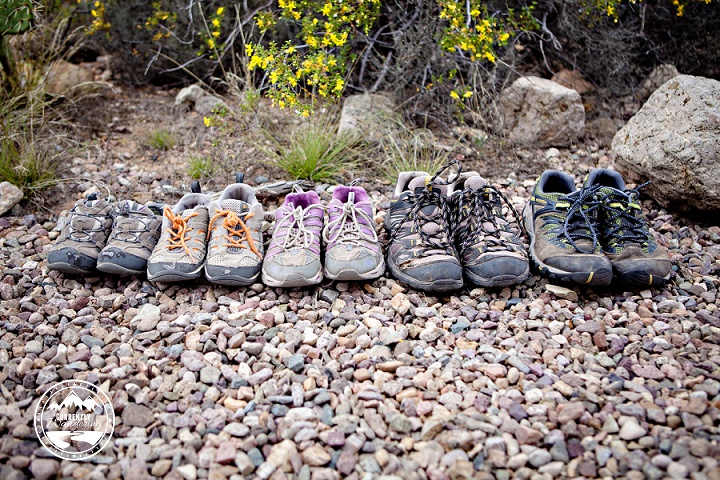 3. Make Sure Your Kids Walk Around in Them: Most stores will let you wear shoes inside and still return them. REI also has a synthetic rock our kids ran up and down to simulate hiking on a "hill". Shoes will break in and get more comfortable over time, but you do want them to be comfortable from the get go. And don't give up!! Cara tried hers on twice and ran around the entire store before she deemed them wearable. Now she loves them.
4. Look for Soles with Good Traction: You don't want something with little to no tread, as your kids will slip and slide all over the trail. Having great shoes has really boosted Rachel's confidence on the trails, especially when we are hiking over rocks.
5. Decide Whether or Not They Should Have Tie Laces: This a toss up for me. For younger kids its definitely best to have shoes with bungee laces or the toggles. Quick and easy to put on and you aren't going to constantly be re-tying them. For older kids that can manage on their own its really a personal preference. Both my older kids actually prefer to have laces (especially when they are orange!)
6. Reinforced Rubber Toes Are Awesome: The toes get the brunt of the wear on shoes. Kids tend to kick things and drag their toes so naturally this area wears out quickly. Finding shoes with reinforced rubber toes are best. Rachel's don't have them and we've noticed the front lip thing has already started peeling off. It's annoying. Next time we'll be more choosy.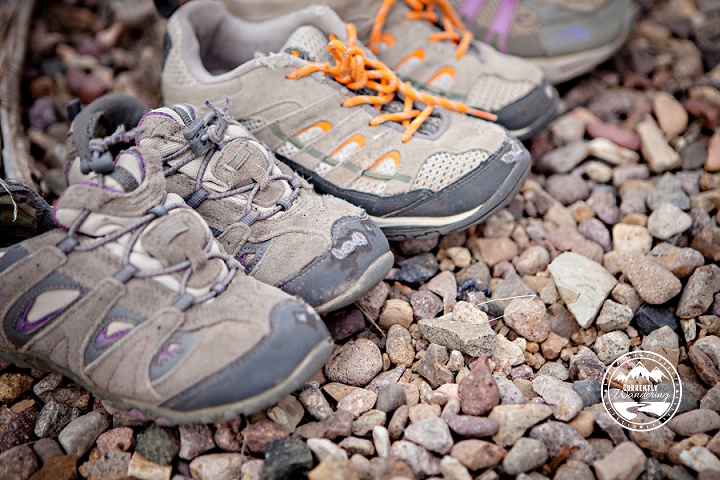 7. Don't forget about the socks! Just as shoes are important, so are socks! Once again, Sam and I like to wear good hiking socks, so why shouldn't my kids? When we expect them to hike 5-10 miles we want to give them the tools to do it. Our favorites (so far) are these SmartWool Striped Like Hike Crew Socks from REI. Lightweight with a little bit of cushion, these are perfect for little hikers. My kids have commented often on how comfortable they are!
8. Brands to Look For: We aren't usually brand shoppers, but there are a couple to look for that we feel make good, quality shoes. Solomon, Keen, Merrill, Chaco, and North Face are usually winners. I love my Solomon shoes, Sam prefers Merrill, Rachel's are North Face, Andrew's are Merrill and Cara has a lesser known brand, Hi-Tec, but they are awesome. The nice part about buying from REI is they don't keep items (or brands) in stock that don't hold up.

If you really want your kids to go the distance and ENJOY doing it, investing in good equipment is important! Good socks and shoes can give them the confidence they need to push past their mental limits. Who knows? Maybe YOU'LL be struggling to keep up with THEM before long!
Related posts: