Travel Dates: August 4-6
We left Minneapolis, MN (again) and drove the long 4.5 hours east to the Wisconsin Dells in one day. We decided it was worth the push to get there in one day – and get in late as we knew the RV Park at Mt. Olympus would not be very scenic. The kids had been looking forward to a water park here for at least a year, and since we could add it to the itinerary, we decided we should.
The next two days were spent at Mt. Olympus Water and Theme Park. We had a blast.  The first day we spent the morning at the Waterpark, ate lunch at a cafe, swam some more and made it back to the Airstream for an early dinner. After dinner we went back in until about 8pm and rode the rides.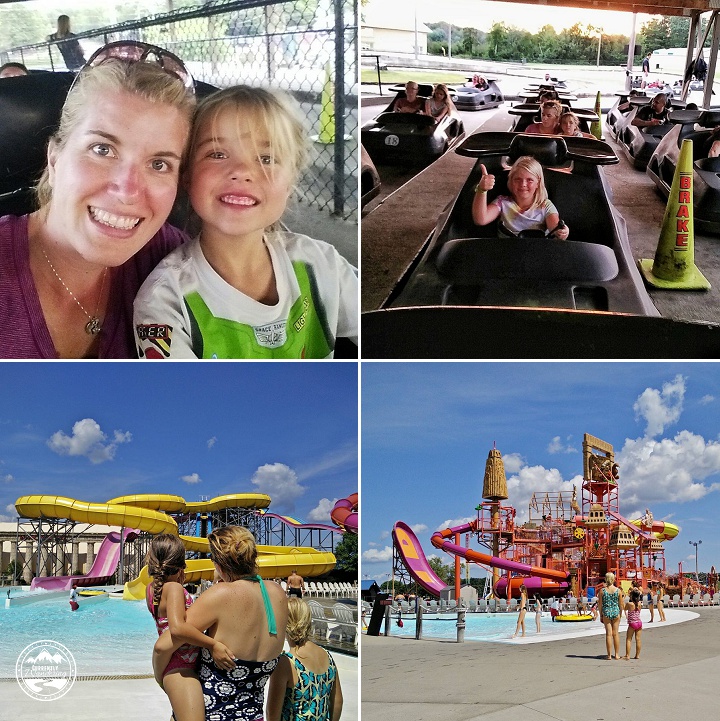 The following day we did in reverse. We hitched up the Airstream and drove early over to the Mt. Olympus Parking. We got in first thing and rode the Hades 360 roller-coaster (the lines were at least an hour the day before), and then more Go Karts and our other favorite rides. We went back to the Airstream for lunch, changed into our swimming suits, and Sam stayed to work while I took the kids back in to swim. We stayed at the park until about 5pm, then whipped up a quick dinner in the parking lot and drove a few hours to a Walmart outside of Green Bay, WI for the night.
The next morning, after a frustrating attempt to find someplace to stay in Door County, we abandoned those plans and decided to head north towards the Upper Peninsula of Michigan instead. We feel like Wisconsin totally got the shaft, but we had plans to come back after some time in Michigan.
Next: Michigan's Upper Peninsula Wrap Up
Related posts: